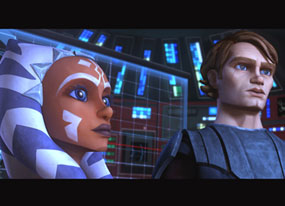 Lucasfilm Ltd. All rights reserved. Used with permission.
Some wars just never end. No, not Iraq. We're talking about Star Wars. As long as there's a geek in an Imperial Storm Trooper costume, George Lucas will keep making more. After six movies (and an animated one in theaters this month), Lucas is bringing the galaxy far, far away to a television in your living room.
Down the road, Lucas is developing a live-action TV Star Wars series. First, however, there's the animated show, The Clone Wars, starting later this year on Cartoon Network. Honestly, do you need a Star Wars fix so bad you're going to watch a cartoon every week? George says yes.
"This is bigger, and we get to go more places," Lucas says from his ranch in Northern California. "We're allowed to go and do stories about clones. We get to know them and find out what they do for recreation and what Jabba the Hut's family is all about, do all kinds of things that don't have anything to do with the main character."
So basically, the cool stuff in the background that Anakin passed while he was turning all evil. "I got to go around in a universe that is not restricted and therefore not quite as dark, and we can have a lot more fun with it. We can enjoy it. It's a little bit more lighthearted."
With the cartoon, they can just draw everything. But isn't Star Wars too expensive for live-action TV? "I'm trying to take Star Wars, which is a $50 million an hour adventure, and do it for like $2 million an hour. That's a trick. That's a hard thing to do and have them look the same."
Yeah, even space aliens hanging out on their downtime have to look suitably extraterrestrial. It all takes time. But George says someday we'll discover what they all do for fun when they're not saving the galaxy. "There is an entertainment industry [in the Star Wars universe]," Lucas teases, "but you won't find that out until you get to the live-action show in a few years."