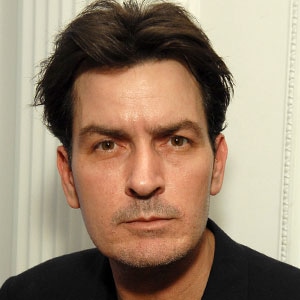 John Sciulli/Getty Images
UPDATE: CBS Entertainment and Warner Brothers Television just released a statement announcing that production on Two and a Half Men would be discontinued for the remainder of the season.
___
Charlie Sheen appears to be such a manic and angry man that we're starting to think he shouldn't work (at a job) anymore, because he (as a person) doesn't work anymore. That's the feeling we're getting after his latest public statements, which seem to reveal the true extent of his problems.
So exactly what wild things did Charlie Sheen say about  Two and a Half Men boss Chuck Lorre, Sheen's own sobriety and his current worldview, during a radio interview on The Alex Jones Show? Get the stunning, very possibly career-torpedoing highlights:
If you'd like to, you can listen to the whole interview here, but only press play if you're a glutton for punishment and/or you delight in lunatic outbursts. Should you care to hear more about Charlie's love life, he's dating some sort of drug diva, which we have covered elsewhere, but for our purposes, we'll restrict ourselves to the bile he spewed at his boss, Two and a Half Men show runner Chuck Lorre, and the statements that are salient to his prospects of continued employment on a major broadcast network television comedy.
While talking to Alex Jones of the conservative radio program The Alex Jones Show, Sheen addressed the recent Chuck Lorre vanity card where Lorre joked that he would be "pissed" if Charlie Sheen outlived him. Jones asked Sheen if there were some "people in your life who were trying to demonize you, saying they were going to outlive you, it seems pretty darn aggressive."
Sheen responded, "Yeah, I didn't care about that vanity card. In fact I went straight on with that one and just dispelled that. That was actually one of the few compliments that clown has paid me in frickin' almost a decade. But I'm excited to get back to work."
Sheen's rep confirmed that Sheen is still scheduled to go back to work on Mon., Feb. 28, and Sheen elaborated on his current relationship with his employer, saying, "Man, I'm here to tell you, and I'm tired of being told, 'You can't talk about that, you can't talk about that.' Bull-S-H-I-T. Let me just say this...that it's nothing less than [unintelligible] this side of deplorable that a certain Chaim Levine—yeah, that's Chuck's real name—mistook this rock star for his own selfish exit strategy, bro. Check it, Alex. I embarrassed him in front of his children and the world, by healing at a pace that his unevolved mind cannot process. Last I checked, Chaim, I've spent close to the last decade effortlessly and magically converting your tin cans into pure gold, and the gratitude I get is this charlatan chose not to do his job, which is to write. Clearly someone who believes he's above the law."
Sheen appears to be referring to (a) Chuck Lorre's name change from Charles Michael Levine—which Lorre explained in more detail in this vanity card—and/or Lorre's Jewish heritage, and (b) reports that, at Lorre's request, the episode order for this season of Two and a Half Men will be cut back by four this season, as a consequence of Sheen's, oh, let's call them "issues."
According to Sheen, he's "100 percent" clean. He elaborated on this point, very graphically, saying, "Here's your first pee test, next one goes in your mouth; no, you won't get high."
When asked why he was doing the broadcast, Sheen responded, "Because why give an interview when you can leave a warning? I'm not fair game. I'm not a soft target. There's a new sheriff in town, and he has an army of assassins."
What?! Whaat!?
Dude, just please stop talking. But you, gentle readers, you are invited to please react in the comments.