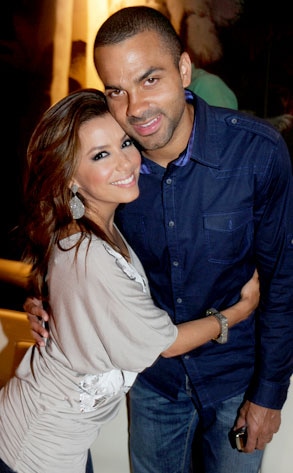 Seth Browarnik/startraksphoto.com
Despite a false start yesterday, Eva Longoria Parker and Tony Parker are now officially splitting.
Eva filed for divorce from her basketballer hubby today in Los Angeles, amidst allegations that he cheated on her with another NBA wife. Ironically enough, it was pro basketball that originally brought the Texas-born Eva and French-born Tony together back in 2004.
So what exactly happened between the two, after all their rough patches, a storybook French wedding and three years of marriage?
Here's a look at how it all went down:
November 2004: After attending a San Antonio Spurs game with her father, Eva requested to meet the players in the locker room. She fell in "lust at first sight" with Tony. Upon meeting the Desperate Housewives star, Tony asked both Eva (and her father) to dinner, and the couple began dating.
September 2006: The couple hit a rough patch and broke up briefly, due to the demands of a long distance relationship and their busy careers.
November 2006: Their split short-lived. Just two months later, Tony surprised Eva with a candlelit marriage proposal in L.A., which she shared exclusively with our own Ryan Seacrest. "You know, Ryan, we aren't going to be crazy hush-hush about this and be dramatic trying to protect it, because we are so excited," she said at the time. "It's going to be huge and beautiful, and we just can't wait."
July 7, 2007: And huge and beautiful it was! Less than a year later, Eva and Tony tied the knot during a religious ceremony in a Paris church. They then headed to a 17th-century chateau outside the city for a fairy-tale celebration with 300 friends and family members.
The bride wore an Angel Sanchez gown and recited her vows in French, Tony's native tongue. Famous faces at the wedding included Victoria Beckham, Michael Douglas, Catherine Zeta-Jones, Jessica Alba, Teri Hatcher and Nicolette Sheridan. The two had a quick honeymoon in Turks and Caicos.
December 2007: The couple faced their first scandal as a wedded couple, when X17 ran an interview with a French model who claimed she slept with Tony. Tony vigorously denied the claims and filed a lawsuit against the site for defamation and asked for $20 million in damages. X17 later issued an apology.
Oct. 23, 2010: The twosome was all smiles at their last public appearance together before the divorce filing, for Eva's 2nd Annual Rally For Kids With Cancer charity event.
Nov. 16, 2010: Eva suddenly pulls out of CNN's Heroes event with no explanation. That same day, TMZ reports Tony has filed for divorce in Texas. They later retract the story, and Eva's rep tells E! the report is "100 percent false".
Nov. 17, 2010: The very next day, Eva is one to pull the trigger on the divorce, filing in L.A. and citing irreconcilable differences. "I still love my husband and I am sad that all of this is happening," Eva tells E! News exclusively. She also spills to friend Mario Lopez that the split was due to cheating—between Tony and a mutual friend and fellow NBA wife. A source tells E! News that Tony is "begging for forgiveness."
Stay tuned. We have the feeling the story behind this split is still unraveling.