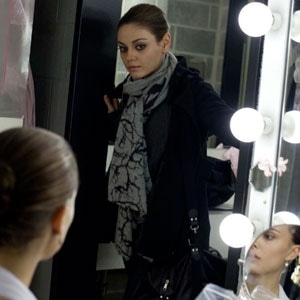 Fox Searchlight
When Mila Kunis was making Black Swan, she dropped to a mere 95 pounds.
She insists it wasn't so pretty.
However, that doesn't mean she didn't like it. At times, she did.
We'll let her explain…
"I could see why this industry is so f--ked up, because at 95 pounds, I would literally look at myself in the mirror and I was like, Oh my God!" she says. "I had no shape, no boobs, no ass…All you saw was bone. I was like, This looks gross."
But then she had a couple of photo shoots and began work her next flick, Book of Eli. "In real life, it looked disgusting," Kunis says. "But in photographs and on film, it looked amazing."
Family and friends became concerned. "My mom freaked out," she says. "Everybody started panicking. She was like, 'You have to promise me this isn't going to affect you.' I was like, 'I promise it won't, but it might take me a little time to be OK with having a little more fat on me.' "
Fortunately, she put the weight back on.
"Man," she says, "it took me five months to lose 20 pounds, but it took me just five days—days!—to gain it all back."