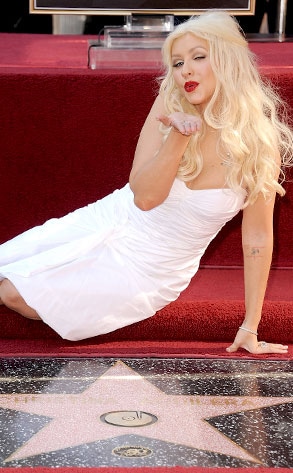 Steve Granitz/WireImage
Christina Aguilera is out and about this month promoting her divorce new movie and, like every big star with a splashy new project, name recognition and a fan base with $30,000 to burn, turned up to Hollywood Boulevard this morning to unveil her star on the Walk of Fame.
That they spelled her name right was just a bonus.
The 29-year-old received the 2,423rd star on the Hollywood Walk of Fame this morning ostensibly for her musical career (five Grammys and 30 million records should certainly earn you the honor), even though it comes—coincidentally, we're sure—just a week in advance of her movie debut in Burlesque.
As it happens, Christina landed on some well-trodden real estate on the boulevard, with her star falling directly in front of the Hard Rock Café.
She's certainly come a long way since the All New Mickey Mouse Club. Congrats, Christina!