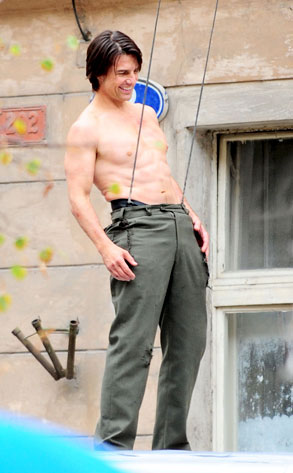 Laurent Despois / Splash News
Has Tom Cruise been watching Jersey Shore?
While on set of Mission: Impossible 4 in Prague, Mr. Katie Holmes bared his beyond buff abs and clearly freshly waxed chest. With a body like that, he could easily fit in with the chiseled dudes on MTV's show, right?
The 48-year-old actor was also doing his own stunts, including one involving a zip line, a moving van and a three-story building.
So if Cruise keeps this up, he can move in with Snooki & Co. and get himself a proper Shore handle. Like maybe Tommy Guns? Or something better?