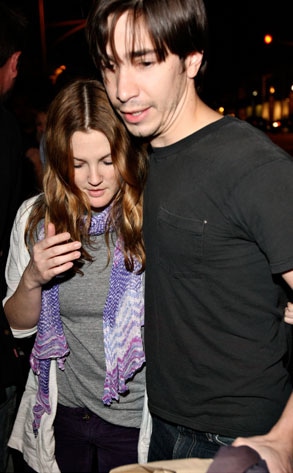 FAME PICTURES
UPDATE: As of Friday afternoon, Justin Long's rep still had no comment. However, a source close to the actor says, "There was never a formal casting announcement or closed deal."
The source also says Long is at Comic-Con promoting upcoming film projects.
________________________
Drew Barrymore apparently whipped him good.
A source tells E! News that Justin Long, who remains "distraught" over being dumped by the Charlie's Angels star, has dropped out of the roller-derby comedy Whip It!, which marks Barrymore's feature directorial debut.
"He couldn't stand working with her and not being with her," the Long insider says. "He's too upset."
Adds our source: "She dumped him. She was hot and cold. One minute she was in love with him and the next she wanted to break up with him.
"He is so distraught over the split that he dropped out of the movie."
Chris Miller, a rep for Flower Films (Barrymore's production company with partner Nancy Juvonen), would not confirm whether Long had been formally attached to the project, saying, "It's bordering on his personal life," and directing E! News to Long's rep.
"We never comment on cast," Miller added.
Long's publicist, Chantelle Aspey, did not immediately return calls for comment.
Whip It!, based on the book Derby Girls, about the life of a female roller-derby player, begins shooting Monday in Michigan. Starring alongside Barrymore are Ellen Page, Juliette Lewis, Marcia Gay Harden, Zoe Bell and Kristen Wiig.
Reps for Long, 30, and Barrymore, 33, confirmed the formerly PDA-happy couple's breakup on July 7. The He's Just Not That Into You costars had dated for almost nine months and had celebrated Long's birthday together in June.
The duo also made a trek to see a live roller-derby event in Los Angeles as preparation for the movie.
(Originally published July 24, 2008, at 8:11 p.m. PT.)