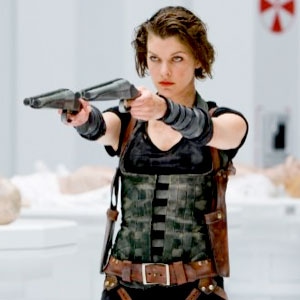 Screen Gems
Resident Evil: Afterlife towered over George Clooney—and everybody else. Katie Holmes towered over Joaquin Phoenix—and, by one scale, everybody else.

A look at the weekend box-office results:
• The new Resident Evil flick scored the No. 1 finish, and a franchise-best $27.7 million debut. Afterlife is not only the series' best-opening movie, it's the first one to be shot in 3D—and to, yes, charge 3D prices.
• Internationally, Afterlife was even bigger, grossing a whopping $45.5 million. All told, the $60 million movie made its budget, and then some, in about 72 hours flat.

•  Of the Top 10 holdovers, the three-week old Takers ($6.1 million; $48.1 million overall) held on the best, moving up to second place. 
• Clooney's The American ($5.9 million; $28.3 million overall) fell; Robert Rodriguez's Machete ($4.2 million; $20.8 million overall) fell harder.

• Overall, it was not a great start for the fall-movie season. While Afterlife did better than projected, none of the other wide-release films did much of anything. Last year at this time, Hollywood had eight-digit debuts from both Tyler Perry (I Can Do Bad All By Myself) and Tim Burton (9).
• Mrs. Tom Cruise was the star on the art-house circuit, where The Romantics, a sort-of Little Chill featuring Holmes, Anna Paquin and Josh Duhamel, grossed $45,000 at only two theaters. The indie boasted the highest reported per-screen average of any weekend contender, including Resident Evil: Afterlife and a certain documentary about an actor's (ex-actor's?) journey into rap.
• I'm Still Here, that certain documentary, opened at 20 theaters. Phoenix's much-discussed tale grossed $100,000 for a good, not great, per-screen average of $5,000.
Here's a complete look at the weekend's top-grossing films, per Friday-Sunday estimates compiled by Exhibitor Relations:
Resident Evil: Afterlife, $27.7 million
Takers, $6.1 million
The American, $5.9 milion
Machete, $4.2 million
Going the Distance, $3.8 million
The Other Guys, $3.6 million
The Last Exorcism, $3.5 million
The Expendables, $3.3 million
Inception, $3 million

Eat Pray Love, $2.9 million