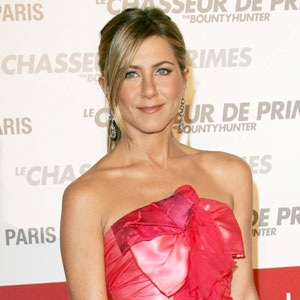 Tony Barson/Getty Images
Shortly after it was announced that Jennifer Aniston signed on to play an oversexed dentist in the comedy Horrible Bosses, rumors of a topless scene hit the web.
Her rep quickly shot down the gossip, but did tell me her scenes are said to be "provocative."
So just how racy is Ms. Aniston gettin'?
First a quick movie synopsis: The flick is about three men (Jason Bateman, Jason Sudeikis and Charlie Day) who scheme together to kill their bosses (Aniston, Colin Farrell and Kevin Spacey).
What makes Aniston's character so horrible of an employer that someone would want her dead instead of simply leaving her for a new job? Sexual harassment!
Aniston wants one of her employees (played by Day) big time and will stop at nothing to have him. And we're not just talking about a grope here and a pat on the butt there.
"She really goes after him, but he doesn't want it," a source tells us. "He has to practically fight her off. It's hysterical."
In one scene, Aniston apparently isn't wearing much. Our source didn't know what her final wardrobe decision was, but we're thinking barely-there lingerie under a dentist's coat would do the trick.
The provocative scenes are being shot on a closed set in Los Angeles, the source said, because they want to keep details secret and they want Aniston as comfortable as possible.
In other words, the less eyeballs staring at her, the better.