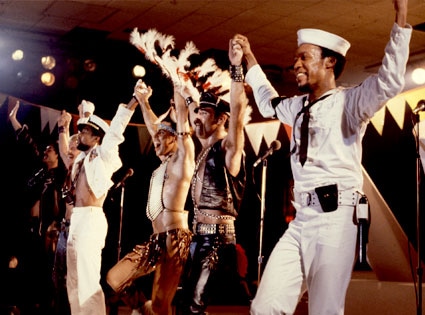 Michael Putland/Getty
The Village People will continue to give "YMCA" a good workout, even if it's now just "The Y."
After the Young Men's Christian Association announced today it would be shortening its moniker as part of a rebranding effort, the disco legends were quick to proclaim their allegiance to the old-school acronym and the monster hit it inspired.
"We are deeply dismayed by today's announcement from the YMCA that they feel a name change and a rebranding are in order after 166 years," the Village People's publicist says in a statement. "Some things remain iconic and while we admire the organization for the work they do, we still can't help but wonder Y."
Those guys are so punny...
The good news? The cop, construction worker, Native American, cowboy,  biker and G.I. say they "will continue to perform all four letters in their concerts around the world."
The Macho Men insist that name change or not, their timeless tune, which has sold more than 15 million copies, will continue to be a staple at "weddings, ball games and bar mitzvahs" forever.
God help us if the government ever gets rid of the Navy.
________
The Village People love their costumes. Wonder what they'd think of Lady Gaga.