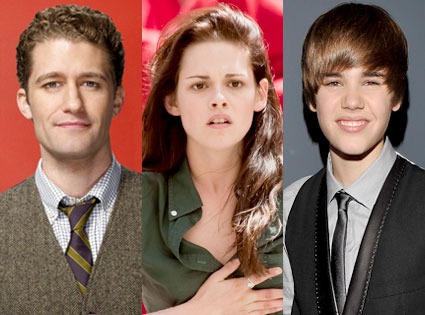 Matthias Clamer/FOX; Summit Entertainment; Lester Cohen/WireImage.com
And order is once again restored to the universe.
While The Twilight Saga: New Moon was briefly, shall we say, eclipsed as the top nomination-getter of the Teen Choice Awards, it's back on top after the second wave of nominees was announced this morning.
Robert Pattinson, Kristen Stewart, Taylor Lautner and the rest of the Twilight gang have boosted their haul to a leading nine nominations for their sophomore effort, but they're not alone at the top of the leaderboard. And sorry, this time you can't blame Harry Potter.
But you can blame those all-singing, all-dancing preternaturally perky Gleeks.
The gang from Glee also bumped their tally with the latest round of nominations, equaling the folks from Forks with nine nods.
But enough about them, let's talk about you. Congratulations, you've also scored yourself a Teen Choice nomination! Provided, that is, you're a Twi-hard, Gleek, have Bieber fever, idolize Miley Cyrus or swoon at the mere mention of David Archuleta's name, as those are the fan bases up this year for Most Fanatic Fans.
As for the rest of the new nominations, this round sees the couples in contention for Choice Movie Liplock, Fight, Hissy Fit, Chemistry, Choice Music Hookup, Choice Male and Female Hotties and more categories that push the upper boundary of the telecast's PG-13 rating.
We'll save you some scrolling time: Robsten's puckering is of course up for best kiss, and they compete against former real-life duo Taylors Lautner and Swift, current real-life duo Miley and Liam Hemsworth, besties Sandra Bullock and Ryan Reynolds (is Scarlett available to present?) and bromancers Russell Brand and Jonah Hill.
The couples up for Choice Chemistry are exactly the same, with the sole swap of Brand and Hill for Dear John's Amanda Seyfried and Channing Tatum.
Other nods announced this morning are for Red Carpet Fashion Icons, Choice Twit, Choice Scene-Stealer (AKA where everyone in Twilight not named Rob, Kristin or Taylor get their chance to shine), Choice American Idol Alum and, because it's nice to be more than just a pretty face, Choice Activist.
Katy Perry hosts the show, airing on Fox Aug. 9. Here's the new wave of nominees:
MOVIES
Choice Movie: Liplock
• Russell Brand and Jonah Hill, Get Him to the Greek
• Sandra Bullock and Ryan Reynolds, The Proposal
• Miley Cyrus and Liam Hemsworth, The Last Song
• Taylor Lautner and Taylor Swift, Valentine's Day
• Robert Pattinson and Kristen Stewart, The Twilight Saga: New Moon
Choice Movie: Fight
• Sean Combs vs. Russell Brand and Jonah Hill, Get Him to the Greek
• Robert Downey Jr. and Don Cheadle vs. The Hammer Drones, Iron Man 2
• Logan Lerman vs. Jake Abel, Percy Jackson and the Olympians: The Lightning Thief
• Mia Wasikowska vs. The Jabberwocky, Alice in Wonderland
• Sam Worthington vs. Stephen Lang, Avatar
Choice Movie: Hissy Fit
• Jessica Biel, Valentine's Day
• Sean Combs, Get Him to the Greek
• Miley Cyrus, The Last Song
• Giovanni Ribisi, Avatar
• Vince Vaughn, Couples Retreat
Choice Movie: Chemistry
• Sandra Bullock and Ryan Reynolds, The Proposal
• Miley Cyrus and Liam Hemsworth, The Last Song
• Taylor Lautner and Taylor Swift, Valentine's Day
• Amanda Seyfried and Channing Tatum, Dear John
• Kristen Stewart and Robert Pattinson, The Twilight Saga: New Moon
Choice Movie: Male Breakout
• Quinton Aaron, The Blind Side
• Jesse Eisenberg, Zombieland / Adventureland
• Liam Hemsworth, The Last Song
• Aaron Johnson, Kick-Ass
• Logan Lerman, Percy Jackson and the Olympians: The Lightning Thief
Choice Movie: Female Breakout
• Gemma Arterton, Clash of the Titans
• Alexandra Daddario, Percy Jackson and the Olympians: The Lightning Thief
• Chloë Grace Moretz, Kick-Ass
• Taylor Swift, Valentine's Day
• Mia Wasikowska, Alice in Wonderland
Choice Movie: Male Scene Stealer
• Sean Combs, Get Him to the Greek
• George Lopez, Valentine's Day
• Kellan Lutz, The Twilight Saga: New Moon
• James Marsden, Death at a Funeral
• Mark Wahlberg, Date Night
Choice Movie: Female Scene Stealer
• Dakota Fanning, The Twilight Saga: New Moon
• Ashley Greene, The Twilight Saga: New Moon
• Anne Hathaway, Alice in Wonderland/Valentine's Day
• Anna Kendrick, The Twilight Saga: New Moon/Up in the Air
• Betty White, The Proposal
TELEVISION
Choice TV: Personality
• Nick Cannon
• Simon Cowell
• Cat Deeley
• Mario Lopez
• Ryan Seacrest
Choice TV: Breakout Show
• Community
• Life Unexpected
• Modern Family
• The Vampire Diaries
• Victorious
Choice TV: Female Scene Stealer
• Hilary Duff, Gossip Girl
• Bethany Joy Galeotti, One Tree Hill
• Katerina Graham, The Vampire Diaries
• Shenae Grimes, 90210
• Amber Riley, Glee
Choice TV: Male Scene Stealer
• Chris Colfer, Glee
• Johnny Galecki, The Big Bang Theory
• Simon Helberg, The Big Bang Theory
• James Lafferty, One Tree Hill
• Matthew Morrison, Glee
Choice TV: Female Breakout Star
• Dianna Agron, Glee
• Nina Dobrev, The Vampire Diaries
• Sarah Hyland, Modern Family
• Bridgit Mendler, Good Luck Charlie
• Mae Whitman, Parenthood
Choice TV: Male Breakout Star
• Ken Jeong, Community
• Kevin McHale, Glee
• Rico Rodriguez, Modern Family
• Mark Salling, Glee
• Paul Wesley, The Vampire Diaries
Choice TV: Parental Unit
• Rob Estes and Lori Loughlin, 90210
• Bethany Joy Galeotti and James Lafferty, One Tree Hill
• Lauren Graham, Parenthood
• Bruce and Kris Jenner, Keeping Up With the Kardashians
• Mike O'Malley, Glee
MUSIC
Choice Music: Single
• "Nothin' On You," B.o.B featuring Bruno Mars
• "Can't Be Tamed," Miley Cyrus
• "Your Love Is My Drug," Ke$ha
• "Bad Romance," Lady Gaga
• "California Gurls," Katy Perry
Choice Music: Hook Up
• "Airplanes," B.o.B featuring Hayley Williams
• "I Like It," Enrique Iglesias featuring Pitbull
• "Telephone," Lady Gaga featuring Beyoncé
• "If We Ever Meet Again," Timbaland featuring Katy Perry
• "We'll Be A Dream," We the Kings featuring Demi Lovato
Choice Music: Breakout Artist—Male
• Justin Bieber
• B.o.B
• Jason Derülo
• Drake
• Nick Jonas and The Administration
Choice Music: Breakout Artist—Female
• Miranda Cosgrove
• Selena Gomez and The Scene
• Ke$ha
• Demi Lovato
• Nicki Minaj
Choice Music: Love Song
• "When I Look At You," Miley Cyrus
• "Stay," Nick Jonas and The Administration
• Catch Me," Demi Lovato
• "Neutron Star Collision (Love Is Forever)," Muse
• "The Only Exception," Paramore
Choice Music: R&B Track
• "In My Head," Jason Derülo
• "Beautiful Monster," Ne-Yo
• "Rock That Body," The Black Eyed Peas
• "Rude Boy," Rihanna
• "OMG," Usher
 Choice Music: Rap/Hip-Hop Track
• "Hello Good Mornin," Diddy-Dirty Money featuring T.I.
• "Find Your Love," Drake
• "Love The Way You Lie," Eminem featuring Rihanna
• "Wavin' Flag," K'naan
• "Carry Out," Timbaland featuring Justin Timberlake
Choice Music: Rock Track
• "You and Your Heart," Jack Johnson
• "All The Right Moves," OneRepublic
• "Ignorance," Paramore
• "Breakeven," The Script
• "Hey, Soul Sister," Train
Choice Music: Country Song
• "Need You Now," Lady Antebellum
• "The House That Built Me," Miranda Lambert
• "Water," Brad Paisley
• "Fifteen," Taylor Swift
• "Undo It," Carrie Underwood
Choice Music: Album—Pop
• My World 2.0, Justin Bieber
• Animal, Ke$ha
• The Fame Monster, Lady Gaga
• Here We Go Again, Demi Lovato
• The E.N.D., The Black Eyed Peas
Choice Music: Album—Rock
• Leave This Town, Daughtry
• To the Sea, Jack Johnson
• The Resistance, Muse
• Brand New Eyes, Paramore
• Save Me San Francisco, Train
Choice Music: Album—R&B
• Jason Derülo, Jason Derülo
• The Element of Freedom, Alicia Keys
• The ArchAndroid, Janelle Monáe
• Rated R, Rihanna
• Raymond vs. Raymond, Usher
Choice Music: Album—Rap
• B.o.B Presents the Adventures of Bobby May, B.o.B.
• So Far Gone, Drake
• Relapse, Eminem
• The Blueprint 3, Jay Z
• Battle of the Sexes, Ludacris
Choice Music: Album—Country
• Doin' My Thing, Luke Bryan
• Need You Now, Lady Antebellum
• Fearless, Taylor Swift
• Play On, Carrie Underwood
• The Foundation, Zac Brown Band
FASHION AND BEAUTY
Choice Male Hottie
• Zac Efron
• Taylor Lautner
• Kellan Lutz
• Robert Pattinson
• Ian Somerhalder
Choice Female Hottie
• Jessica Biel
• Megan Fox
• Scarlett Johansson
• Kim Kardashian
• Katy Perry
Choice Red Carpet Fashion Icon—Female
• Miley Cyrus
• Selena Gomez
• Lady Gaga
• Eva Longoria Parker
• Katy Perry
Choice Red Carpet Fashion Icon—Male
• Russell Brand
• Jonas Brothers
• Ashton Kutcher
• Taylor Lautner
• Justin Timberlake
Choice: Celebrity Fashion Line
• Sean Jean, Sean "Diddy" Combs
• Miley and Max, Miley Cyrus and Max Azria
• House of Harlow, Nicole Richie
• L.A.M.B., Gwen Stefani
• William Rast, Justin Timberlake
MISCELLANEOUS
Choice Twit
• Ellen DeGeneres
• Kim Kardashian
• Ashton Kutcher
• George Lopez
• Ryan Seacrest
Choice Web Star
• Greyson Chance
• Shane Dawson
• Fred Figglehorn/Lucas Cruikshanki
• Justine
• Charles Trippy
Choice Videogame
• Band Hero
• Green Day: Rock Band
• Halo 3
• New Super Mario Brothers Wii
• The Sims 3
Choice Smile Presented by Invisalign Teen
• Miranda Cosgrove
• Zac Efron
• Victoria Justice
• Taylor Lautner
• Cory Monteith
Choice Activist
• Leonardo DiCaprio
• Eva Longoria Parker
• Shakira
• Jessica Simpson
• Justin Timberlake
Choice American Idol Alum
• David Archuleta
• Kelly Clarkson
• Chris Daughtry
• Jennifer Hudson
• Carrie Underwood
Most Fanatic Fans
• David Archuleta
• Justin Bieber
• Miley Cyrus
• Glee Cast
• Twilight Cast