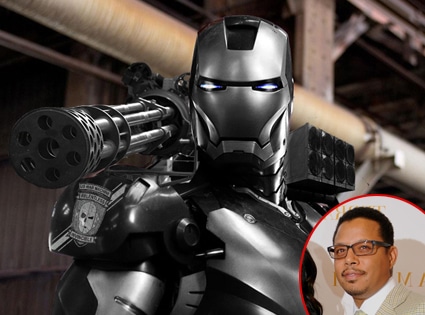 Paramount Pictures
Terrence Howard wants the world to know he can't wait to see Iron Man 2—even if he's not in it.
The Oscar-nominated actor turned up with Jennifer Hudson for a cocktail reception at the Terrazza Martini tent along the Croisette at the 63rd Cannes Film Festival Sunday. They were in town to promote their upcoming biopic, Winnie, which chronicles the life of Nelson Mandela's controversial ex-wife and begins shooting May 31 in South Africa.
When he wasn't giving us a Method-inspired impression of the former South African president whom he's set to portray, the 41-year-old Howard took time out to talk about a matter that's been dogging him for the past two years now: being replaced by Don Cheadle for the Iron Man sequel.
"I haven't had a chance yet but I will see Iron Man 2," the thesp told E! News in his best Mandela voice.
He then sought to dispel any notion that he had a falling out with the studio or director Jon Favreau.
"Despite the customary idea or thought that there's some controversy, it was a wonderful split and I know that they've done well," Howard claimed. "Robert Downey Jr. was born to play that part and it was wonderful that that part has given him the stature that he was supposed to hold before."
Howard then went on to take credit for helping Downey land the comic book hero.
"For me to have recommended him, it means all the more so that I helped someone get to where they are supposed to go," the Crash star continued. "Marvel and I are now talking about doing some other things. And Don Cheadle wanted to play that part before I wanted to play it, so everything is very well."
Downey has repeatedly declined to address the casting switcheroo.
Howard, meanwhile, will be playing Mandela right on the heels of Morgan Freeman's Academy Award-nominated performance as the Nobel Peace Prize winner in Clint Eastwood's Invictus. But he said he looks forward to the comparisons.
"Morgan Freeman was born with the nobility, the stature and comportment of Mandela. Morgan has the benefit of living through the years of apartheid and what J. Edgar Hoover did over the years of apartheid in order to keep the civil rights movement down in Mississippi, where Morgan is from. Morgan had the benefit of seeing that and the unfortunate benefit of experiencing that, so he had a natural alignment of the desires of Mandela," said Howard.
"Me, I'm eating from the tree that Mandela planted, that Martin [Luther King Jr.] planted, that Marcus Garvey planted. So I don't know whether it's the tree itself that benefits more or those who eat from the tree, but as long as I'm part of that orchard, then I am benefited."
________
Keep up with the latest Cannes scoop by following E! Online on Twitter.