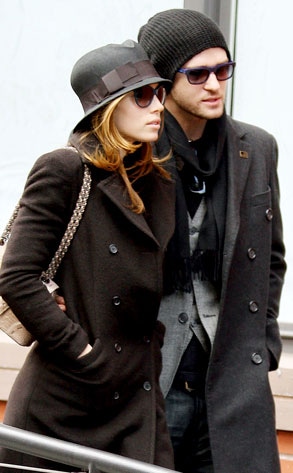 Freddie Baez/startraksphoto.com
Justin Timberlake definitely supports his lady.
He's doing a special introduction on MTV for Jessica Biel's latest project, a 90-minute documentary airing Sunday on her Summit on the Summit climb of Mt. Kilimanjaro to raise awareness of the global water crisis.
But is she as supportive of Justin's latest project, the movie Bad Teacher, in which he plays the love interest to his former girlfriend Cameron Diaz? They even have a hot romp in a hotel room.
Let's just say Jessica may be up for girlfriend of the year, and it's only March.
"I haven't read the script, but I think it sounds fantastic," she tells E! News during a screening at the Tribeca Grand Hotel of the Summit on the Summit doc. "It sounds like it will be so funny. Obviously, I'm superexcited for him."
After we picked our jaws up off the floor, the couple's good friend and trainer Jason Walsh explained her fortitude
"There's confidence in the relationship and respect and honesty and communication," he says. "It's rare in this world—and especially in Hollywood—that you see that and it's kind of beautiful. I respect that a lot."
But that doesn't mean Jess doesn't have a competitive streak.
"I try not to pay attention to it, but you can't help but laugh about how Jess will try not to show that she's being competitive," Jason says of the couple's group workout habits. "She is competitive as hell, especially if there's a guy in the room. Girls, she'll lay back. But guys, she'll bring it up a little bit."
See how she and Jason fare on the big climb—and what sweet things Justin has to say about it—when Summit on the Summit: Kilimanjaro airs on MTV Sunday at 9 p.m.