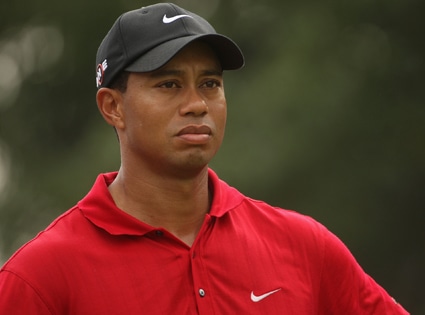 Andrew Redington/Getty Images
UPDATE: The Florida Highway Patrol has just released the 911 recording of the Woods crash, in which an unidentified caller tells the dispatcher, "I have someone down in front of my house."
________
Tiger Woods has broken his silence.
While the golf icon remains holed up in his Florida home avoiding Florida Highway Patrol investigators for the second straight day, he did take time to compose his first public statement since his solo car crash early Friday.
"As you all know, I had a single-car accident earlier this week, and sustained some injuries. I have some cuts, bruising and right now I'm pretty sore," he writes on a message posted on tigerwoods.com.
"This situation is my fault, and it's obviously embarrassing to my family and me. I'm human and I'm not perfect. I will certainly make sure this doesn't happen again."
And about those reports that his marriage is on the skids?
Tiger ain't talking.
"This is a private matter and I want to keep it that way. Although I understand there is curiosity, the many false, unfounded and malicious rumors that are currently circulating about my family and me are irresponsible.
"The only person responsible for the accident is me. My wife, Elin, acted courageously when she saw I was hurt and in trouble. She was the first person to help me. Any other assertion is absolutely false.
"This incident has been stressful and very difficult for Elin, our family and me. I appreciate all the concern and well wishes that we have received. But I would also ask for some understanding that my family and I deserve some privacy no matter how intrusive some people can be."
Meanwhile, Woods, 33, and his wife called off an interview with state troopers that had been scheduled for 3 p.m. local time today. No immediate word on when it will be rescheduled, but E! News has confirmed that Woods has hired high-profile Orlando-based criminal attorney Mark Nejame.
The FHP said its troopers were rebuffed by Nejame when they showed up at Casa Woods for today's meeting.
"Mr. Woods' attorney was present and told investigators that Mr. Woods was unavailable for an interview," said Sgt. Kim Montes. "Mr. Woods' attorney provided the troopers with Mr. Woods' driver's license information, registration and current proof of insurance, as required by Florida law.
"The traffic crash remains under investigation and charges are pending."
The incident has also thrown into doubt his next scheduled golfing appearance. He is supposed to be in Thousand Oaks, Calif., for a press conference on Tuesday in advance of the Thursday tournament. Neither Woods' reps nor tournament officials have said whether he still plans to attend.
—Reporting by Ken Baker and Lindsay Miller
(Originally published Nov. 29, 2009, at 8:25 p.m. PT.)
________
Tiger Woods is a class act. These guys? Not so much. In fact, they'll probably leave you saying, "What a douche!"