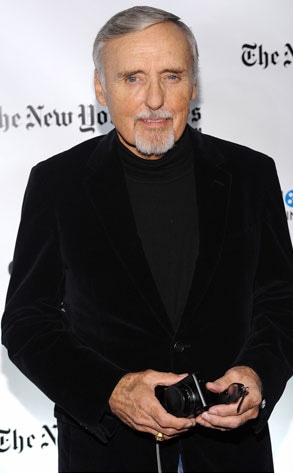 AP Photo/ Evan Agostini
This easy rider has a tough ride ahead.
Dennis Hopper is battling prostate cancer, according to the actor's manager, and will be canceling all upcoming travel plans to focus on treatment.
"We're hoping for the best," manager Sam Maydew said, adding that Hopper is in treatment under a special program at the University of Southern California.
The 73-year-old star of the cult classic Blue Velvet was hospitalized on Sept. 30 with flulike symptoms and stomach trouble, but was out a day later and said to be feeling "much better."
Hopper recently finished shooting the second season of the Starz drama Crash, based on the 2004 Oscar-winning film, but was not able to make an appearance at "Dennis Hopper and the New Hollywood," an exhibition of his photography taking place at the Australian Centre for the Moving Image in Melbourne.