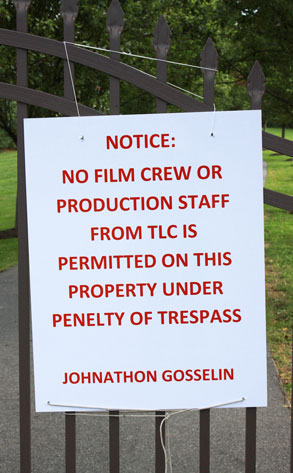 INFphoto.com
Jon Gosselin can't play nice, so he doesn't want his kids to play at all.
TLC has temporarily halted production on of Jon and Kate Plus 8 after Gosselin fired off two cease-and-desist letters and posted a sign at his home warning camera crews to stay away.
The 10th-most liked member is attempting to not only take his ball and go home—and make off with the entire playground—after the cable net announced the octodad has been dropped from the soon-to-be rebranded reality hit. Gosselin's latest gripes also come just hours before he launches his media blitz on, we suspect, a largely uninterested nation.
Ironically enough, while Gosselin was quick to defend the production's noninvasive presence in his children's lives for the many years he was involved in the show, now that he's been ousted, he seems to have suddenly developed a few moral problems with their participation. Go figure.
"Effective immediately, no production crews are to enter Jon's family home for any reason," one of the letters, sent to TLC by attorney Mark Jay Heller, read. "In the event that anyone enters the marital property, Jon Gosselin will notify the local authorities to effectuate police action against any trespassers."