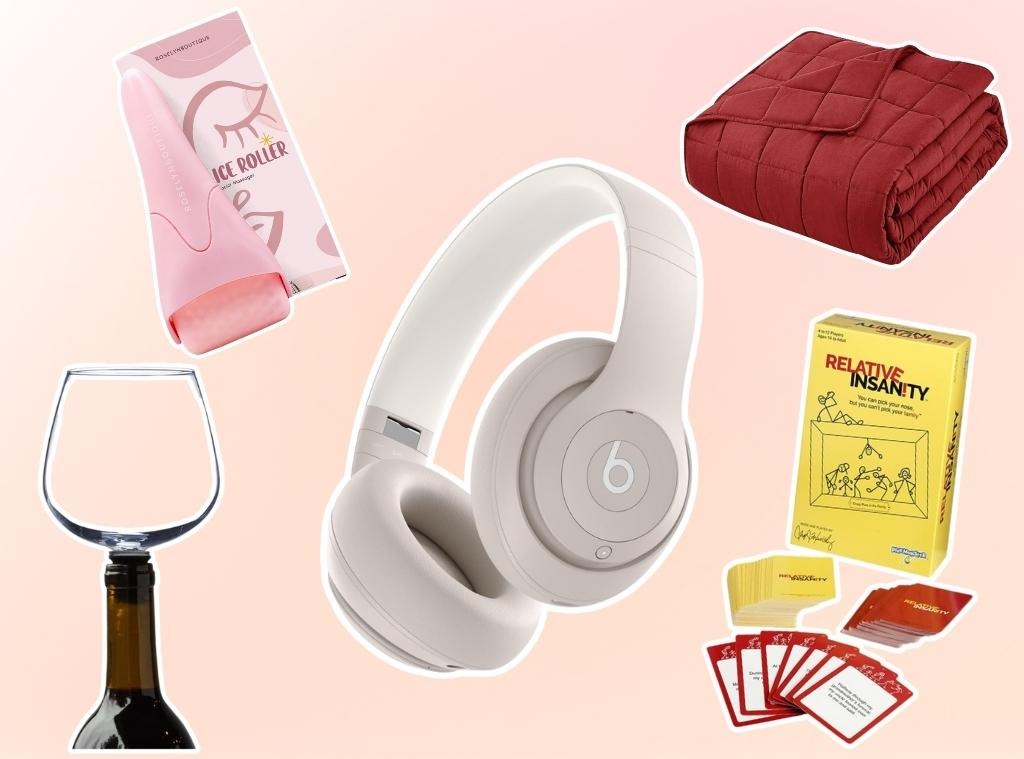 E! News Illustration / Photos Courtesy of Amazon
We independently selected these deals and products because we love them, and we think you might like them at these prices. E! has affiliate relationships, so we may get a commission if you purchase something through our links. Items are sold by the retailer, not E!. Prices are accurate as of publish time.
Thanksgiving is that time of year when we all envision charming grandkids, heartwarming memories, and feasts that rival Pinterest boards. But let's be real—often, the reality is the complete opposite thanks to our quirky relatives (yes, uncle conspiracy theorist, we're talking about you). While spending quality time with family is a holiday highlight, it's not always a walk in the park. Sure, you love having your family take over your barely furnished guest room, but even though we can't choose our lovely relatives, we can at least choose our sweet sanity.
Maintaining your composure during the holiday season may require some serious relaxation techniques, that's why we're here to hook you up with some easy fixes for peace and tranquility on turkey day besties. We scoured the internet for goodies that will make your holidays a breeze and help you survive this well-meaning yet sometimes chaotic holiday. Read on for the best products that'll help you have a stress-free Thanksgiving bash. Trust us, you're going to want these in your cart stat.
Beats Studio Pro Wireless Bluetooth Noise Cancelling Headphones
Yogi Tea Calming Organic Herbal Tea Bags
Sometimes it's as simple as a cup of tea to help you relax before the Thanksgiving chaos begins. With ingredients like chamomile and lavender, you'll be feeling Zen in no time with a cup of Yogi calming tea!
Meditation White Noise Sound Machine
This white noise sound machine will transport you to your special place where no controversial uncles exist! Whenever you need a break, just turn it on and enjoy over 30 natural soothing sounds.
ROSELYNBOUTIQUE Cryotherapy Ice Roller
Remember girlies, stress usually leads to breakouts. So, don't forget your trusty ice roller to help destress your skin and reduce puffiness.
Yescool Weighted Blanket
When all else fails, head straight to the couch and cozy up with this weighted blanket. It's available in a variety of colors and weights, and trust us when we say no one will dare come and bother you while you're hiding under this bad boy.  
Lagunamoon Essential Oils Set
Elevate your Thanksgiving experience with the soothing power of essential oils. Harness their calming aromas to create an oasis of relaxation amidst the holiday family whirlwind.
Relative Insanity Party Game
A classic family party game like "Relative Insanity" can be your secret weapon for keeping relatives entertained and in good spirits. In this hilarious game, one player presents a setup card, while others select punchline cards to complete the laughter-filled equation.
Ostrich Pillow Neck Pillow
This pillow is your ideal companion when you crave a post-dinner snooze but prefer not to rudely excuse yourself from the festivities.
Maybe Swearing Will Help Adult Coloring Book Set
Who doesn't love adult coloring books? Relieve your stress without dropping f-bombs in front of granny by coloring them into this magic book of swear words.
Godinger ChugMate Wine Glass Topper
Transform any bottle of wine into a "single serve" glass with this wine glass topper. A bit of liquid courage can help you deal with all your cooky relatives at the dinner table (we get it girlies).
—Originally published Nov. 3, 2023, at 3:00 a.m. PT