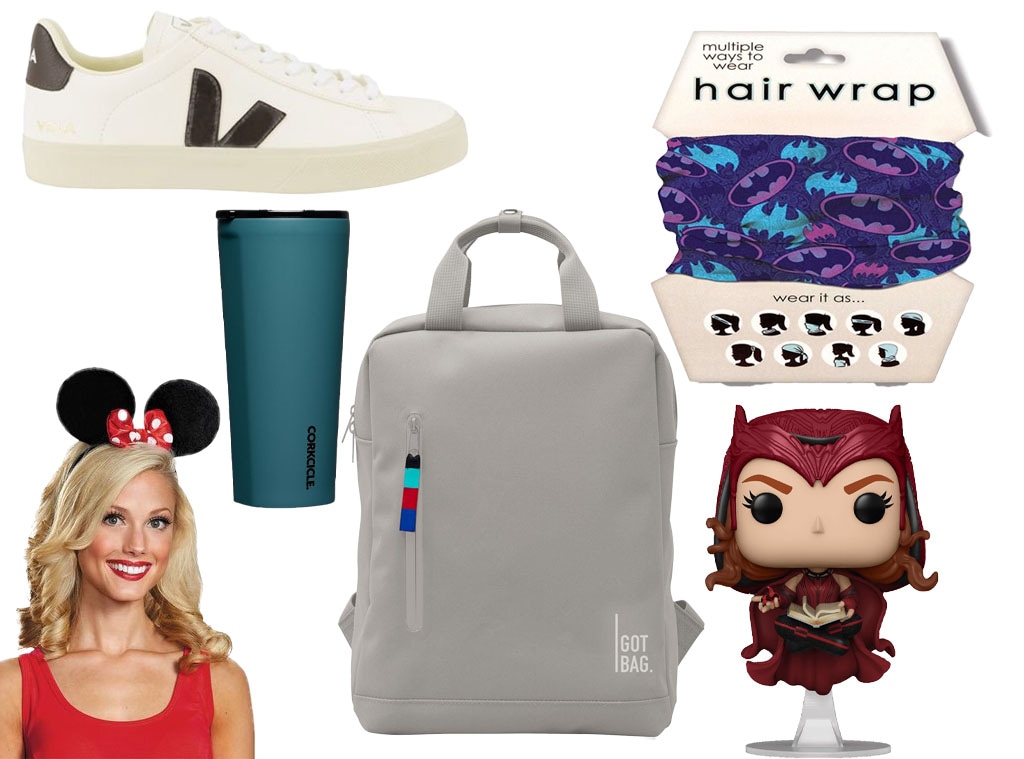 The brands featured in this article are partners of NBCUniversal Checkout. E! makes a commission on your purchase. Prices are accurate as of publish time. Items are sold by retailer, not E!.
New York Comic-Con is just a few weeks away, which means most attendees are well into preparation mode. Offering four full days of wall-to-wall programming, panels, retail opportunities, and more, the enormous fan convention is an opportunity for everyone who can't make it to its more famous older sibling in San Diego to still get their stan on.
Appearances by creators and performers alike can be expected. Plus, you know, the usual herd of impeccably costumed attendees. I'll assume that if you're reading this, you probably have a good idea of what you're going to wear. But what you know and what I know is, that's only the first step.
The key to making it through this year's NYCC? Preparation. Sure, you want to look good enough that people want to pose for pictures with you, but you also want to be hydrated, right? Caffeinated? Not have your feet ache after roaming the convention complex for hours on end?
Precisely. So that's why I've put together this list of packing essentials for New York Comic-Con. From Funko Pops to Batman-themed accessories (hey, with all those beautiful windows, it can get warm in there) these must-haves will help anyone make it through the con with energy to spare.
Veja Campo Sneakers
A quality pair of cute and stylish sneakers is a staple of any closet. It's also, regrettably, what a grownup needs to wear to a convention these days.
Indy Sunglasses Pink It's Not Me Square Sunglasses
Complete your Barbie-core lewk with these cheeky pink sunnies.
GOT BAG Daypack
Lightweight, padded, and crafted with a built-in a laptop sleeve, this take-everywhere pack is a con attendee's best friend. Plus, it's just waiting for you to add some pins to it!
Star Wars x Corkcicle Canteen
Making it through four full days at a convention center can be draining. Fortunately, Corkcicle has this collaboration with Star Wars to keep you hydrated (or caffeinated) to your heart's content.
Corkcicle Sierra Tumbler
They also offer a more understated canteen option, for those who want to make it clear that they're just the chaperone.
V-GB E Green Washable Non Medical Face Mask
I know we're well past the days where we want to bring a facial covering everywhere, but if you're going to have one in your back pocket, a washable, non-medical, and colorful mask is always a great choice.
Multitasky Deluxe Foldable Cell Phone Charger Stand & Tablet Holder
When you need to take a juice break (if you will), you can't do much better than this charger stand and tablet holder, provided you can find an outlet. It's compatible with Apple and Android devices.
Batman Purple Hair Wrap
This versatile Batman wrap keeps your hair up and off your neck on theme.
POP Marvel - WandaVision - Scarlet Witch
I mean, a Funko pop of thee Scarlet Witch? To accompany you at Comic-Con? It's a no-brainer. Especially if she's the one controlling your brain....hmm....
Kleenex On-the-Go Pack
From everyday sniffles to feelings surprises (hey, those panels can really get you!), there are endless reasons to have facial tissues in your backpack handy.
Scunchi Satin Scrunchies
There's always someone looking for a scrunchie. This year, be their hero.
Dr. Scholl's Revitalize Recovery Insoles
If you slip these into your cosplay boots before a long day of roaming the convention center, I won't tell anyone. 
Bala The Hourglass Roller
After the end of it all, treat yourself to a nice, deep stretch. You've earned it.
Mr. Boddington's Studio | Composition Book, Cherries
For those who'd rather not rely on convention center Wi-Fi for their extensive weekend planning, they can always kick it old school with a super-sweet notebook. As for what to use with it? More on that below.
Erin Condren Brights Fine Tip Markers Multi Pack
A bright and colorful marker assortment should bring out the fan of all things kawaii in you.
Soothi Sword Pens
These objectively hilarious pens are the perfect complement to a day spent going to swords-and-shields-type panels.
Soothi Quill Pens
Whether you're a Harry Potter fan or just know one, you know how much a quill-shaped pen might mean to someone.
Game Of Thrones Page Clips
Stocking up on comics at the vendor marketplace? Keep your place while you read them in line (we've all done it!) with these amazingly cute Game of Thrones page clips.
Polaroid Now Instant Film Camera
Make tangible memories instantly thanks to this new Polaroid New Instant Film Camera.
Polaroid 600 Instant Film
If you give a con attendee a Polaroid camera, as they say, they'll want some fresh film to go with it. (Just make sure the two are compatible, first.)