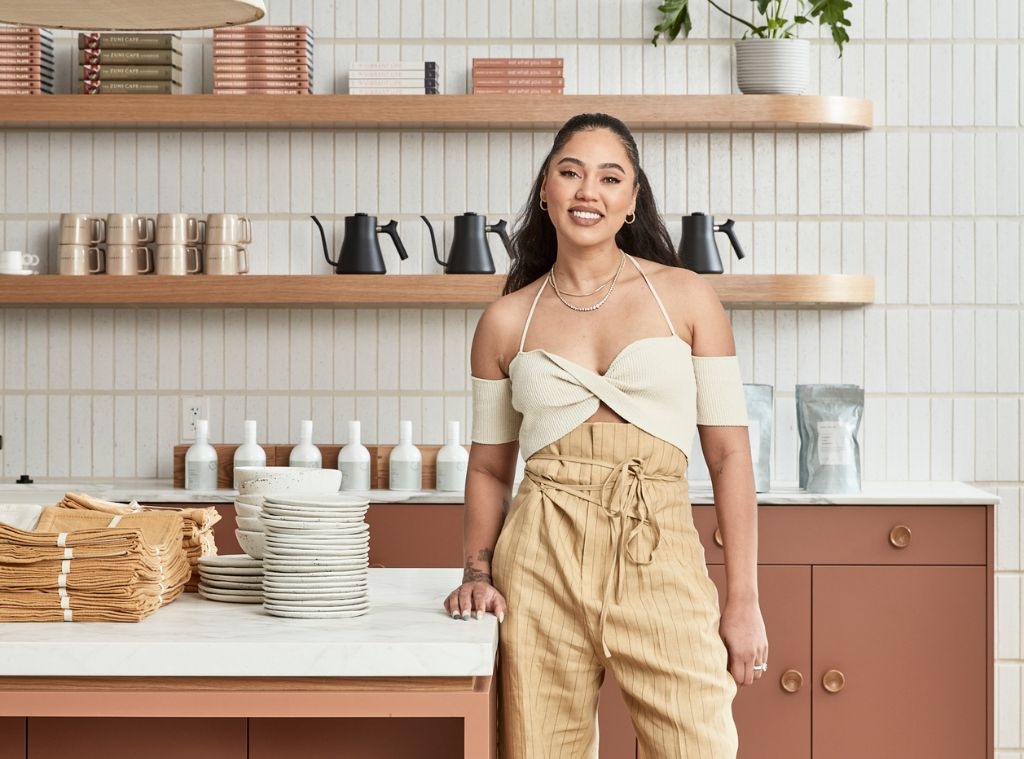 Seth Smoot
We interviewed Ayesha Curry because we think you'll like her picks. Ayesha is a paid spokesperson for Amazon. E! has affiliate relationships, so we may get a commission if you purchase something through our links. Items are sold by the retailer, not E!. Prices are accurate as of publish time.
Ayesha Curry is paying it forward. The lifestyle expert and proud mama of one of the cutest celebrity families around is using her light to help others shine, working with Amazon to highlight small and Black-owned businesses. Ayesha exclusively discussed with E! News her some of her favorite brands and products from these stores. She also reminded us how necessary self care continues to be for everyone these days. 
Read on for her picks and sage advice...
E!:Tell me about the Black Is Remarkable storefront and Buy Black store on Amazon.
A.C.: Amazon and I are both extremely committed to supporting Black-owned businesses, and they are making it easy for customers to discover and shop the incredible selection these businesses provide. The Black Is Remarkable storefront is a place where customers can discover a wide variety of Amazon's offerings from books, entertainment, music and more in addition to the Buy Black Store. The Buy Black Store is a destination for consumers to shop Black-owned businesses with products across beauty, fashion, toys, food, home, kitchen and more!
Beyond selling products, these storefronts share a lot of information about Black businesses and the people behind them. What are some of your favorite features that we should check out on these pages?
I love how easy it is to discover small businesses with the Small Business badge and Black-Owned Business badge — they're indicators that make it easier for consumers to discover and shop products from small and black-owned businesses.
I also love using the new Small Business search filter, which helps customers filter their searches to discover products from small business brands and artisans while shopping. The feature makes it so easy to find amazing products from small businesses in Amazon's store— including women-owned, Black-owned and military family-owned businesses and independent artisans.
What does it mean to have your brand Sweet July on Amazon, a platform that's accessible to so many people around the world?
I am so excited to have our Sweet July products selling in Amazon's store, and I'm honored to be a black-business owner selling in Amazon's store alongside so many other amazing brands. We just launched our skincare line, Sweet July Skin, which is a true celebration of my Jamaican roots, featuring clean, simple and effective products. We're available on Amazon, which has been an amazing way to introduce the products and line to a wider audience.
Tell me a little about some of the small brands on Amazon that you love.
I really admire Nadia, the founder of Crafts and the City. As a Black and Arabian woman, she incorporated scents into the spa aromatherapy products that reflect her cultural heritage to celebrate the beauty of cultural integration.
Being founder Kennedy is very passionate about handcrafting her own skincare which I can completely relate to. She designed her products to nourish your skin and help you feel your best so that you can show up as your true, authentic self every day.
You shared a lot of great self-care products from Black-owned businesses. Tell me why it's important for us to make time for self-care.
Well first off, I love supporting Black-owned businesses and celebrating Black entrepreneurs not only during Black Business Month in August but all the time. I'm so inspired by these founders who have truly poured their heart and soul into their companies and the products they create.
You can't pour from an empty cup, so to be at your best for the people that rely on you, you have to take time to prioritize yourself. Maybe it's a skin routine at the end of the day, or taking 15 minutes to journal first thing in the morning. Whatever that looks like for you, it's important to take the time and be consistent.
You heard Ayesha: Time to step up your self-care routine. See her recommendations below to have you thriving.
Being Still Salt Bath
"This sea salt soak instantly relaxes me. After a long day, I'll draw a bath and sprinkle some of this in and watch it lightly bubble and create the most relaxing environment. The smell is floral and beautiful. Plus, it comes with amazing healing benefits that can help with muscle ache and tension relief."
Golde Coconut Collagen Boost
"Collagen has so many amazing benefits, and I've tried over the last few years to work it into my everyday diet. This Coconut Collagen Boost from Golde is one of my favorites because it tastes delicious. It's easy to add a couple of scoops to your everyday beverages like coffee, smoothies, or matcha for a boost of skin support and added creaminess."
Golde Superfood Latte Blend
"Golde's popular latte powders allow me to enjoy functional benefits without sacrificing taste. I add a scoop or pack to my daily coffee or smoothie and voila! Quick, simple and delicious. The warm, spiced blend with notes of cardamom and cinnamon are perfect for the transition to fall."