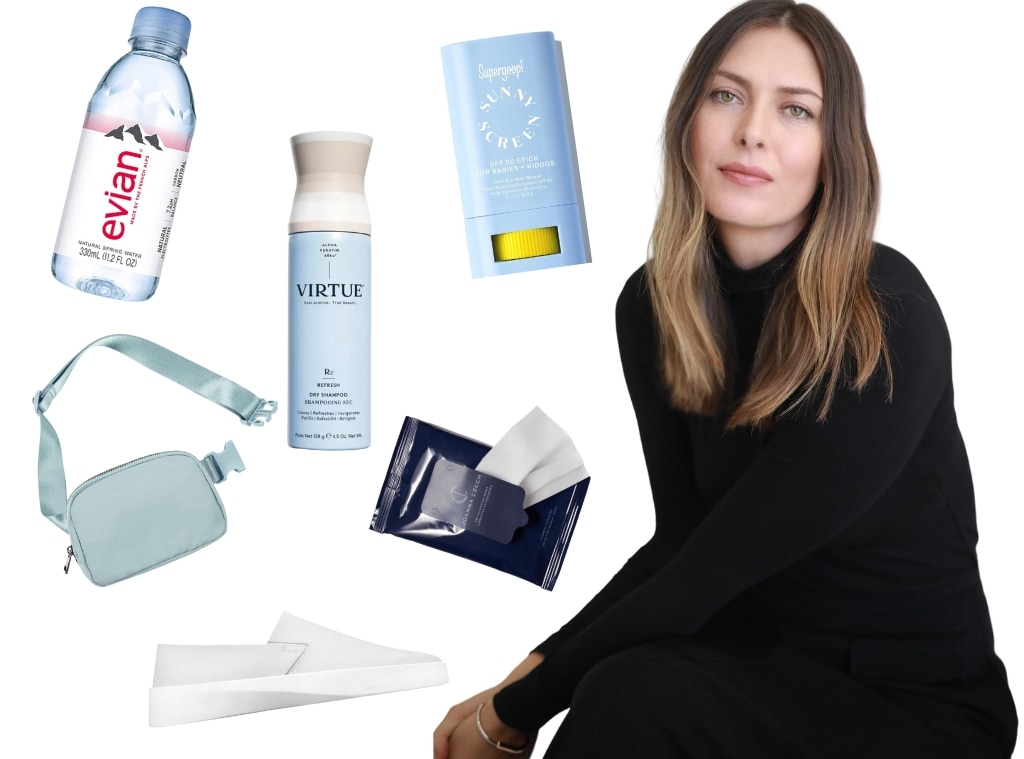 Courtesy of evian/ E! Illustration
We interviewed Maria Sharapova because we think you'll like her picks at these prices. Maria is a paid spokesperson for evian and Wolf and Shepherd. She is an investor in Supergoop!. E! has affiliate relationships, so we may get a commission if you purchase something through our links. Items are sold by the retailer, not E!. Prices are accurate as of publish time.
Drinking water consistently is an important aspect of any wellness routine. Tennis icon Maria Sharapova's go-to water is evian and it has been a pivotal part of her journey throughout the years. She explained, "I've evolved from being a professional athlete to having business ventures off the court. Now, being a mother I know the importance of hydration and it has an entirely new meaning from when I was playing, especially in the first year as a mother."
She elaborated, "The first six months, you're coming into your own breastfeeding and drinking as much water as you can. Through being an athlete and becoming a mother, I have been able to see how impactful water is in my life." The evian products have been a constant in Maria's life and the US Open, as the official water sponsor for years.
For the 2023 US Open, Maria and evian created a unique activation with a floating tennis court, which is the coolest way to enjoy the men's finals. In an exclusive E! interview, Maria discussed the SS evian activation, hacks for attending the US Open, and her mom must-haves.
E!: Tell me about the SS evian activation at the US Open this year.
MS: I'm loving the SS evian tagline. Evian has been the official water of the US Open for over 30 years and it has been one of my longtime sponsors. It's been really special to see the partnership evolve. The SS evian is a unique experience for the fans to experience the US Open with a floating tennis court. It will be really fun for fans to see the tennis court and hit around. It's a new, engaging way to enjoy the men's final on the water, which I just never experienced before. I've never experienced something like this. I'm super excited to be a part of it.
E!: Do you have a favorite Evian product? 
MS: It's hard to choose. I have these beautiful glass bottles I used when I was competing. I thought I would repurpose them, so I still have them and I use them. I used one on a hike this morning. It brought me back to the moments when I felt the most professional.
E!: Are there any sweat-proof beauty tips for a long day at the US Open?
MS: I think you just have to accept that you're gonna sweat. Just acknowledge it and embrace it. Wear light colors and minimal makeup. It's summer. It's a sport, but it's also similar to a festival in some ways, so I think sweating is just a part of that. No need to get a blow dry for that. 
Maria Sharapova's US Open Must-Haves
evian Natural Spring Water
"I really understand the importance of hydration and that shouldn't change just because you're in a new chapter of your life. I still expect a lot from myself and I can't forget the fundamental essentials. Those essentials are the foundation of having a healthy lifestyle."
Maria's go-to water has 22,300+ 5-star Amazon reviews.
Supergoop! Sunnyscreen 100% Mineral Stick SPF 50
"I've always worn Supergoop. Now, I put this sunscreen stick on my son's face. I love a mineral-based sunscreen. It's a kids stick that Supergoop makes and I just multitask, so it's what I end up wearing too. You don't even see it when it goes on the face. It's a really, really nice formula."
E!: Are there any essentials you recommend to cope with the hot weather at the US Open?
MS: I'm not a huge fan of the fanny pack, but I think if you're going to a sporting event where you're walking a lot and then sitting for a while, you need a bag you don't have to hold the whole time. A fanny pack has become one of my favorite accessories. 
I would also say to get really comfortable shoes. There are so many cute comfortable sneakers out there. I would also say to make sure you've worn them before. Don't buy a pair and wear them for the first time that day. 
ODODOS Unisex Mini Belt Bag with Adjustable Strap
This fanny pack is an Amazon best-selling pick with 10,500+ 5-star reviews. It comes in 44 colors.
Wolf and Shepherd Cruise Slip-on
"It's comfort that wins me over. Recently, I went to a concert and dinner and wore a pair of Wolf and Shepherd shoes that are super comfortable. Those are great."
E!: Are there any items that have become essentials now that you're a mom and often packing for two?
MS: Wipes. Those are essential. I keep my carry-on very simple with the essentials. I usually traveled with my computer everywhere. Now, I do everything on my phone. I used to have a biography, autobiography, or an inspiring book in my bag. Now, I have a little baby book.
Coterie Wipes (4 Packs- 224 Wipes)
"I travel with Coterie wipes. I love their diapers too. Once I'm comfortable with a brand, I try more products."
Virtue Healthy Hair Refresh Dry Shampoo
Joanna Czech The Cleansing Wipes
Maria recommends these wipes for taking off makeup, sharing, "Facialist Joanna Czech launched a brand with face wipes and I love them. They have smaller packs that are great for travel. They're great after a shoot or when I have a full face of makeup."