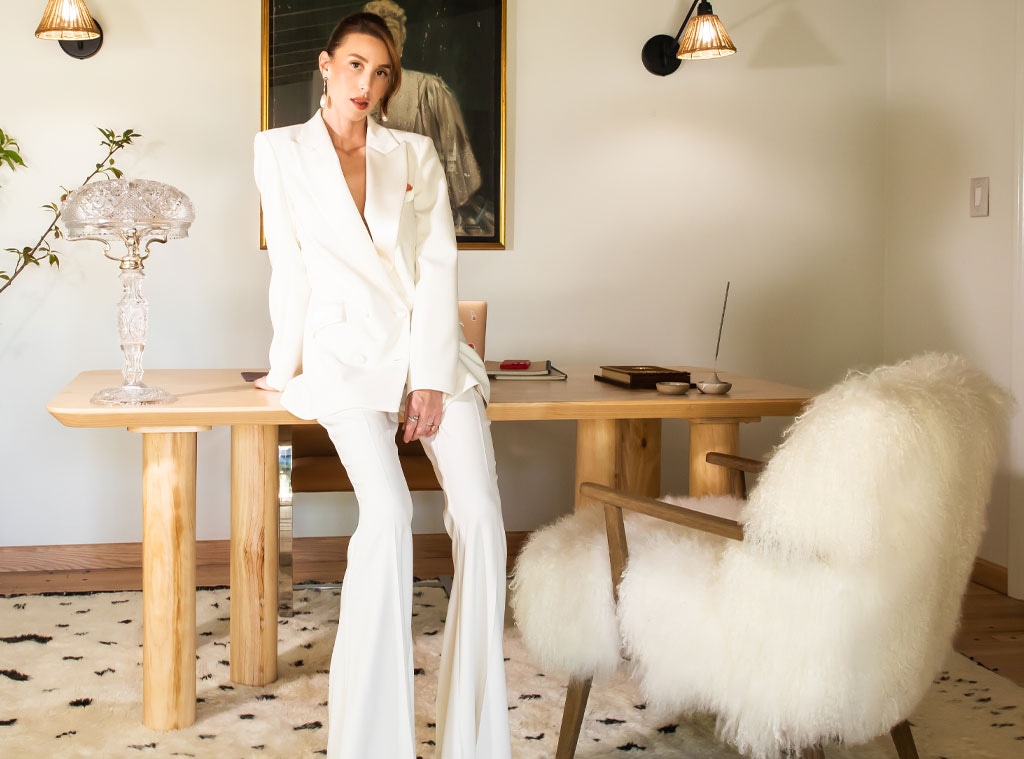 Sydney Jackson
We interviewed Whitney Port because we think you'll like her picks at these prices. Whitney is a paid spokesperson for Amazon. All of the products featured are from Whitney's curated collection with Amazon. E! has affiliate relationships, so we may get a commission if you purchase something through our links. Items are sold by the retailer, not E!. Prices are accurate as of publish time.
In August 2022, Whitney Port started renovations on her home office space. She partnered with Amazon Home, documenting the entire process from start to finish on the YouTube series Renovation Station. The Hills alum revealed the finished space on July 27, 2023.
After the project, Whitney reflected, "We filmed it wanting to stay accountable to what's really going on. I really wanted to show the raw version of what a renovation looks like. I think some of these shows can be really short and it feels really doable, but when you start a project yourself, you realize that there are so many missed details and questions you want answered."
Throughout the renovation, Whitney continuously updated her Amazon Storefront, with affordable finds that she used for each room of her office. Whitney believes that an office should feel like a sanctuary. If you want to cultivate peaceful, productive environment, here are some standout picks from Whitney's renovation.
E!: Tell me about your approach to decorating the office and how it may differ from conventional workspaces.
WP: I wanted to create a place that was like a retreat for so long. When I was working at home, I would get sluggish and not as motivated as I could be. When we redid this house for the office, I wanted to create a retreat, a little haven for us to work. I want everyone to walk in and feel comfortable. I wanted to make a communal workspace where my friends can come and have a place to work peacefully. 
E!: How does it feel to be done with this project? 
WP: For my first time as an interior designer and working with contractors directly, I'm definitely proud of myself,  but I feel so relieved to have a space that's calming, zen, and peaceful to be creative. It's definitely a load off my shoulders and it has opened up a whole new part of my life. 
E!: Your Amazon Storefront has been up for a while. Is there a product that you hear about the most from shoppers who bought your picks?
WP: Yes, I'm getting a lot of feedback about the travertine tile, specifically. I think a lot of that is because some people didn't know they could get those types of materials from Amazon. 
Oracle Tile & Stone Light / Ivory 12X12 Tumbled Travertine Tile
"This is beautiful, hand-painted tile."
Whitney Port's Amazon Home Picks
Big Joe Milano Bean Bag Chair
"I created a podcast recording area in my office and I wanted a little, cozy area so people could feel relaxed and casual. I love this chair. It's the perfect chair. It would also be great for a little girl or a teenager's room. It's also nice in an office for when you just need a second chill in between calls. It would be great in your living room too. It just has so many versatile options. It's kid-friendly, cozy, and chic."
Whitney's pick comes in 24 colors and 5 styles. This chair has 10,100+ 5-star Amazon reviews.
Nutriups Storage Glass Jar Set Food Storage Tank With Wooden Lid
"These are so cute. I have them in our kitchen for food storage with my favorite Australian licorice in one and some almonds in another. I keep gummy bears in one. It's just great for snacks. This would be great as a water pitcher too."
Isaac Jacobs Clear Acrylic Serving Tray
"The acrylic tray is great. It's good for hosting and storing beauty products. It's a great accessory for a coffee table too. It's a good versatile piece for desk organization great. You can use it in the kitchen with salt, pepper, and olive oil. It's cute, chic, and simple. If you don't like the gold, they have silver handles too, which I actually prefer."
Whitney's pick comes in 7 shapes and sizes. 
Scranton & Co Bar Cart in Bronze and Champagne
"I like that this is a statement piece because of the bronze. I envision a lot of silver accessories on here. I like to mix metals."
Solaround Clear Bookcase
"This bookshelf is so good. I love the orange and the clear. It adds a great pop of color. It has a cartel vibe mixed in with the different textures in a room. I think it's really cool. You can put some books on it and then a cool plant next to it. I think this is an accessory in a living room."
This shelf also comes in clear.
Minimaliving Pen Holder
"This is super cute. It's on my desk currently. I need pens to write everything down. I don't rely on my digital to-do list. This holder is great to make sure I always have pens nearby. For me, I like the beige because it's such a calming color."
This pen holder also comes in black, white, and grey.
Amazon Brand Stone & Beam Industrial Round Concrete Table Desk Lamp
"This looks vintage. The base of the lamp is so cool. You can also search on Amazon for different lamp shades if you want to mix up the look. Adding a vintage shade to this would be so cool."
Edgewood Asymmetrical Irregular Oval Mirror
"You can hang this many different ways. There are two sizes. I originally had this in my bathroom and it looked beautiful. Now, I have it in my podcast room. It would look great in a hallway. Or as a decoration above a fireplace. It's really versatile. I like that it's simple and doesn't have a lot of trim."
Elle Décor Vintage Glass Carafe Set
"I envision this for a guest room. You can fill this with water and put it on the bedside table. Or when I'm working, I fill it up with ice water at my office. I don't have to keep getting up to fill a glass when this is right here. It's also a good addition to the podcast room in case people need a little water to relax."