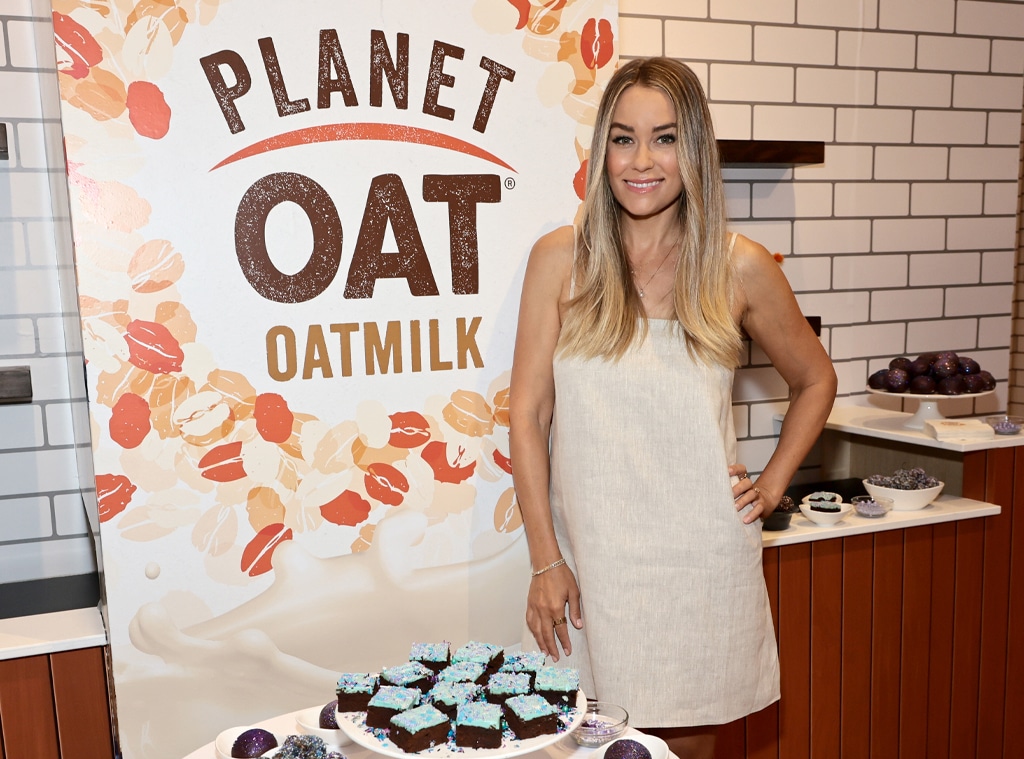 Jamie McCarthy/Getty for Planet Oat
We interviewed Lauren Conrad because we think you'll like her picks at these prices. Lauren is a paid spokesperson for Planet Oat. E! has affiliate relationships, so we may get a commission if you purchase something through our links. Items are sold by the retailer, not E!. Prices are accurate as of publish time.
Lauren Conrad has become our go-to expert for fashion, home decor, and hosting. She is an authority on all things lifestyle who always delivers trustworthy product recommendations. Recently, the reality TV icon spoke to E! about Planet Oat, one of her kitchen must-haves.
Lauren partnered with the brand for the Taste Exploration Summer Sampling Tour. The lifestyle expert explained, "I was already a fan of the brand so I was excited when Planet Oat invited me to help them celebrate the summer season with a limited-time pop-up called the Planet Oat Marketplace! It's an immersive popup experience that features a mix of recipes, a few that are healthy-ish and some that are a bit more indulgent, all featuring Planet Oat."
If you're in the mood to snack, Lauren shared her favorite ways to enjoy Planet Oat along with her other kitchen essentials, including some gadgets that will make your life easier and save you time. One of those recommendations is a product that she has used every single day for the past eight years. 
Lauren Conrad's Planet Oat Favorites
Planet Oat Unsweetened Original Oatmilk
E!: What are your favorite foods/drinks to make with Planet Oat?  
LC: We like using their Unsweetened Original Oatmilk in everyday recipes.  I using in the morning in my coffee or tea and my husband uses it when making breakfast shakes.  My kids ask for a glass with breakfast. 
Planet Oat Planet Oat Chocolate Non-Dairy Frozen Dessert
E!: Do you have a favorite Planet Oat product/flavor?
LC: I really like Planet Oat's non-dairy frozen desserts. That was one thing I missed most when I stopped eating dairy.  Their brand and flavors are so good! I was thrilled when I found it.
Lauren Conrad Kitchen Q&A
Breville the Smart Oven Air Fryer in Stainless Steel
E!: What's your most practical kitchen must-have?
LC: I have a smart oven air fryer that does the job of several appliances. I mostly use it as an airfryer, a toaster, and a dehydrator.
Vitamix E310 Explorian Blender, Professional-Grade
E!: What's one expensive kitchen essential you should always buy on sale? 
LC: We received a Vitamix as a wedding gift over 8 years ago.  We use this everyday and it's still in great shape.  I make shakes, salsa, soups, dressing and more in this blender.  It one of the most reliable appliances I've ever had.
Rob Lowe, Busy Philipps and Top Chef winner Kelsey Barnard Clark recommended the Vitamix too. This blender has 4,600+ 5-star Amazon reviews. 
OXO Good Grips Hand-Held Mandoline Slicer
E!: What's one kitchen gadget under $50 that you think everyone should have? 
LC: A mandoline (and if you are accident prone like I am, a pair of safety gloves.). I use it to slice fruits and veggies for salads, snacks and when I pack lunches for my kids. I use this all the time when cooking and prepping food. I like this one because you can adjust the thickness of the product.   I also like how thinly I can slice garlic when cooking.
Top Chef winner Kelsey Barnard Clark recommended this slicer too. It has 8,700+ 5-star Amazon reviews.
KitchenAid All Purpose Shears with Protective Sheath, One Size, Black
E!: Is there an inexpensive essential that you keep re-buying for your kitchen?
LC: I like having a good pair of kitchen scissors, but I have to replace them every once and a while because they are difficult to keep sharp.
Casey Wilson listed kitchen scissors as one her must-haves too. These scissors come in 6 colors and they have 35,600+ 5-star Amazon reviews.
Lauren Conrad Shares What's in Her Kitchen
Le Creuset Classic Teakettle
"I like this kettle because it has a whistle to let me know when it's boiling (I have a tendency to get distracted).  I also like that it matches my kitchen so I can just leave it on the stove top."
This kettle comes in many different colors and it has 1,900+ 5-star Amazon reviews.
Le Creuset Signature Enameled Cast Iron Round Oven
"We have a smaller kitchen. I like pieces that can be displayed because it doesn't take up as much storage space. Le Creuset cookware is beautiful and available in so many colors."
This piece of cookware comes in five colors.
OXO Good Grips Large Salad Spinner- 6.22 Qt.
"We grow most of our own lettuce and I don't use any sprays or chemicals in my garden so we have to wash our greens very well (ew bugs!). I love a good salad spinner."
This salad spinner has 20,600+ 5-star Amazon reviews.
Kitchen Perfection Silicone Smoker Oven Gloves -Extreme Heat Resistant BBQ Gloves
"OK. I know these aren't the cutest oven mitts, but they work so well! They grip dishes and really protect your hands."
These gloves come in 11 colors and they have 2,400+ 5-star Amazon reviews.
—First published on June 29, 2022, at 3:45 p.m. PT