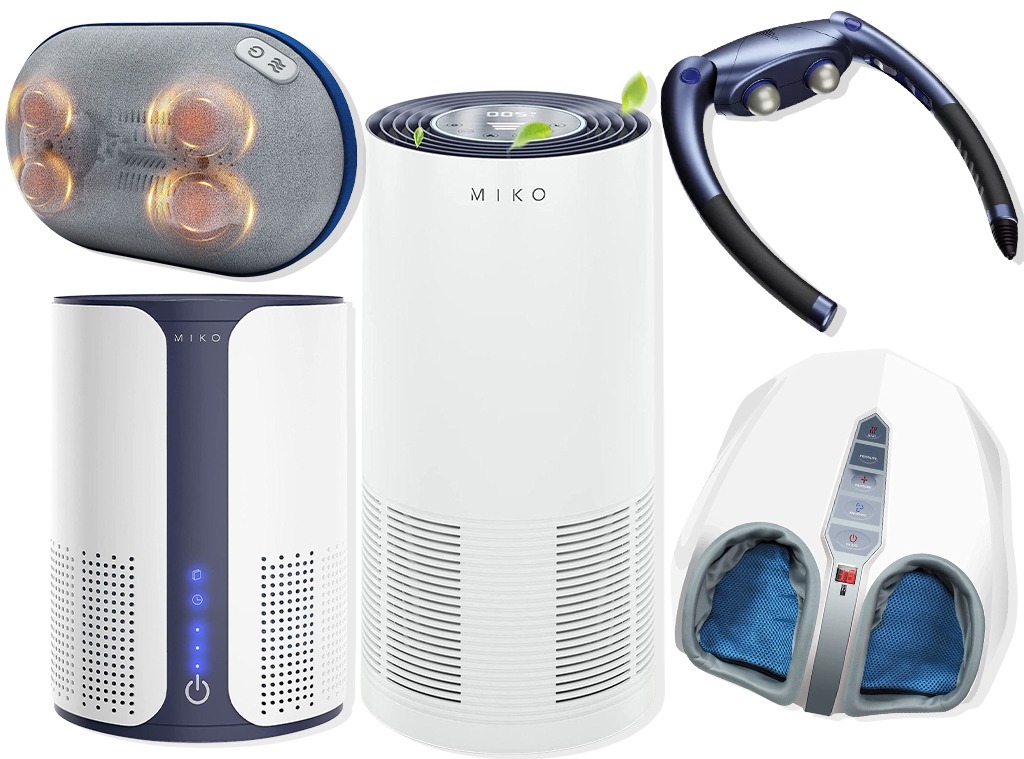 The brands featured in this article are partners of NBCUniversal Checkout. E! makes a commission on your purchase. Prices are accurate as of publish time. Items are sold by retailer, not E!.
Somehow, it's August. That feels weird, right? Like, weren't we just getting the hang of summer, and now all of a sudden, we're putting up with the most humid parts of it, and preparing for back-to-school shopping, and scurrying around because fire season sneaks up on us every year, and we're never prepared enough for it.
But now, we know about Miko. Since launching in 2018, the company's goal has been to encourage folks to first take care of themselves, so they can take even better care of others (as seen on the brand's website). As a result, the wellness-focused home tech company creates heated massagers to relieve stress, humidifiers to replenish your surroundings, and most crucially, air purifiers that improve your environment.
Whether you're shopping for cramped dorm rooms, looking to decorate a shabby-chic college apartment, or just preparing your home for a good old-fashioned smoke and haze warning, Miko's multifunctional air purifiers should be at the top of your list.
Below, shop the line's signature humidifiers, air purifiers, and even essential oil diffusers to refresh spaces of any size. Affordably.
Miko Essential Oil Air Purifier
This home wellness must-have combines the three-stage filtration process behind their classic air purifier with the aromatherapeutic properties of an essential oil diffuser. It allows you to immerse yourself in the relaxing, revitalizing, and restorative world of essential oils. At the same time, you'll be enjoying air "cleared of allergens, particles, pet dander, dust, mold spores, and odor," per the brand.
Miko Smart Air Purifier // Ibuki M
Smart air purifiers just got smarter. According to Miko, their Ibuki model can remove "99.97% of hair, fur, dust, mold, pollen, allergens, and odor" in spaces up to 970 square feet. (BTW, if that means a bedroom, it includes a setting at 24db designed to not disturb you while sleeping.) On top of that, there are built-in timers, four fan speeds, and air quality sensors so you can keep up with its progress.
Miko Smart Air Purifier // Ibuki L
Need even more air purification? Treat yourself to Miko's larger Ibuki model. 
Miko Myst Ultrasonic Humidifier With Smart Remote
Miko refers to the Myst as "truly the most advanced humidifier ever created," and they don't stop there. Per the brand, it's "designed to make every moment of your experience comfortable," as the Myst's functions keep its environment "perfectly humidified, calm, and stress-free." For the tech-curious, know that it's rechargeable, can last up to 40 hours with a 1.2-gallon water tank, and includes space for essential oil diffusion. You know, for when you're feeling adventurous. 
Now you can keep your skin as clear as your air (see what we did there?) thanks to KORA Organics Skincare from Miranda Kerr.