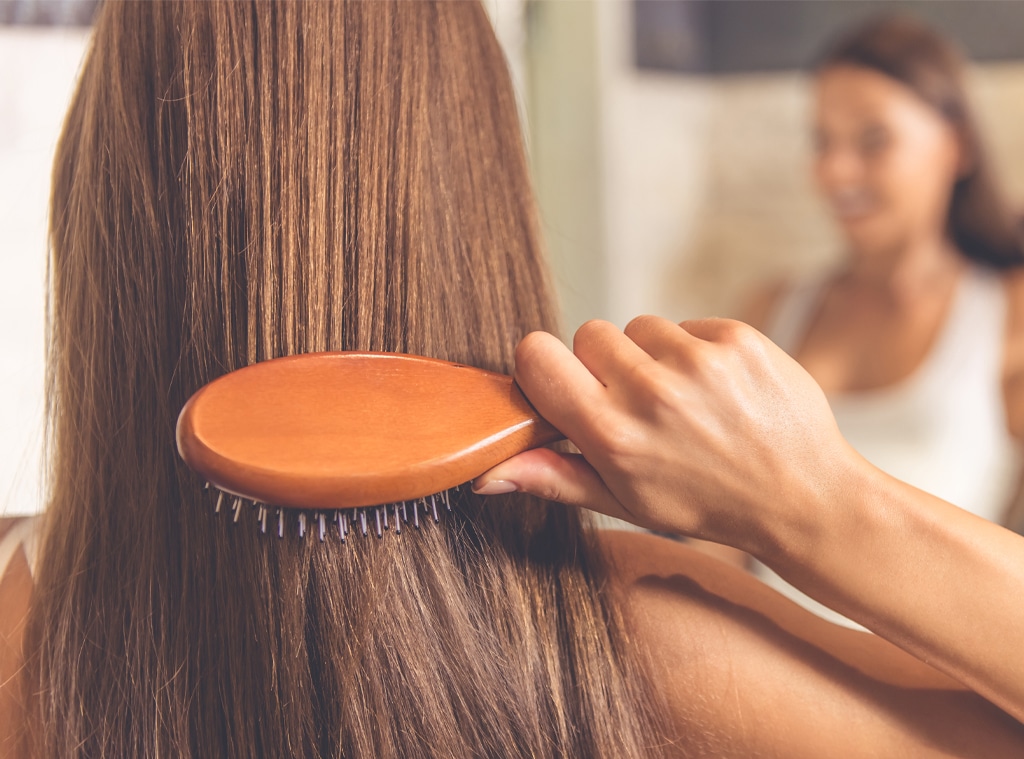 vadimguzhva/ Getty Images
We independently selected these products because we love them, and we think you might like them at these prices. E! has affiliate relationships, so we may get a commission if you purchase something through our links. Items are sold by the retailer, not E!. Prices are accurate as of publish time.
Don't just throw out your hairbrush because it's gross to look at. Don't ignore the build-up and use your brush anyway either. You should be cleaning your brush on a regular basis. No one wants to add dirt, lint, and build-up to their hair. When you use a dirty brush, that's what you're doing. Yes, it's gross to think about, but it's really easy to fix.
A clean hairbrush can really make a difference in how your hair looks and feels. I recently got into a new routine, cleaning my brushes once a week, but do what works for you based on how often you do your hair and the styling products that you use. 
Get the Gunk out of Your Brush
2 Pieces Hair Brush Cleaning Tool
The best first step is to take out the hair, lint, and larger pieces of build-up that you can with ease. This set is a great combination to get a brush clean.
My first line of defense is the plastic side of the double-ended cleaning brush. This makes it easy to take out the bigger pieces of product build-up and thick hair while my brush is dryer. Next, I will use the side with the nylon bristles, going across vertically and horizontally. Then, I go in with the mini scraper to get those stubborn thin pieces of hair.
This set comes in black, pink, and purple It has 2,100+ 5-star Amazon reviews.
Olivia Garden Brush Cleaner
If you want to streamline your process and just use one tool, this double-sided one is great. Use the comb-like side to pull out the thicker hair and the obvious product build-up. Then use the little rake to get those thin strands and smaller pieces of dirt and oil.
This brush also comes in blue. It has 2,800+ 5-star Amazon reviews.
Dawn Ultra Dishwashing Liquid Dish Soap, Original Scent
For the most part, you can use any kind of soap that you already have to clean your brushes— a hand soap, a mild shampoo, etc.. I like using a Dawn Dish Soap on plastic brushes with synthetic bristles. I put soap on the brush and submerge them in my sink for about ten minutes.
If you're using a brush with boar bristles or natural fibers, you want to be careful with the amount of water you use. Instead of fully submerging the brush, dip the bristles in a shallow bowl of water, making sure you don't get the handle wet. 
Use Your Cleaning Tools Again
After using my cleaning tools and soaking my brush, it's usually in pretty good shape. However, there still may be some really small pieces of hair or debris. I go back in with the little rake and make sure to get all of that out.
Let Your Brush Air Dry
I turn my brush facing down to air dry. In my experiences, my brushes dry much quicker when they are face down. 
Hairless Brush Reusable Brush Hair Remover Net (3 Pack)
If you want to reduce extensive brush cleaning, using one of these liners can be helpful. Put one of these reusable nets over your brush, use it as usual, and when you're ready to clean the brush, take the net off along with the hair. You should still make sure your brush is clean, but these are a way to clean less often.
A shopper reviewed, "This makes it so much easier to clean my hair brush and now my hair doesn't get so oily from all of the built up hair on my brush! And I love that it comes with 3 of them, that's awesome! Thank you!"