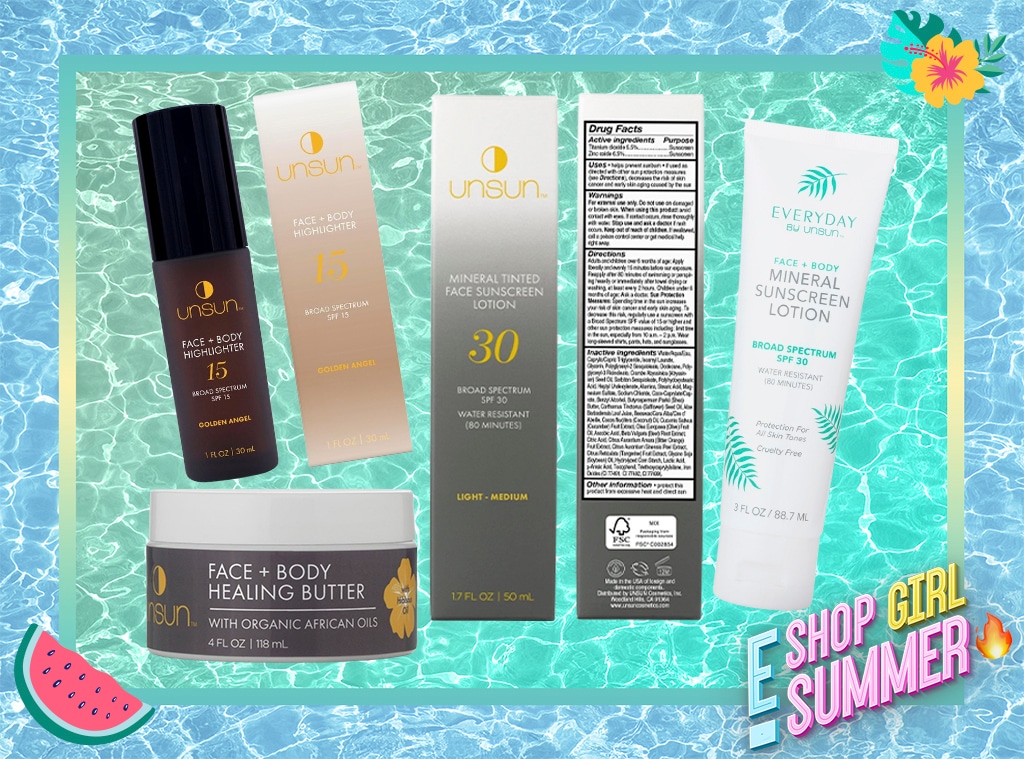 The brands featured in this article are partners of NBCUniversal Checkout. E! makes a commission on your purchase. Prices are accurate as of publish time. Items are sold by retailer, not E!.
The more you learn about Unsun Cosmetics, the more you'll love them. The Black- and female-founded brand came to be in 2016, when founder Katonya Breaux was tired of the lack of "clean, inclusive, and no-residue" sunscreens — especially for women of color.
Instead of remaining frustrated, Katonya created the line she was looking for. The result? Unsun Cosmetics, a vegan, cruelty-free, and reef-safe products, sold in 50% post-consumer recycled packaging. Designed to be as kind to the wearer as their environment, Unsun Cosmetics are made without 1,700 (yes, literally) ingredients commonly found in over-the-counter sunscreens.
On top of that, Katonya made sure that each product is particularly friendly to darker complexions; if customers had the same experience with Unsun that she herself had with previous labels, what would be the point?
Below, shop a few must-haves from the Unsun Cosmetics line, and get ready to (responsibly) soak up the sun. There's plenty of summer left!
Unsun Cosmetics Full Coverage Hydrating Mineral Sunscreen Lotion SPF30
The first thing to pack in your beach bag? This Full Coverage Hydrating Mineral Sunscreen Lotion. Per the brand, it's unscented, un-tinted, and formulated to "balance" your skin while boosting a healthy glow.
Unsun Cosmetics Everyday Face + Body Mineral SPF30 Lotion
Unsun Cosmetics recommends using this one daily for "everyday sun protection." Additionally, its moisturizing properties should help fight the negative impacts of "harsh, drying wind" you may encounter during the day.
Unsun Cosmetics Everyday Refreshing After Sun Lotion
Spent a little too much time in the sun? It happens. This after-sun lotion is designed to "hydrate, soothe, and prevent peeling" for those "Oops!" moments.
Unsun Cosmetics Emollient Rich Hand Cream SPF 15
The emollient-rich hand cream is packed with super-ingredients that "fight the sun and aging" alike, per Unsun. Also, there's SPF in it! It's so easy to forget to help out your hands, but this cream makes it a breeze.
Unsun Cosmetics Face + Body Healing Butter
In need of mosquito bite balm, but also poolside hydration, but also a healthy shine without residue? Well, here she is! The Face + Body Healing Butter both soothes the skin and helps to "eliminate free-radical stressors," thanks to its unique formulation and "abundance of linoleic oils."
Unsun Cosmetics Face + Body Highlighter SPF15
Yes, you're reading this label correctly: It's an SPF-infused highlighter that can add a sparkling glow to natural faces and made-up ones alike.
Unsun Cosmetics Mineral Tinted Face Sunscreen Lotion SPF30
As you've probably guessed, the Mineral Tinted Face Sunscreen is among the line's bestsellers. It's honestly not a surprise why: According to Unsun Cosmetics, this "amazingly clean, non-animal tested, and reef-safe" product is also a "100% mineral sunscreen, a primer, and a color-corrector in one." Oh, and doesn't leave a "ghostly residue" behind. 
If overall wellness is part of your plan this summer, you'll want to checkout home workout brand LIT Method, too.