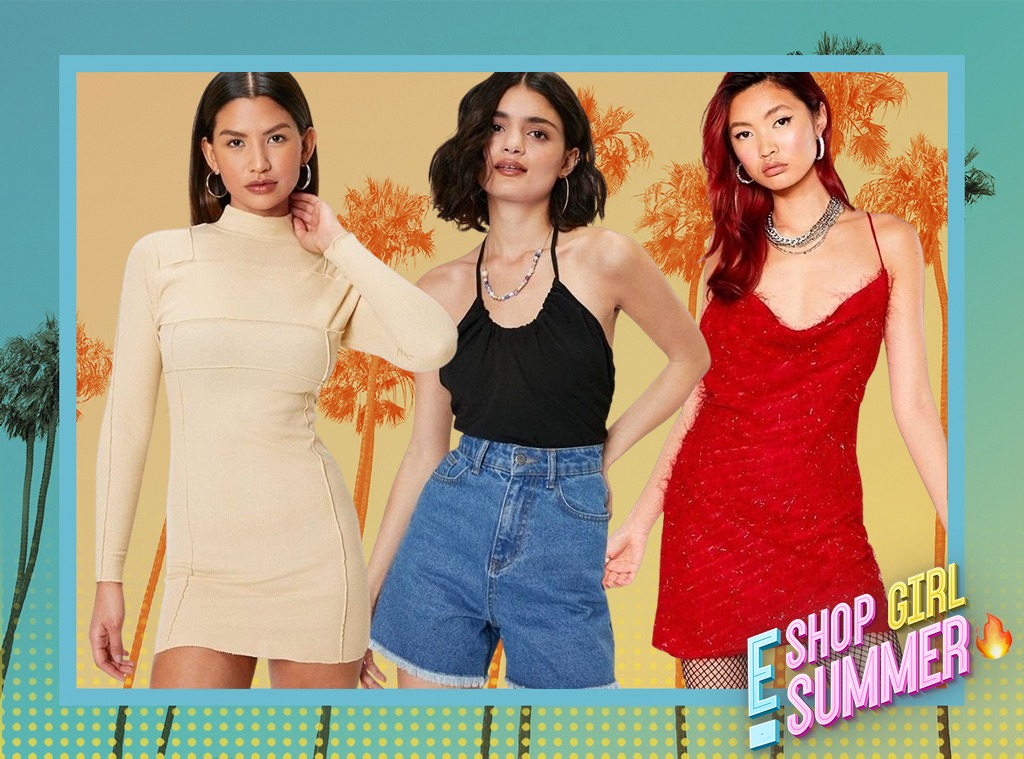 E! Illustration
The brands featured in this article are partners of NBCUniversal Checkout. E! makes a commission on your purchase. Prices are accurate as of publish time. Items are sold by retailer, not E!.
The Nasty Gal Summer Sale is on, and stocking up on seasonal essentials has never been easier. That easygoing dress you've been looking for? That date-ready mini your closet's been craving? What about the ideal piece for desk-to-drinks dressing, for the girl always on the go? 
It's all on sale. Like, really, really on sale. There's a lot of goodies out there, so I saved us all the time and rounded up some of the most must-have pieces included in the deals bonanza.
Best of all? They're all under $20. Really. Literally. Every single one of the 20 items on this list has been marked down to $20 at the most. 
Don't waste any time thanking me. I did this for us! Just close your eyes, visualize your ideal, lightweight, super-versatile, animal-printed miniskirt and start scrolling
Below, shop the Nasty Gal sale on mini dresses, Barbiecore dresses, graphic tee dresses, and more. Plus, with what you'll save on clothes and shoes, you can totally put towards an expensive "girl dinner" to go viral on TikTok along with your #OOTD. 
Just a suggestion!
Nasty Gal Cowl Neck Textured Mini Dress
This sexy textured mini can be dressed up with tights and heels or dressed down with a jean jacket and sneakers.
Nasty Gal Crew Neck Long Sleeve Top
This versatile top is ideal for layering year-round.
Nasty Gal Petite Lemon Print Mini Dress
Lightweight and sweet as lemonade, this mini is perfect for desk-to-drinks dressing.
Nasty Gal Ruched Halter Neck Tie Crop Top
A ruched halter crop top is the summer essential your seasonal wardrobe has been missing.
Nasty Gal Tie Front Puff Sleeve Mini Dress
With its puff sleeves and classic silhouette, this quintessential mini will be your new go-to.
Nasty Gal Plus Size Satin Floral Shirt And Shorts Pajama Set
The feeling of cozying up in a sweet pajama set is indescribable. So a brand-new, floral-patterned one with inclusive sizes? Simply the best.
Nasty Gal Body Print Racer Back Vest Top
This unreal tank is so straight out of 2000s-era catalogs that it can only be worn by a Gen Z style icon...or someone trying to pass as one.
Nasty Gal Colorblock Corduroy Shirt
Colorblocking? Check. Corduroy? Check. Your new favorite piece for layering through chilly mornings and breezy nights? Check and check. 
Nasty Gal Animal Print Mesh Mini Skirt
Amp up the punk rock-chic factor of any ensemble with this purr-fect animal mini.
Nasty Gal Abstract Faces Graphic T-Shirt Dress
Toss this graphic tee-dress on over a pair of bike shorts and add a pair of high-top sneakers for an effortlessly cool outfit any time of day.
Nasty Gal Retro Printed Button Down Shirt
Easygoing and breezy with vintage-inspired flair, the Retro buttondown will seamlessly integrate into your work wardrobe and off-duty outfitting alike.
Nasty Gal Linen Short Sleeve Resort Shirt
The Resort shirt, on the other hand, offers a more tailored approach to menswear-inspired fashion, plus a linen finish that feels like you're wearing summer itself.
Nasty Gal Plus Size Satin Kimono Mini Dress
Bell sleeves. Plunging neckline. Inclusive sizing. This satin kimono mini is the Barbiecore dress of your dreams.
Nasty Gal Paisley Print Angel Sleeve Mini Dress
For '70s-inspired flair, you can't do better than this "angel-sleeved," paisley-printed mini. Add tights, boots, and a cardigan, and you're ready to take on fall, too. 
Nasty Gal Collared Zip Bodycon Mini Dress
Got a girls' night out on the calendar? Turn some heads with the besties in this zip-front bodycon mini. 
Nasty Gal Ribbed High Neck Bodycon Mini Dress
Looking for bodycon without he zipper? This high-neck mini is an equally sexy alternative.
Nasty Gal Petite Ruched Front Long Sleeve Midi Dress
Think Barbiecore is just for traditional sizing? Think again. Here, you can have all the perks of a pink moment — plunging neckline, thigh slit, and calf-skimming style — in a silhouette tailored for petite frames.
Nasty Gal Faux Leather Colorblock Flatform Sneakers
"Great for styling with ribbed sports socks and mini dresses," per the brand, these flatforms can replace your go-to tennis sneakers for an everyday upgrade with color.
Nasty Gal Rib Button Pajama Pants Set
This ribbed pajama set is comfy, cozy, and seemingly made for sleeping in.
Nasty Gal Textured Cut Out Smock Dress
Designed to throw on and go, this textured, puff-sleeved mini dresses up regular errands — and would look just as cute at a picnic in the park. 
We're in the hottest days of the year, so check out this anti-chafing essential from Megababe Beauty now (and thank us later).