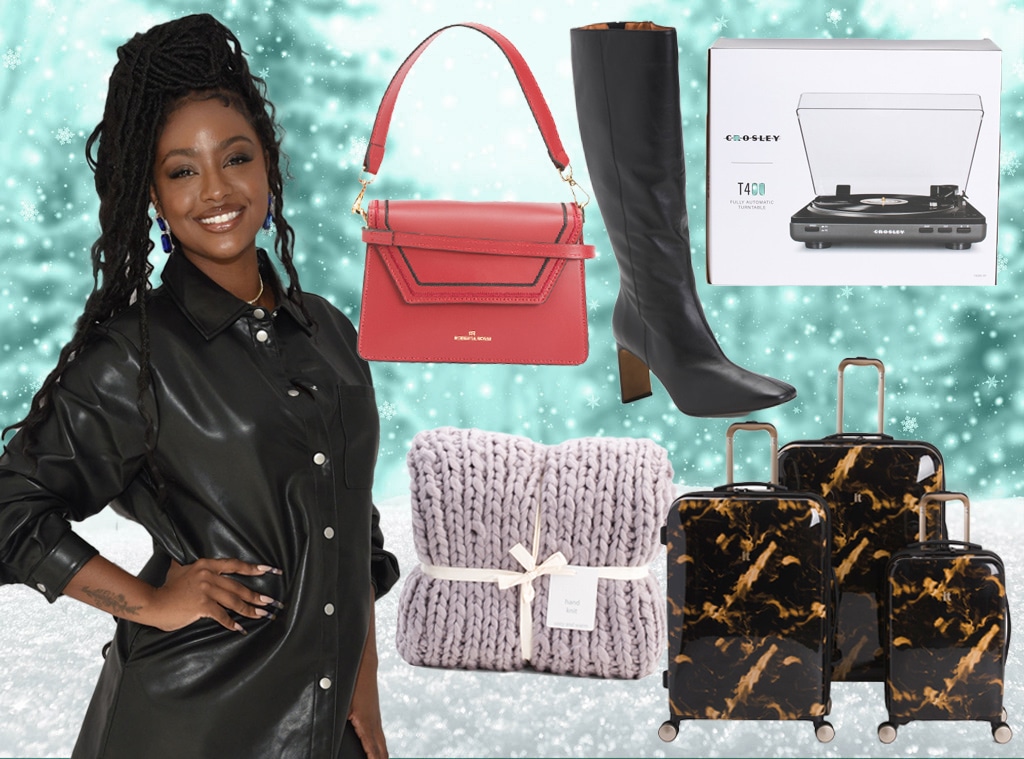 Justine Skye: Courtesy of T.J.Maxx and Marshalls
We interviewed Justine Skye because we think you'll like her picks. Justine is a paid spokesperson for T.J. Maxx and Marshalls. E! has affiliate relationships, so we may get a commission if you purchase something through our links. Items are sold by the retailer, not E!. Prices are accurate as of publish time.
If you have a long list of gifts to buy this holiday season, make your life a little bit easier and shop at a store that has something for everyone. Justine Skye recommends shopping at T.J. Maxx and Marshalls, stores she has loved for many years. She explained, "My grandma always went to Marshalls and TJ Maxx and I would always like to tag along with her and just get lost in all the clothes and toys. I always had such fond memories there, so when I was finally able to shop for myself, I was so happy."
Justine emphasized, "For the holidays this is just so much easier because I can shop for everyone in one place, in person or online. I don't have a lot to keep track of with different orders or separate shopping trips at multiple stores."
There's just one problem: T.J. Maxx and Marshalls have so many great options to choose from. Narrow down your options with these affordable gift recommendations from Justine. 
Justine Skye's Holiday Gift Recommendations
Laneige Berry Lip Sleeping Mask
"A lip mask is a nice gift, especially in the winter. I love Laneige."
Angel Alarcon Made in Spain Leather High Shaft Heel Boots
"I feel like I have more shoes than the average person. They're a good gift because usually the sizing is more consistent than with clothes that can differ from brand to brand."
Lemon Hand Knit Throw
"I think small home décor items can be good gifts too, but only if you really get the person's personality and taste, if you know what their space looks like. You don't want to impose on the setup they already have." 
Sand and Fog Juniper Berry Sage Candle
"I love a good candle. I'm always burning candles. Marshalls and TJ Maxx have the best scented candles that aren't super expensive. I love to get candles with holiday scents each year."
Max Studio Faux Leather Blazer
"There are some amazing faux leather jackets at Marshall's and T.J. Maxx. I love a leather blazer or leather puffer, I just like to wear leather in a lot of different ways and I appreciate an affordable option."
Truth Faux Leather Button Down Dress
"I love a leather dress. It works for so many different occasions and there are a lot of options to style it."
White + Warren Cashmere Waffle Turtleneck Sweater
"I'm here for a turtleneck. I used to be afraid of turtleneck and now I like them a lot. They're awesome and they just make you feel a bit more sophisticated. They're easy to dress up."
We Wore What Velvet Slip Dress
"I always want to wear velvet during the holiday season. There are also great velvet gifts, but I can't help buying some for myself this time of year. For New Year's Eve, a lot of people go with sparkles, which is a good look, but I'm thinking velvet is the move."
Milor Gold Made in Italy 14K Gold Elongated Oval Twist Hoop Earrings
"There are so many great jewelry pieces at Marshall's and T.J. Maxx, classic styles from brands you love and some trendier stuff at good prices."
Roberta Rossi Made in Italy Leather Geometric Flap Crossbody
"I love an amazing bag and a pop of color is fun for the holidays."
Crosley T400 2 Speed Automatic Turntable
"They have great electronics, there are speakers, turntables, and vinyls. It's just a wonderland for shopping."
IT Luggage 3pc Sheen Tortoise Shell Hardside Spinner Set
Justine recommends this three-piece luggage set for all the jetsetters out there.