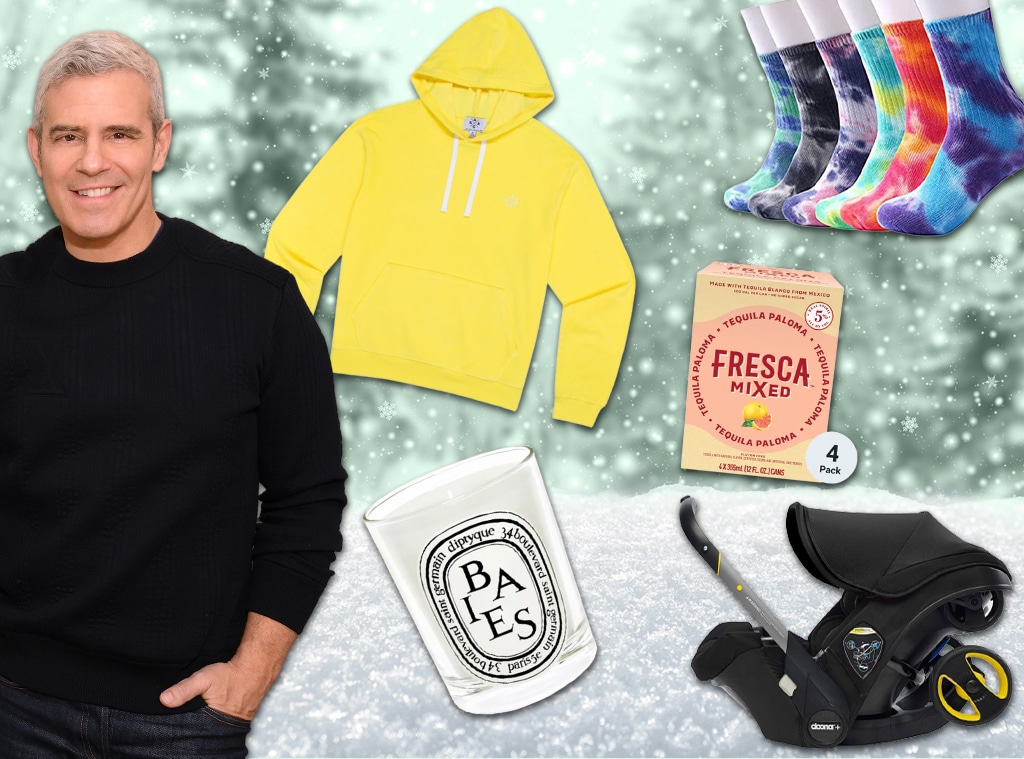 Michael Simon
We interviewed Andy Cohen because we think you'll like his picks. Andy is a paid spokesperson for Fresca, Sant and Abel, and Alexa and Amazon Devices. E! has affiliate relationships, so we may get a commission if you purchase something through our links. Items are sold by the retailer, not E!. Prices are accurate as of publish time.
Watch What Happens Live host Andy Cohen has a lot to look forward to this holiday season. It's his daughter Lucy's first time celebrating Christmas and Hanukkah and his son Ben couldn't be more excited for the festivities. The Bravo star said, "Ben's starting to get a grasp of the calendar with what's coming up and the multiple days. He's picking up on it and looking forward to it."
Andy remarked, "It's all kind of new for us," but he has some plans in mind for his family, sharing, "Charlie Brown Christmas is something we'll watch together. I think Ben will understand it more this year now that he's a little older. Same with The Grinch. I'm so excited to show him those this year and I hope he will be really into them. We'll also make cookies together."
The Bravolebrity also shared his holiday present recommendations, including "the most useful" gift that he received from Khloe Kardashian and a product from one of the Real Housewives stars.
Andy Cohen's Holiday Gift Picks
E!: There are so many great Bravolebrity brands. Would you recommend any products for a gift pick?
AC: You need to try Luann de Lesseps' non-alcoholic rosé, Fosé Rosé. I think it's really good. There are so many people who don't drink and they may be over drinking a diet soda. With the Fosé , they will feel like they're a part of the party without drinking. It's delicious, festive, and fun.
E!: Is there a favorite gift or a most special present that really stands out to you that you received from one of the Bravo stars? 
AC: It can be tough to narrow down. They've been so generous and they really go all out with the labels for my kids. I mean they went all out at that baby shower. When Lucy was born, Dorinda [Medley] immediately sent this big Gucci box.
Doona Infant Car Seat & Latch Base- Car Seat to Stroller in Seconds
"I have to tell you that one of the most useful gifts I have ever received was from Khloe Kardashian, a Doona car seat.  It turns into a stroller. It really saved my life with Ben during his first year and now with Lucy because you can use it in multiple ways and it's easy. It makes the airport experience really easy too. This one gift does it all."
This product comes in several colors and it has 9,500+ 5-star Amazon reviews.
E!: Do you have any good last-minute gift picks from Amazon?
AC: The thing about Amazon is that you can actually find everything. I would say good quick gift is a candle. I have a bunch in my closet on standby. They're good host gifts to have for the holiday season. There are also some great St. Louis Cardinal gift picks on Amazon too.
St. Louis Throw Blanket Custom Any Name and Number
"You know I love the St. Louis Cardinals, and so do a lot of my friends and family. You can find a lot of Cardinals gifts on Amazon. You can personalize them too and everyone likes that."
Diptyque Baise Candle
"Candles are great stocking stuffers. I know they are a little expensive, but I like the Baise candles from Diptyque."
Echolife Unisex Casual Tie-dye Soft Cotton Crew Socks- 6 Pairs
Echo Show 5 Smart display with Alexa and 2 MP camera
"I've got a whole routine set up in my home. I've got my Christmas lights, my music, and my disco ball all synced with my Alexa. I like a scene and I love for everything to be set up my own way. Walking into my apartment, I just have Alexa turn everything on and we're all going to be super happy and in a holiday mood."
This Alexa-enabled device has 102,300+ 5-star Amazon reviews.
Sant and Abel Unisex Andy Cohen Navy Terry Hoodie
E!: Do you have any gift recommendations for dads?
AC: I love a super, cozy hoodie. I think that's a good dad gift. I have so many hoodies that it's ridiculous.
This hoodie is from Andy's collaboration with Sant and Abel. It comes in yellow, blue, and pink.
Fresca Mixed Tequila Paloma
"Booze is also a good gift. I'm a huge tequila guy. I've actually been working with Fresca. They have these premixed drinks with tequila and Fresca that I'm into. I've been mixing Fresca with tequila for years at Watch What Happens Live." 
Personalized Notepad
E!: Share a gift under $50 that you recommend.
AC: If you're buying gifts in bulk, which a lot of people do because they want to get all of their friends gifts, I have a gift idea that may seem boring, but I promise you they'll end up loving it and using it all year long. A great gift is a personalized pad of paper with a person's name on it.
I get these for the Housewives for the holidays and my friends too. Everyone uses them and loves them. It may sound boring, but get like 10 pads with different sizes of paper, personalized with their names, and they will love them.