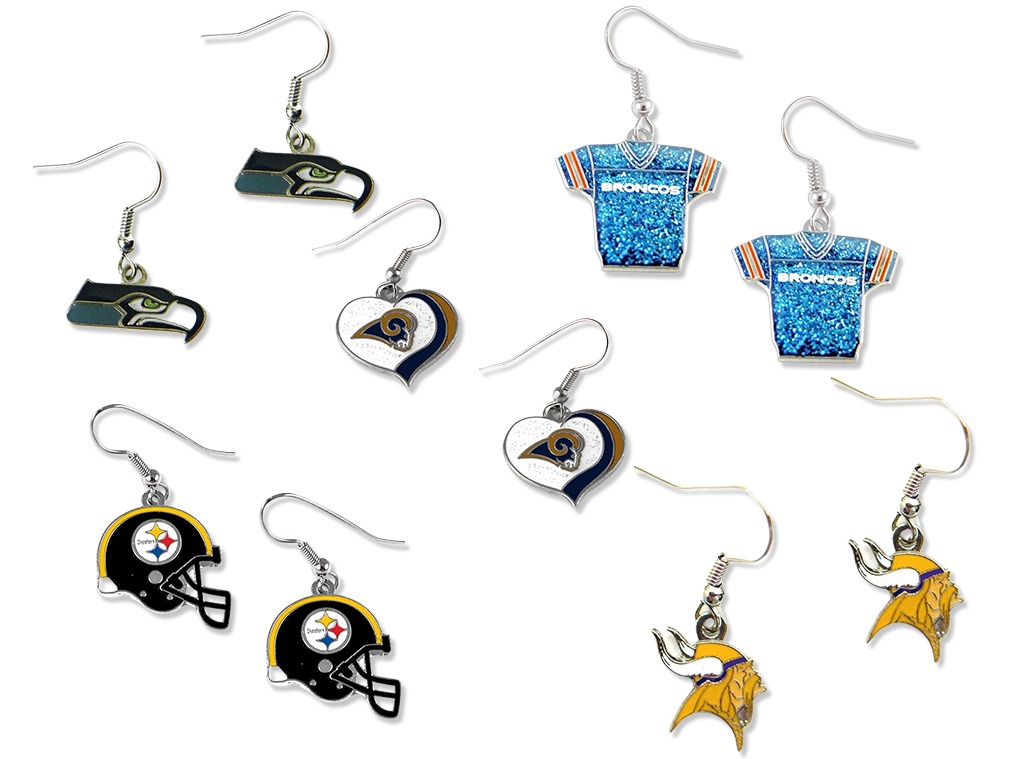 The brands featured in this article are partners of NBCUniversal Checkout. E! make a commission on your purchase. Prices are accurate as of publish time. Items are sold by retailer, not E!.
It may still feel like summer, but football season is just around the corner. Apart from painting faces, grilling in the parking lot, and putting on your favorite jersey, there's one more way to show off your team spirit: Jewelry. No, really. This collection of earrings (and some necklaces!) has something to offer fans of nearly every team and city. Better still, they're totally versatile.
Hear me out: Each pair is subtle enough to wear to work to celebrate Monday or Thursday nights (or even brag about Sunday's game), but still cute enough to stand out in Instagram stories of your watch party. So whether you like your logos glittery, bow tie-shaped, classic, or something else entirely, you'll want to scroll through this nearly exhaustive list of football-themed accessories to get your Serious Fan on this fall.
Oh, and one last thing: Go Birds.
Denver Broncos Glitter Jersey Earrings
These dangly Denver Broncos earrings deliver mile-high style. 
Los Angeles Chargers Glitter Jersey Earrings
You'll want to grab this LA Chargers-themed pair lightning fast. 
Detroit Lions Glitter Jersey Earrings
It's unlikely that these sparkly Detroit Lions earrings can be bartered for with a can of Vernors, but not impossible!
New York Jets Helmet-Shaped Earrings
Honestly, this helmet-shaped pair is so cute, they're worth admitting you're a Jets fan for.
Houston Texans Helmet-Shaped Earrings
Celebrate the 20th official season of the Houston Texans with this very Texan accessory.
Miami Dolphins Dangle Logo Earrings
There aren't any earrings with Tua's face on them, so this Miami Dolphins logo pair will have to do.
Tennessee Titans Dangle Logo Earrings
This is a pretty sweet pair repping the Titans, who may just have the most intimidating name in the league.
Seattle Seahawks Dangle Logo Earrings
Cleveland Browns Helmet-Shaped Earrings
Show your love for potentially the only team named after a coach with these Browns helmet earrings.
Minnesota Vikings Dangle Logo Earrings
The least you can do, as a fan, is wear these earrings to a freezing-cold-at-noon tailgate this season.
New Orleans Saints Glitter Heart Earrings
When the Saints go marching in, they're probably wearing these earrings.
Los Angeles Rams Glitter Heart Earrings
Hey, these guys are the only team to win championships as three separate cities. That's cool!
Jacksonville Jaguars Glitter Heart Earrings
Bortles! No, wait. Foles! No, wait. Whoever your QB is now, yell their name with pride while wearing these Jaguars earrings.
New England Patriots Glitter Heart Earrings
I was told that if I can't say something nice, I shouldn't say anything at all. So...if you're a Pats fan, here are some earrings for you!
New York Giants Swirl Heart Earrings
Behold! The New York Giants! (We all get a crisp Madagascar reference, right?)
San Francisco 49ers Swirl Heart Earrings
It's okay, 49ers fans. You'll have your day in the sun again soon.
Green Bay Packers Post Logo Earrings
Folks, let's give it up for the only team in the league owned by the fans! 
Philadelphia Eagles Swirl Heart Pendant Necklace & Earrings Gift Set
I have one thing to say, and one thing only: 41-33. Go Birds.
Carolina Panthers Swirl Heart Pendant Necklace & Earrings Gift Set
Show your love for the only team with a QB whose name sounds straight out of the 1970s soul charts.
Arizona Cardinals Dangle Earring & Necklace Set
Honestly, if you're enough of a Cardinals fan to rock this set, I salute you.
Las Vegas Raiders Bow Tie Earrings
This unique pair says that you're a formal Raiders fan, but you like to party, too.
Chicago Bears Bow Tie Earrings
The advent of football season coincides with Virgo season, so here's what to get a Virgo in your life for their birthday.