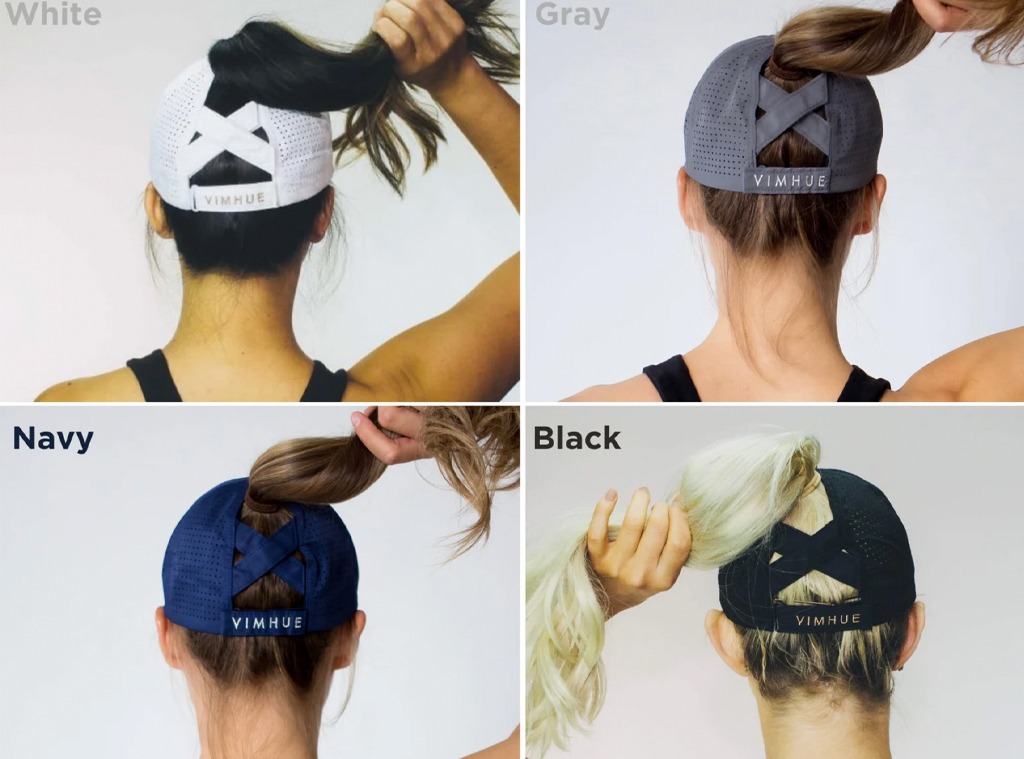 Vimhue Ponytail Hats
We independently selected these products because we love them, and we think you might like them at these prices. If you buy something through our links, E! makes a commission on your purchase. Prices are accurate as of publish time. Items are sold by retailer, not E!.
At this point, we've all had a few of those "TikTok made me buy it" moments, right? From beauty products to fashion trends to home hacks, TikTok makes it hard to resist shopping. Right now, the Vimhue ponytail hats are taking over my For You page. These hats work for a high ponytail, a low ponytail, and even a bun. Yes, a bun. Whether you want to hide a bad hair day or shield your face from the sun, these are worth checking out.
 A TikTok user said, "Did you ever buy something and you were like 'This is the best decision I ever made in my life. I wish I had done it sooner. That's me with this hat. If you're a person with long hair, this hat allows you to wear your hair up in a high ponytail or bun."
Another TikToker said, "This hat looks good all the way around. It's lightweight. It keeps its shape, even after washing." Another person shared, "The back of the hat has different levels with where you can put your ponytail. This just makes sense."
Etsy has these hats in 25 colors ranging from practical neutrals to bright pops of color. Once you try one on you will never wear a standard baseball cap again.
If you need a little persuasion before you shop, check out these rave reviews.
Vimhue Ponytail Hat Reviews
An Etsy shopper said, "I love this hat and wear it all the time. It's so nice to be able to wear a bun and a hat at the same time!"
Another raved, "This hat is genius. I wear high ponies and regular hats just didn't work. This works great. I like that they're a woman owned company and adhere to fair trade standards."
Someone gushed, "Love these hats, my second one. Love the colors, the quality and the fact that once you wash them they retain their shape and look brand new. I will come back for more colors. Is always good when an item meets your expectations, but when it exceeds it is just awesome!!!
Another person wrote, "I absolutely love my hat! I wanted a hat to run in but still have my hair up in the summer heat and it has worked perfectly! It's nice and light and very well made."
An Etsy customer reviewed, "I've been wanting this hat for a while and I'm so glad I finally bought it! It fits perfectly, and looks super cute. Good for all activities!"
"These hats are great! I wore it tonight and it's my favorite ponytail hat ever," a fan of the product shared.
"I love this hat so much, I am going to buy in another color. This hat fits great. And my ponytail can be high or low. I love it," a shopper reviewed.
Another customer explained, "I have purchased one of these for myself before. This was my second purchase and I bought it as a gift for a friend. I have gotten tons of compliments on my hat, but I also adore it for its functionality. It is my go-to hat. Everyone who wants to go from work out to life with a pony (or just loves a pony and needs some sun protection) OR just wants a SUPER CUTE and STYLISH HAT needs one of these."
Someone else said, "What drew me to this hat was the higher ponytail option and the beautiful colors!"
Still in the mood to shop? Check out these affordable, chic sweaters for fall.