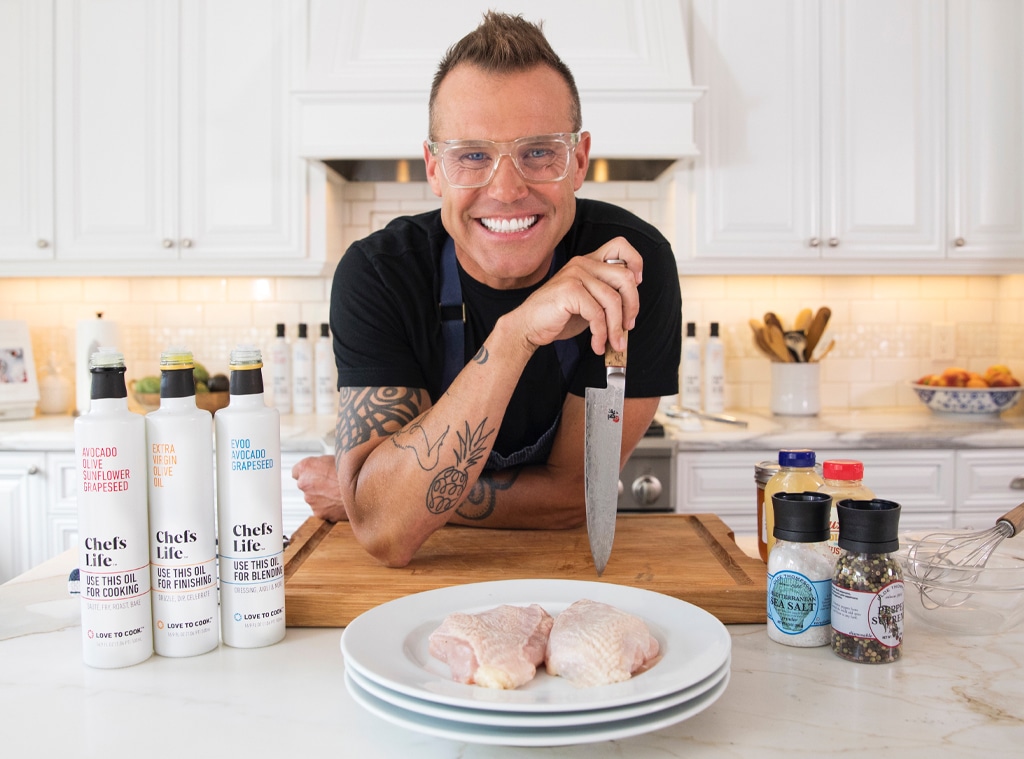 Courtesy of Chefs Life
We interviewed Brian Malarkey because we think you'll like his picks at these prices. Some of the products featured are from Chefs Life, a brand that Brian created. E! has affiliate relationships, so we may get a commission if you purchase something through our links. Items are sold by the retailer, not E!. Prices are accurate as of publish time.
Are you struggling to shop for the perfect Father's Day gift? If your dad loves to cook, Top Chef alum Brian Malarkey has thoughtful gift ideas in a wide range of prices, including the custom-blended cooking oils from his brand, Chefs Life.
The Bravo alum told E! about his Father's Day plans, joking, "Father's Day is the opposite of Mother's Day, meaning we don't want to brunch or dress up in our fancy clothes. We (dads) want to sleep in, relax, go to the beach, go surfing, lay out on boats, eat big steaks, and drink some brown liquor. If my kids decide to join me, all the better, but we're doing it my way. I'll also be having a few cold beers throughout the day."
If you want a laugh and some gift suggestions, check out Brian's top recommendations.
Brian Malarkey Father's Day Gift Picks
Lodge L14SK3 15-Inch Pre-Seasoned Cast-Iron Skillet
Black+Decker 32 oz. Citrus Juicer
"My citrus juicer is amazing, I have lemon water every morning with fresh squeezed lemons. There's a metaphor there - life gives you lemons but I make lemonade! And let me tell you, kids are gonna give you a lot of lemons!"
This juicer has 12,000+ 5-star Amazon reviews.
Hedley and Bennett Aprons
"Real chefs wear Hedley and Bennett aprons, so if your dad likes to cook, he should wear one too. They're cool and come in so many fun colors. I love them!"
KitchenAid K400 Variable Speed Blender with Tamper
"You can use a KitchenAid blender for everything, from vinaigrettes to smoothies and marinades, and even mayonnaise. It's perfect because you can adjust the gears from slow to fast, so you don't make a mess in the kitchen. These are top of the line, and every chef has one."
Ooni Pizza Oven
"The Ooni pizza oven makes everything more fun and it's super easy to work. Toss some dough, kick back and relax. This is by far the best electric pizza oven."
Traeger Timberline 1300 Grill
"If you really want to go big this Father's day, your dad will go crazy for a Traeger Smoker. They're pricey, but they're incredible."
Big Green Egg
"If you have the money to spend, The Green Egg is the perfect gift for any dad. They're absolutely incredible and perfect for grilling, roasting and smoking. The Egg is also perfect for summer parties when hosting friends and family."
Cutting Board from Hiawatha WoodWorks
"These are my favorite cutting boards, they are beautifully hand crafted and you're able to customize them with a name, message or brand to personalize your gift. All the boards are incredible and durable, and purchasing them is a great way to support authentic craftsmanship."
Sausage Postal Provisions Club Subscription
"This is another great company from the Pacific Northwest, and they offer amazing sausage subscriptions where you can pick the exact meat you want and choose the frequency in which it comes. I'd recommend getting your dad a Sausage Postal Provisions Club subscription so he can get fresh, unique sausage every 2 weeks."
Brian Malarkey Father's Day Q&A
E!: Tell us about a time you embarrassed your kids.
BM: I embarrass my kids every single day of their lives! I think I'm cool, but they always tell me I'm not. I embarrass them every time I wear skinny jeans or a snazzy jacket. I also embarrass them everytime I'm on TV, especially when I don't win a cooking competition, which is a lot.
E!: Which fictional dad represents you the best and why?
In my mind, I'm John Dutton from Yellowstone or Thomas Shelby from Peaky Blinders, but in reality I'm probably more in line with Bob Parr, the dad from The Incredibles, because I am a superhero, but I do make mistakes.
Chefs Life Ultimate Trio Pack- Avocado, Olive, Sunflower, Grapeseed Oil
What's a great gift under $50 that you would recommend? A cast iron pan, it lasts forever and it's a timeless present that's amazing for all types of cooking, or, of course, Chefs Life oils to encourage dads to cook more food for their kids.
E!: What's your number one piece of advice for new dads?
BM: Just relax, none of us know what we're doing. Kids are bulletproof, so just have fun with them. And if you're thinking about having a second one, be careful, you might end up with twins like me.
E!: What's an item that your son or daughter always borrows from you?
BM: As they've gotten older, they're starting to borrow my deodorant. They also borrow my money. They've gotten really good at that, so they can go to the store to buy ice cream and candy. I'm sure it's only a matter of time before they'll be borrowing my shoes and car.
Breville BES870XL Barista Express Espresso Machine, Brushed Stainless Steel
E!: What's a gift you've received that you get so much use out of?
BM: My Breville Espresso Machine. It's seriously amazing! I use it every day, and it makes every morning better.
This machine has 15,100+ 5-star Amazon reviews.
Easy Play Sports and Outdoors Bag of Balls– Basketball, Soccer Ball, Football, Volleyball, Playground Ball with Sports Equipment Bag and Pump
E!: If you only had 2 days to get a gift, what are you ordering from Amazon Prime?
BM: A football, basketball, baseball, frisbee or basically anything to get dads outside and playing with their kids, and away from electronics. We can all take "Cat's in the Cradle" by Harry Chapin as an example.