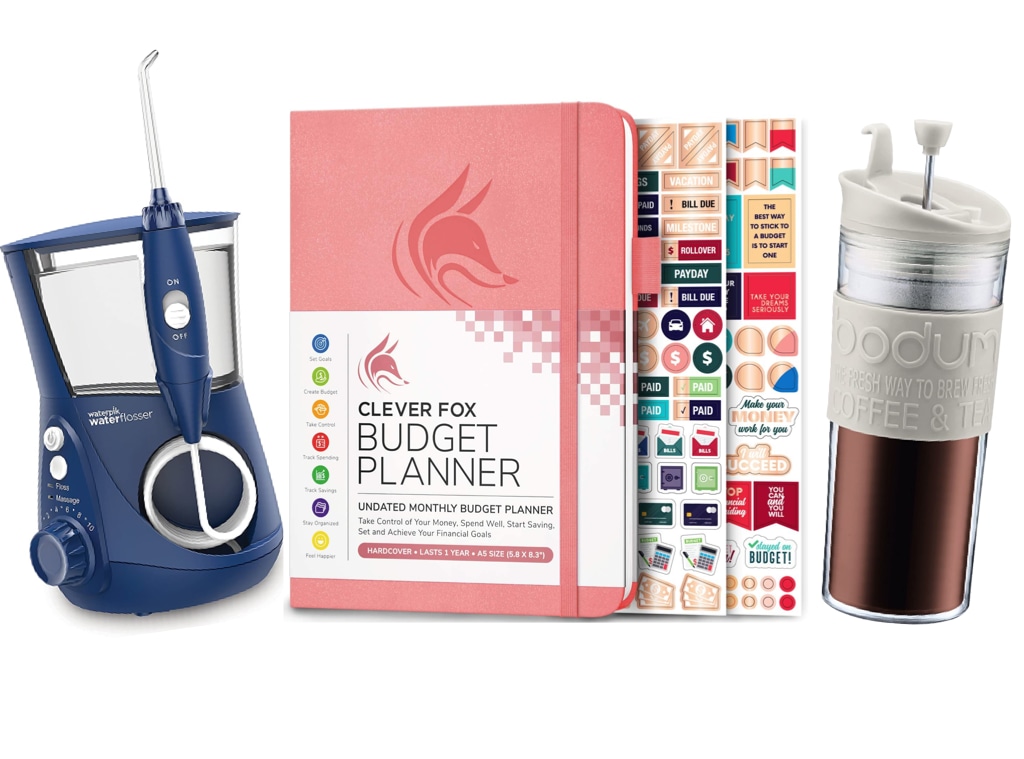 We independently selected these deals and products because we love them, and we think you might like them too. E! has affiliate relationships, so we may get a commission if you purchase something through our links. Items are sold by the retailer, not E!. Prices are accurate as of publish time.
Saving money is a goal many of us have, and yet, actually doing so is easier said than done. After all, how can you resist a good designer sale or brand new skincare products that everyone can't stop raving about? Interestingly enough, there are some products out there that can help you save a little more money this year. Best part is, they all come highly recommended by Amazon shoppers. 
For instance, if you've noticed that you spend a lot of money eating out for lunch, this electric lunchbox and food warmer may be for you. You can enjoy a hot, delicious lunch every day without having to spend. 
The same goes for your daily caffeine fix. If you realize that you could cut back on the amount of times you go out for coffee, getting yourself an on-the-go coffee maker, like this one by Bodum, can really make a difference. 
From a $20 serum that's just as good as any $200 one to a budget planner that will help you stay on track, we've rounded up some best-selling products on Amazon that can save you some money in the long run. Check those out below. 
TruSkin Vitamin C Serum
As much as we enjoy our luxe serums, we love products that work just as good for a fraction of the price. TruSkin's $20 Vitamin C Serum blends Vitamin C with hyaluronic acid, Vitamin E, witch hazel and jojoba to brighten skin and reduce the appearance of wrinkles and dry areas. It's an Amazon shopper-loved product with over 61,500 five-star reviews. 
As one shopper wrote, "TruSkin Naturals appealed to me since it was a natural product, and also contained the hyaluronic acid & Vitamin E I was looking for. The price is about 70 percent less per bottle than what I was paying for my luxury medi-spa brand, and my skin feels wonderful, rejuvenated and smooth. Do yourself a favor and get this product, take yourself out to lunch with your savings and have a glass of wine to celebrate how smart you are!"
Reusable Food Storage Bags - 10 Pack
These reusable food storage bags are leakproof, easy to seal, freezer safe and easy to clean. Each pack includes gallon, sandwich and snack sized bags. They have over 10,700 five-star reviews and shoppers love how these not only save you money in the long run, but they're also good for the environment.
Bodum Travel Coffee & Tea Press
If you don't always have time to make coffee in the morning, you can make your coffee on-the-go with Bodum's travel coffee press. All you have to do is add ground coffee and hot water, seal it and in minutes you'll have a fresh hot cup of coffee. It has over 3,600 five-star reviews and one shopper wrote, "I have used this mug daily for about three months now, and I absolutely love it. Instead of buying mediocre coffee every day, I now make it myself. I get better coffee and save money. A total win." 
Bluapple Produce Freshness Saver Balls
If you find yourself constantly throwing away fruits and vegetables that have gone bad, these produce freshness balls from Blueapple can help you save some money by keeping your produce fresher for longer. One pack is good for three months, and you don't have to do anything special but place it wherever you keep your fruits and veggies. According to multiple Amazon reviews, this really does help save you money. 
PowerLix Milk Frother
Cutting down on the number of times you go out to buy coffee is an easy way to save some cash in the new year. If you enjoy lattes, getting a high-quality electric milk frother can help you create your very own café style drink at home. This milk frother in particular is highly rated with over 48,000 five-star reviews. It'll definitely save you money in the long run, and you'll get to create drinks that are exactly the way you want them. 
Forabest Electric Lunch Box Food Heater 
Eating out for lunch every day can really add up. This 2-In-1 portable food warmer and lunch box can help you save some money in the long run. All you have to do is plug it in and heat. It even comes with a car power cord so you can heat your food if you need to go. As one Amazon shopper wrote in their review, "BEST purchase I could have made. As a delivery driver it's hard and time consuming to find a place to eat, especially during this pandemic. This product keeps my food hot (like straight out the oven hot!). Nothing like saving money and knowing that you'll enjoy the meal you're about to eat!"
Waterpik Aquarius Water Flosser
Save on trips to the dentist by getting yourself a Waterpik in the new year. If you hate flossing or just always forget, having a water flosser in your bathroom is a must. It's super easy to use and will leave your mouth feeling fresh and clean. 
Premium Makeup Brush Cleaner 
This premium makeup brush cleaner will save you from having to constantly purchase new brushes. It's a 2-in-1 cleaner and dryer that only requires soap and water. Amazon shoppers say it's well worth the price, and right now it's even on sale for just $23. 
Woolite At Home Dry Cleaner - 14 Pack
Save on trips to the dry cleaners with this pack of at home dry cleaner cloths. According to Woolite, one box alone can save you over $100, and it's safe to use on dry clean only fabrics, special care clothing and pieces that are hard to clean. You can get a pack of 14 pieces for just $21. 
Coconix Vinyl and Leather Repair Kit
This vinyl and leather repair kit comes with everything you need to restore furniture scratches, rips, tears, burn holes, cracks and peeling. It even works for shoes, belts, bags and purses. It comes in a variety of colors that you can mix and match until you find the right shade for your needs. According to one Amazon reviewer, this kit saved them hundreds of dollars in repairs while another said it worked wonders on their leather sofas. 
Clever Fox Budget Planner
If you're serious about saving money in the new year, get yourself this budget planner from Clever Fox. It features dedicated pages for financial goal setting, budgeting, expense tracking and monthly reviews. It even comes with a pack of stickers, so you can make this totally your own. It's a product that so many Amazon shoppers love. It has over 16,000 five-star reviews. 
—Originally published Dec. 30, 2021 at 3:00 AM PT.