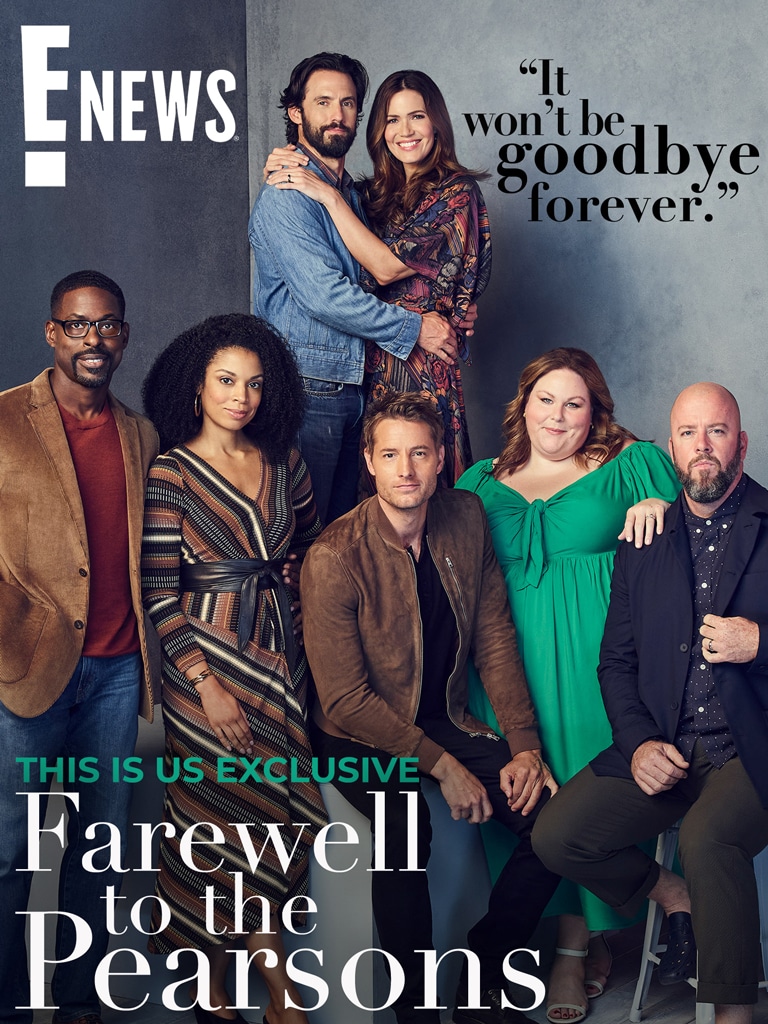 Photographed by Joe Pugliese
Remember that "What the…?" feeling you had the first time you saw the ending of This Is Us' premiere episode? Yeah, the cast was right there with you.
In fact, Sterling K. Brown recalls telling his wife Ryan Michelle Bathe, his American Crime Story costar Sarah Paulson and anyone else who would listen about "the best network television pilot" he had ever read. "Like, on the page," he exclusively told E! News of Dan Fogelman's creation, "there were times in which I laughed out loud, I cried and literally I was just gob-smacked with my chin hanging over the script. It was crazy."
His onscreen wife Susan Kelechi Watson felt the exact same way. "I was reading and out loud was like, 'Ohhhh!' You know what I mean?" she shared of getting to the pilot's no-they-are-not-all-living-in-present-day twist. "I just did not see that at all. It blew me away."
Hard same. In the five years since some 10 million viewers were captivated by that impressive debut, Tuesday nights have become our time to laugh, pick our chins up off the floor and, okay, fine, cry so hard our neighbors had to check to make sure we were all right.
So, yes, we're struggling with the fact that the NBC phenomenon begins its final chapter Jan. 4. And we're not the only ones bracing ourselves for a tearful farewell to the Pearsons. Over the course of several interviews, the series' beloved stars—Milo Ventimiglia, Mandy Moore, Justin Hartley, Chrissy Metz, Chris Sullivan, Brown and Watson—exclusively sat down with E! News to reflect on just how far they've come since that life-changing moment, back when Metz's bank account had all of 81 cents and Watson was searching for barista jobs in Montreal.
Though they haven't quite wrapped their minds around goodbye ("I think I'm delusional," joked Metz. "I'm like, 'Oh, it's not going to end, it's fine'") the actors teased what's still to come and confirmed what we all already hoped to be true: They're a family both onscreen and off—always.
Watch:
"This Is Us" Casts' Most Surprising Celebrity Fans
E! News: Looking back at that first season, was there a moment where you realized, "We have a hit on our hands"?
Sterling K. Brown: The pilot dropped and people went crazy. Like, they actually went a little crazy. So I knew we had a good pilot. And then episode two dropped and then three dropped and four, and folks were still going crazy. Then I got a call—my cousin left me a video message saying, like, "Sterling, I know you just got finished doing the Darden thing [on American Crime Story] and that was great and you were wonderful. But This Is Us? This is something special."
Mandy Moore: That second episode you saw Miguel show up with Rebecca to Randall's house and you're like, "Hold the phone, what happened?" And it wasn't until episode five that Kate reveals her dad passed away. She's talking about watching the Steelers with her family growing up. And you see Kevin explaining to Annie and Tess that when he gets a new job as an actor, he paints his emotions, and that helps him come to grasp the job. The way he distills down the essence of what the show is remains a really pivotal moment to me. It feels like a real turning point for me of remembering like, "Oh, wow. I don't think I'm ever going to be a part of something like this ever again."
E! News: What was your first impression of your character and why were you right for the role?
Justin Hartley: A really great friend of mine, Michael Rady, read the script and he calls me and says he was thinking that Dan actually knew me. He's like, "I think that he'd love you." I see there is this guy that's got a pregnant wife, and a birthday thing and candle thing, and I'm like that's so me. I'm a big time romantic guy. I am Jack. And then, I kept looking at a couple of pages and I go, "Oh f--k. I'm Kevin." I just got him, I understood him.
SKB: I'm accustomed to going in and having to sing for my supper. For the first time in my life, the studio was actually big upping me because this was the same studio that I was doing The People v. O. J. Simpson: American Crime Story with. So it was my first time going into an audition where people were actually excited to meet me instead of just like, "Dance, Brother, dance! What are you going to do for us?"
Chrissy Metz: Oh, I just knew her. I am her, she was me. I was a talent agent for many, many years, and I felt like I lived in the shadow of my clients, even though I was excited for them. It was like, "I know that I'm destined for something different as well."
Chris Sullivan: Chrissy did a bunch of chemistry tests with different Tobys, but she and I never actually met before the first table read. So I'm not sure Toby was always meant to stick around for six seasons. You know, there was a heart attack mid-season. One that I'm sure was built in in case they wanted to create some drama and lose that character.
CM: It's funny because I remember meeting him at the table read and I looked over and I was like, "Who's Chris Sullivan?" And then they said he's playing Toby and I'm like, "What?" And he walks in the door. And I'm like, "Oh my gosh, who doesn't love this face?"
E! News: Mandy, did you have any hesitations about playing both young and old Rebecca?
MM: Yeah, I was terrified. About a month before we started production I got an email from Dan informing me that there was this collective agreement it would be best if I could try to portray this character at 65-plus, and we were going to go through the rigmarole of fittings and prosthetics to see if it would work. We have so many crazy funny photos I will have to put out—maybe once the show is done—of what Rebecca could have looked like. Some were terrifying. I remember the first hair and makeup test. I had a mask on over my lips, over my eyebrows, like they put fake eyebrows on me. I had this really long gray wig. They made her look like she was in her late 90s.
E! News: The core couples on This Is Us—Kate and Toby; Beth and Randall; Jack and Rebecca—have undeniable incredible chemistry! How did you all get there?
Milo Ventimiglia: We both agreed that from action to cut, for all intents and purposes, we're a married couple. At the Upfronts, I remember Mandy and I sitting to the side and I said, "Let's always talk. Let's always communicate. Just like a real relationship, just like a real married couple. Let's make sure that that's the foundation of what we do."
SKB: I told my wife early on, I said, "Ry, I want to say this to you in person because you'll probably hear me say this in different interviews, but I love Susan Kelechi Watson. I don't love her in a way that is disrespectful. I don't love her in a way that you have anything to worry about. I love her spirit, her soul, the way in which she approaches the work." There's a certain level of playfulness I always know I can count on when Sue and I have a scene with one another.
Susan Kelechi Watson: We knew how to play in the space with each other. We just knew what that meant. And we knew what it was to embody the freedom to do that and work off the other person's energy. It felt easy, like we could improv and do whatever and it would all just work.
CM: I remember saying during one of our first scenes, "Chris, I don't know what I'm doing. I feel like I don't belong here." And he was like, "Yeah, you do." And I'm like, "No, I don't." And he's like, "I'm telling you, you do." And it just felt like he would always hold my hand. Not only did it feel like such a great friendship at the beginning, but like, "Oh, this is how it's going to be throughout the relationship of Kate and Toby."
CS: We always agreed to have fun with each other and we agreed that the only time that belongs to us is the time between action and cut, so that's what we've tried to do, even in the difficult scenes. Even in the heavy scenes. We tried to always have fun, and I think that's what people are seeing. 
Watch:
"This Is Us" Cast Shares Touching Fan Encounters
E! News: And Justin, how has the Big Three dynamic grown over the years?
JH: We all had the same idea about what the show was, what it could be. And we treated it like it was our baby. As the years go by, you start to develop a love for each person. And I can tell you that I love Sterling like a brother. I love Chrissy like a sister. I love Milo like a brother—not like a dad—and I love Mandy like a sister. We're a family. Chris Sullivan is okay, I guess. No, he's wonderful. [Laughs]
And Susan—you start to develop a love for them that is outside of the character they're playing because you get to know them. So that's the greatest thing you can take away from a show like this, you can have these lifelong friendships and bonds.
E! News: This Is Us has covered nearly everything, from infertility and alcoholism to racism. What storyline are you most proud of?
MV: The ones that stand out the most are around alcoholism and the struggles in Vietnam. But also just a guy who didn't come from a good family wanting to have a good family.
CS: The fertility struggles storyline with Kate and Toby a lot of people connected to—a lot of people in my own personal life. There's a lot of things in our daily lives that people don't want to talk about, whether it's losing a child, not being able to conceive, whether it's addiction, depression, anxiety, alcoholism. Whatever the thing is, it's hard to find a good time to discuss. And the thing I'm most proud of with this show is that it provides a context to begin those conversations.
CM: Understanding the racial injustice that Randall went through. Kay [Oyegun], who wrote that particular episode, did such a beautiful job of not making anybody the victim or the perpetrator, but like, "Hey, something is not right here. And how do we fix it? How do I understand?" And it was such a delicate balance.
SKB: I love Tess' coming out. A lot. I mean, a lot. When I was in an airport, a woman came up to me and said, "When my daughter came out to me, I did not handle it with as much grace as Beth and Randall did. But I saw your example and I'm going to do better." I almost cried right there on the spot. 
JH: I would be in New York doing press or I'd be in LA having lunch—wherever I was—and people would come up to me and tell me these very intimate, private details of their lives, how the show affected them in a relationship with their father or their mother or their son or their brother. How it helped them get over the loss of someone dear to them. I mean, who would have ever thought as an actor that you get an opportunity to be on a show like this, that impacts so many people's lives that you will never meet? What an absolute treat.
Watch:
"This Is Us" Ending After Season 6: Everything We Know
E! News: Has there been a storyline that's been hardest to portray?
CS: Having to deal with anxiety and depression in my own life and then to also have to go to work and explore it and put it on display in Toby's life was certainly a heavy time. It's easier when it's an issue that you're dealing with with your therapist or your wife or your close friends, but to go to a set in front of a bunch of people and air it on television is a lot. It's exhausting.
MV: Probably the most heartbreaking scene for me is when Jack had to tell teen Kate he has a drinking problem. That might have been one of the hardest ones to do. And of course, big arguments with Rebecca. 
E! News: What have you learned about yourself while playing your This Is Us character?
MM: It's hard to really take an inventory of that. I'm still very, very much immersed in it now, and in fact, maybe more than ever because of [9-month-old] Gus and being a mom. It's made me completely reevaluate and rethink everything about this woman. I only could begin to imagine, like some sketch of an idea, what it means to be a mom and to love your kids and to be so fierce and an advocate. I barely have touched on that until becoming a mom.
But I would say that I just have so much gratitude for Rebecca because she is this pillar of all the things I want to be as a mom, as a wife, as a woman, as a friend, as a grandmother. She's not perfect; she's fallible, she's totally human.
JH: Some of the things I've learned from him come from lessons of what not to do. For instance, I've never flipped out on stuff before. I've never lost a job because I was completely going insane. Perspective is what I've learned when you play a character that has gone through so much. He's got addiction issues, he cheated on his wife. I've never gone through any of that in my life, but the fact that he still has perspective and realizes that doesn't define him, I think that's the cool thing.
SKB: The perfectionism that Randall has suffered from throughout his history is something that I understand. The biggest hope for him—what I've been learning—is to have grace with yourself and accept that there's no such thing as being perfect. There's just doing your best. And then when the best falls short of whatever you consider the mark to be, just dust yourself and do it again.
Watch:
Susan Kelechi Watson Talks "This Is Us" Legacy at 2021 PCAs
MV: Gosh, Jack's shoes are definitely hard to fill. You know, for as golden as Jack is, he's equally flawed and yet he's still very loved. Something great about that is that people can understand that, take responsibility for themselves and ownership of their greatness and their flaws and recognize that in other people. I've become a little more centered in myself because of playing this man. Knowing that there's the balance—equal parts of the good and the bad—and always striving to be good, I think that's always been a constant theme of my life. You put the best foot forward and hopefully you're impacting people positively. 
E! News: What are we going to see in this final season? Will it wrap up these storylines?
SKW: Well, you will get to see what happens with Rebecca. You'll see how Kate and Toby end up. And also what happens with Kevin. I do believe each storyline will have its closure. It will be a very satisfying season. 
JH: Dan had an ending years ago, he had his idea of what it was, what it would be, and hopefully people like it.
MM: Lots of questions will be answered, but there will still be some surprising things because that's the trick of the show. I still want to know more about Miguel and Rebecca. We're actually getting into that storyline now. I've always been such a champion, mainly because I love Jon Huertas so much. But I love that he's never been affected by people's distaste or distrust of Miguel. I've always been like, "No, no, no, guys, just hold on."
E! News: Have you come around to the idea of having to say goodbye?
SKB: It'll be, "Ta-ta for now." It won't be goodbye forever. These people are a part of my life for the rest of my life. And happily so.
SKW: I feel like it doesn't even feel quite over yet, you know? We're still in the center of it. I bet around episode 16 I'll be feeling it.
JH: Instead of thinking about it as "I'm gonna be so sad this is over," enjoy the ride. It's hard to do sometimes, but, man, it's over in a second. I can't believe I've been doing this show for almost six years. It seems like six minutes.
MV: Jack, I can hang him up. It's okay. It'll be in a garment bag. I can pop it open and take a look. The hardest thing always for me is the people. You spend so much time with the people, you know? I feel like a majority of my job is showing up for the crew and making sure we're all having a good day. And knowing that I won't be with this particular group that I've been with for six years, possibly ever again, collectively, it's hard.
MM: I'm going to be a total wreck. We are a family. We've been a family from the beginning. There's not a bad apple in the bunch. I've already resigned myself to the fact that there will never be another job that is this special. It's just so special to be a part of something that just consistently touches you in every way.
E! News: So, may we suggest a This Is Us movie?
MV: I don't know if it will involve Jack because, by the time they usually get to movies, you know, years have passed. I don't know if Jack storylines will hold or carry through. You can absolutely tell a Kevin-Randall-Kate story. You can absolutely tell present day stuff.
MM: We were laughing the other day with some of the cast, like, all these shows that are getting rebooted, didn't they just end five, six, seven years ago? Are we going to be doing This Is Us the reboot in six years? I would be game to do anything that would reunite me with everybody here.
CS: Of course, I would be on board. I'm always on board for the This Is Us family. I don't know if it's gonna happen, but that sounds like a great idea. We should start that hashtag.
SKB: We totally could. And that's something, actually, I could definitely see them promoting it. Like, we've seen the Sex and the City joints, there's an Entourage joint, if they can do it, why the hell not? 
(This interview has been edited and condensed for clarity.)
This Is Us season six premieres Tuesday, Jan. 4 on NBC.