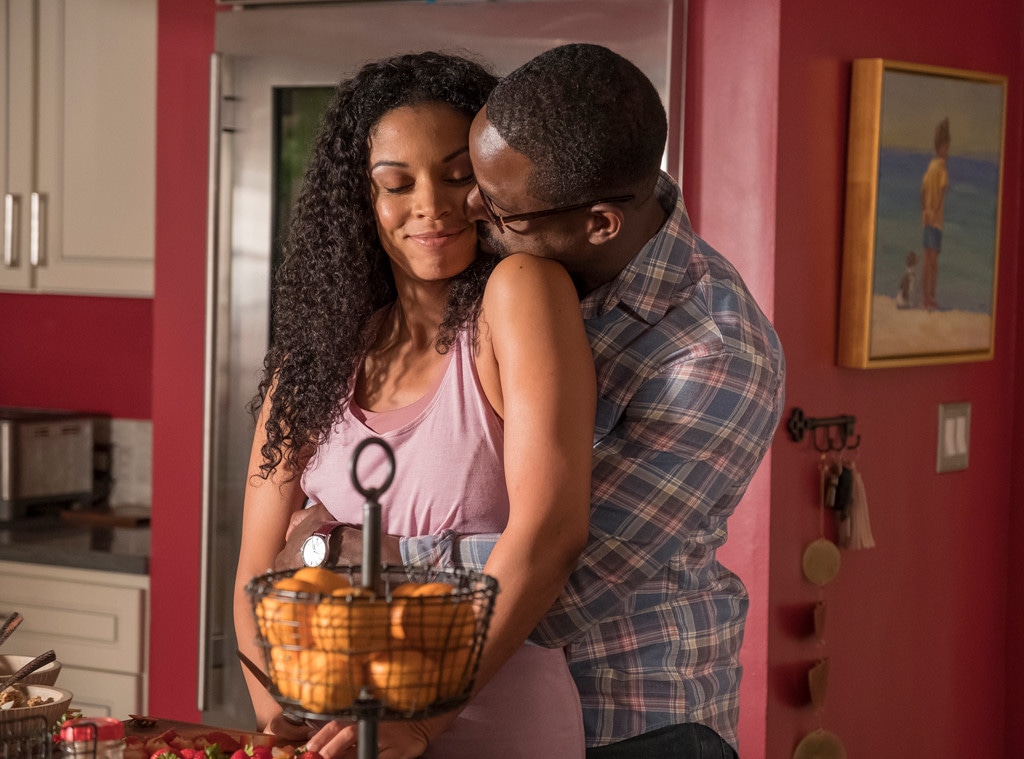 NBC
One hour into This Is Us season three and the question remains: Who is her? 
Towards the end of tonight's premiere, we got a little bit more of the scene we saw last season, with an older Randall greeting an older Tess and asking if she was ready to see "her." Now, we've seen Future Randall calling Toby to ask if he's coming with them. Future Toby, who's sitting in a very otherwise empty bed with grey in his beard, says he is not. 
Toby would be a strange first call to make if they were visiting Beth or Deja, and unless Tess and Kate have grown extremely close over the years, Kate also doesn't seem likely. Does that mean it's Rebecca, or is there some other possibility we're totally missing? 
During a post-premiere panel in Los Angeles, creator Dan Fogelman promised we'll see this mystery play out this season, and it won't be drawn out "over seven seasons." 
The rest of the premiere was less about mysteries and more about giving every actor some series-best stuff, either in terms of emotion or in terms of comedy. Randall (Sterling K. Brown) was straight up hilarious for most of the premiere, but he also got a seriously beautiful monologue in which he asked Deja if she wanted them to adopt her. Lyric Ross even held her own with Brown, eventually deciding that yes, she'd love to be adopted by the Pearsons. 
Justin Hartley and Susan Kelechi Watson basically had their own little sitcom going as Beth swore on Oprah that she wouldn't bring up her suspicions that Kevin and Zoe were "knockin' boots," so of course, she immediately brought up her suspicions that Kevin and Zoe were knockin' boots. That part was hilarious, then even their comedy turned sweet with Beth telling Kevin how much she cared for him, and didn't want her cousin to eat him alive. 
Jack and Rebecca, meanwhile, went on their first date ever, and it was an utter disaster. Jack could barely find a word to say, and then tried to take Rebecca to the carnival with only $9 in his pocket and a determination to make it his treat anyway. Then it started raining, and had to choose between buying an umbrella with his last $2, or saving money for carnival games. But because he's Jack, he saved it on the way home with a heart-melting speech about how after coming home from Vietnam, she was the first thing that made him feel like home. Both Mandy Moore and Milo Ventimiglia were at their best, even if it all ended with another mustachioed man showing up at Rebecca's door for a kiss. 
And then there's Kate and Toby. Their fertility struggles have always been emotional, but Chrissy Metz has never been this good, keeping it together in the fertility doctor's office after being told they can't do IVF, and then breaking down at the brunch Madison threw for her in front of a "carrot cake" that was mostly just a bunch of carrots. 
Toby (Chris Sullivan) learned that his sperm count was lower due to the anti-depressants, and while he explained that he needed them so he didn't cry all the time, by the end of the night he had flushed them down the toilet. Unfortunately, we've seen where he ends up, but hopefully we'll also see things get better from there. 
Just some tremendous work from all involved, and we're so ready to spend our Tuesday nights crying again! 
This Is Us airs Tuesdays at 9 p.m. on NBC.
E! and NBC are both part of the NBC Universal family.