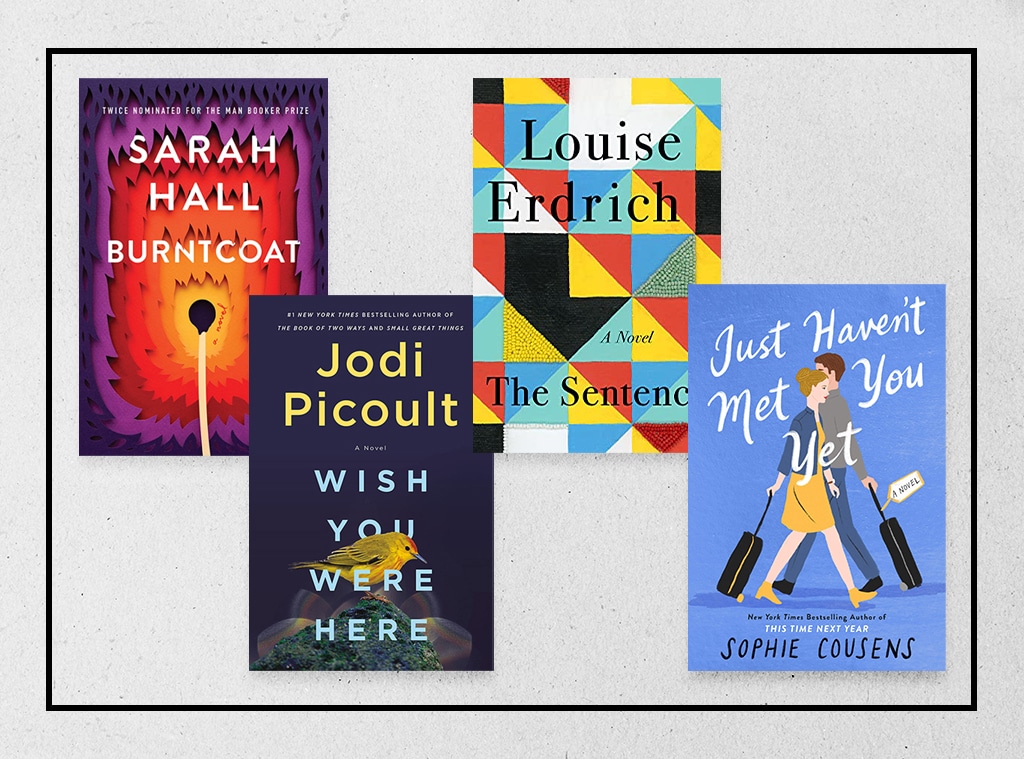 We love these products, and we hope you do too. E! has affiliate relationships, so we may get a small share of the revenue from your purchases. Items are sold by the retailer, not E!
So long spooky season and happy holidays! 
It's officially November, which means it's time for two things: Hibernation and gift-giving, and we've got the ultimate list of this month's new releases to aide you in both endeavors. Whether you're looking for a delicious thriller to read by the fire or are on a mission to find the perfect memoir to give to a loved one, we've got just the book for you. 
So go ahead, grab a seasonal latte of your choosing, throw on a comfy sweater, break out your shopping list and start buying physical copies of our picks or—because, you know, technology—pulling them up on Kindle Unlimited or through a free trial of Audible.
Here are 15 books to check out as we head into the holiday season...
Burntcoat by Sarah Hall
Yep, it's another pandemic novel. But before you reach burnout, don't expect anything to be but riveted by the Booker Prize nominee's telling of a grieving artist who falls in love just as the world is shutting down. As the new lovers isolate together, they face fears and dangers while sharing histories and responsibilities as they survive the seemingly impossible. (November 2)
Heard It in a Love Song</> by Tracey Garvis Graves
Starting over and second chances. No, that's not the name of a country song, but it is the message at the heart of Graves' love story between Layla, a recently divorced former lead singer, and Josh, the single dad whose daughter is in Layla's music class. Though they initially decide to just be friends, their relationship proves to be anything but simple. But will it end in happiness or heartbreak? 
Just Haven't Met You Yet by Sophie Cousens
Picture this: You are in a rush at the airport and quickly grab your bag, only to discover once you reach your hotel that it actually belongs to the most attractive man you've ever seen in real life. That is the set-up for Cousens' new rom-com, which centers on a vacationing single woman who is on a mission to find the owner of the suitcase, convinced he is the one. At the same time, she is retracing her parents' footsteps to relive their relationship, so you're getting two love stories for the price of one. You're welcome! (November 9)
The Sentence by Louise Erdrich
The Pulitzer Prize winner is delivering a most unusual ghost story: A bookstore in Minneapolis is haunted from November 2019 to November 2020 by the shop's most annoying customer. A new employee, a woman who survived incarceration by reading, must solve the mystery while confronting the racial injustices happening in her city. Like any good ghoul, this one will stay with you for a while. (November 9)
Doctors and Friends by Kimmery Martin
Written prior to COVID-19 by the former emergency medicine physician, this sweeping yet intimate novel explores the power of the friendship between three women—who met in medical school and meet up for an annual get together—in the face of a contagious virus. (November 9)
Will by Will Smith
Now this is a story all about how a kid from West Philadelphia became one of Hollywood's biggest stars. But, according to the man himself, the public only knows half of the epic tale. Written with the help of Mark Manson, Smith gets jiggy with it, opening up about his personal life and career, as well as sharing his journey of self-knowledge in five layers, all representing a different stage in Smith's life. (November 9)
Welcome to Dunder Mifflin: The Ultimate Oral History of The Office by Brian Baumgartner
Steve Carell, John Krasinski, Jenna Fischer and the rest of the Dunder Mifflin gang reunited for exclusive interviews to deliver the definitive history of The Office. Much like Kevin's chili, Baumgartner and executive producer Ben Silverman are spilling all of the tea on NBC's iconic sitcom in this book that is the perfect gift for your cousin who is currently on their fifth rewatch.  (November 16)
Our Violent Ends by Chloe Gong
It's 1927 and Shanghai is under siege and Roma is out for revenge against Juliette in the highly anticipated sequel to Gong's breakout debut, These Violent Delights. While hope seems lost for the star-crossed lovers, a monstrous danger unites the pair as they team up to fight monsters and prevent an impending Civil War. But will they be able to protect their hearts from one another at the same time? Never was there a tale of more woe...(November 16)
The Christmas Bookshop by Jenny Colgan
Do you spend your weekends watching Hallmark and Lifetime Christmas movies? Carve out a few hours from your binge-watching schedule to read the heartwarming story of a woman trying to revitalize an ancient bookshop on the picturesque streets of Edinburgh. Of course, a charismatic author happens to take an interest in her cause...and her. (November 16)
God Bless This Mess: Learning to Live and Love Through Life's Best (and Worst) Moments by Hannah Brown
Bachelor Nation loved Hannah for always being her authentic "hot mess" self and she doesn't hold anything back in her quarter-life memoir. The beloved Bachelorette and Dancing With the Stars champ keeps it real about her time on reality TV, opens up about her struggles with depression and shares her journey of self-discovery and faith. And yes, Jesus still loves her. (November 23)
Go Tell the Bees That I Am Gone by Diana Gabaldon
Outlander fans, the seven-year wait is finally over as the ninth book in Gabaldon's epic series is here. So pour a cuppa, grab a tartan blanket and once again get lost in the story as Jamie, Claire and the rest of the Fraser clan is reunited as Brianna, Roger, and their children return to Fraser's Ridge in North Carolina in 1779, right in the midst of the American Revolution. (November 23)
Wish You Were Here by Jodi Picoult
Picoult cult, gather around and prepare to once again be reduced to a sobbing mess by the bestselling author. In Wish You Were Here, one woman's resilience and spirit is tested when she finds herself alone in the Galapagos on her 30th birthday when a pandemic shuts everything down. Yeah, grab those tissues now. (November 30)