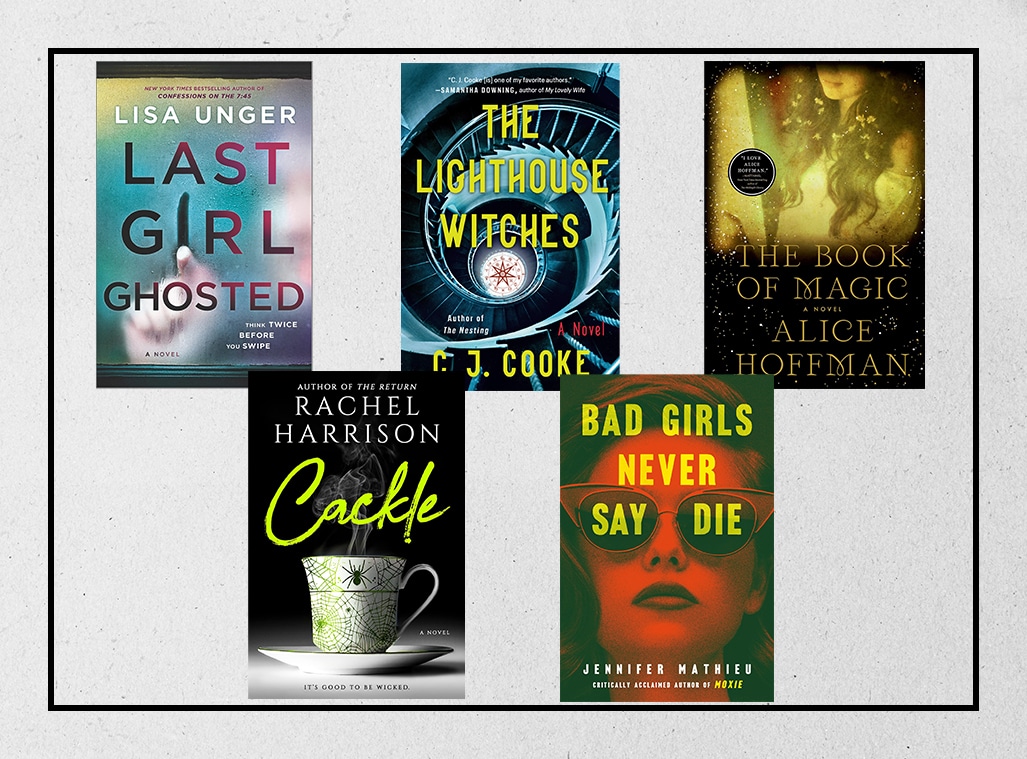 We love these products, and we hope you do too. E! has affiliate relationships, so we may get a small share of the revenue from your purchases. Items are sold by the retailer, not E!
We're so glad we live in a world where there are Octobers, especially when books are involved.
We can't think of a better way to welcome the most autumnal of months than by cozying up with a good book. Does anything feel better than turning the pages of an irresistible story as the leaves fall? Or cuddling up by a fireplace with an epic page turner? And this month is a stacked one for new releases, including highly anticipated novels from Jonathan Franzen and Alice Hoffman. Plus, the ultimate love letter to Schitt's Creek is being released. Now that's a lot Alexis.
So go ahead, grab a seasonal latte of your choosing, throw on a comfy sweater and find a cozy nook to post up in and start shopping physical copies of our picks or—because, you know, technology—pulling them up on Kindle Unlimited or through a free trial of Audible.
Here are 17 books to check out as we head into spooky season...
Crossroads by Jonathan Franzen
If Franzen writes it, the literary world will likely read it. In his highly anticipated new novel, set in the 1970s, members of a Chicago family as they seek a freedom that the others threaten to complicate. The first installment in the Key to All Mythologies trilogy, the book's TV rights have already been bought to develop it for a cable network. And we're thinking Franzen should plan to attend the Emmys sometime in the near future. (October 5)
Cackle by Rachel Harrison
Following a devastating breakup, Annie accepts a teaching position that moves her from Manhattan to a small village upstate. But her quest for a fresh start is upended when she meets the spellbinding Sophie. Yep, she's totally a witch, whose desire to teach Annie to take what she wants may just come with an ulterior motive. (October 5)
The Lighthouse Witches by C.J. Cooke
If a book has the word "Witches" in it in the month of October, we are too basic to resist its magic. And with a plot like this—two sisters go missing on a remote Scottish island, only for one to be found twenty years later yet she is still the same age she was when she disappeared—can you really blame us? (October 5)
Last Girl Ghosted by Lisa Unger
Hell hath no fury like a woman led on and ghosted in Unger's fast and furious thriller about a woman who decides to track down the man who went completely M.I.A. after an amazing first date, she discovers a trail of missing girls in his digital wake. It'll make you think twice before the next time you swipe. (October 5)
We Are Not Like Them by Christine Pride and Jo Piazza
Told from alternating perspectives, We Are Not Like Them follows life-long best friends as their bond is tested when one of their husbands, a city police officer, is involved in the shooting of an unarmed Black teenager. Making matters more difficult: The other is tasked with covering the career-making story as a television journalist. (October 5)
The Book of Magic by Alice Hoffman
We can't think of a better way to follow-up our annual October re-watch of Practical Magic than by reading Hoffman's final literary installment of the bewitching series. Fittingly, the story begins at the end, with Jet Owens hearing the deathwatch beetle and knowing she has only seven days to live. (October 12)
Always, in December by Emily Stone
Listen, if people can start consuming pumpkin spice lattes in October, we can start reading holiday-themed books then too! Stone's heartwarming rom-com follows Josie and Max, two heartbroken people who spent one Christmas together, only for Max to abruptly disappear without a word. Fate, of course, has other plans, with the two constantly crossing paths over the next year. Last Christmas, she gave him her heart, but what will happen this December? (October 12)
The Pessimists by Bethany Ball
No, shockingly, this is not the title of our memoir, but a cutting and concise exploration about a group of privileged, jaded Connecticut suburbanites and the secrets that may just destroy their picture-perfect lives. Consider it the east coast version of Big Little Lies. (October 12)
Oh William! by Elizabeth Strout
It's not every day that an ex-husband asks his former wife to accompany him on a trip to investigate a recently uncovered family secret. But leave it to the Pulitzer Prize-winning author to explore the complexities of marriage in her latest novel, which reunites readers with the main character they fell in love with in 2016's My Name is Lucy Barton. Your heart will somehow be broken and warmed. (October 19)
Not All Diamonds and Rosé: The Inside Story of The Real Housewives from the People Who Lived It by Dave Quinn
It's about to get really real, Bravo lovers. Buckle up for the definitive oral history of one of pop culture's most storied franchises, featuring on-the-record interviews with almost all of the Housewives, producers, network executives and Mr. Andy Cohen himself. Apologies to Bethenny Frankel, but you won't be able to go to sleep once you start this dishy deep-dive. (October 19)
Christmas in Peachtree Bluff by Kristy Woodson Harvey
Consider this the book equivalent of a warm and fuzzy pair of socks as readers get to spend the holiday season with the Murphy sisters in the fourth book in the beloved Peachtree Bluff series. We dare you not to wish you were a member of this family as you read about their attempts to come together to save their town as the storm of the century approaches. (October 26)
Best Wishes, Warmest Regards: The Story of Schitt's Creek by Daniel Levy and Eugene Levy
The Schitt's Creek lover in your life will think you are simply the best if you gift them with this love letter to the beloved Pop comedy, written by the father and son duo who created it. It's an addition to any coffee table that would impress David Rose, for sure. (October 26)