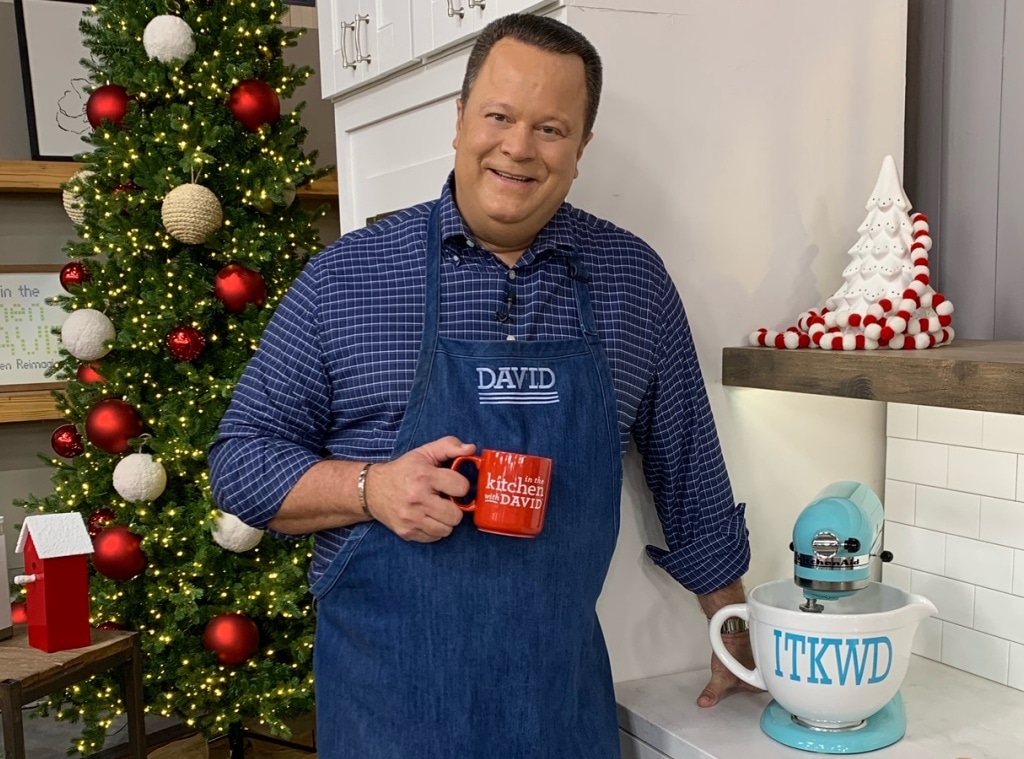 QVC
We interviewed David Venable because we think you'll like his picks. Some of the products shown are from a brand he is paid to endorse. E! has affiliate relationships, so we may get a commission if you purchase something through our links. Items are sold by the retailer, not E!.
All chefs are welcome in David Venable's kitchen.
As QVC's resident foodie, the In the Kitchen With David host knows the joys that good food can bring to families. So when given the opportunity to create his fourth cookbook titled Half Homemade, Fully Delicious, David wanted to create something special for chefs of all levels. 
"We all want to put great food on the table, but we need to do it in record time," David shared with E! News. "Each recipe is ten ingredients or less and each has a full-page color photo." 
And with the holiday season quickly approaching, David knows kitchens will be busier than ever. At his home, he hopes the space will be filled with special memories. 
"Whenever someone walks into my kitchen, it is my hope that they will find a welcoming and comforting space," David shared. "I want everyone to feel that this is the place where we celebrate each other and great food. It's an informal and fun location that requires that all who enter share some laughter and some soul-satisfying recipes!"
In celebration of his new cookbook, David shared some of his favorite kitchen items. Start shopping below. 
Kuhn Rikon Set of 2 2-Cup Pull Chops with Gift Boxes
"These make food preparation a total breeze! I love that just one pull sends the multiple blades inside to work. Chopping and dicing is quick and easy!"
Le Creuset 5-Piece Toughened Nonstick PRO Cookware Set
"These pans are my go-to vessels in my kitchen. They work on every stovetop, the nonstick is some of the toughest I've ever used and they can go into dishwasher. Exceptional cookware!"
Half Homemade, Fully Delicious
"Half Homemade, Fully Delicious is my fourth cookbook. I'm proud of all my books but this one is really special.  It speaks to how people are cooking these days.  It combines Supermarket Shortcuts (pre-packaged ingredients) with fresh to turn out really inventive dishes....There are everyday dishes and holiday favorites. Foodies of all ages will love this book!"
Vitamix Pro Series 750 64-oz Blender w/ 5 Presets & Cookbook Suite
"Every kitchen should have a Vitamix. I use mine for smoothies, nut butters, grinding meat for burgers and gourmet soups.  I couldn't be without my Vitamix."
Temp-tations Old World 13
"There is nothing in the world that can't be made better by what you cook in a 13x9 dish. The perfect size for all my cooking. It also cleans up like a dream."
Le Creuset Signature Cast Iron 5.5-Qt Round Dutch Oven
"This iconic pot sees a lot of action in my kitchen. I use it for braising, frying, baking and many times for soups, stew and chilis. This is generational cookware!"
LocknLock David's 6-Pc Kitchen Essentials Storage Set
"Storage is the key to any successful kitchen. These hold everything from dried goods to eggs and even butter. I use LocknLock every day."
PowerXL Air Fryer Oven 8-qt with Accessories and Recipe Booklet
"I am definitely a part of the Air Frying generation. This oven cooks everything from French fries to chicken wings to pork chops. I love that I'm cooking faster and with little or no oil."
FoodSaver Stainless Steel Vacuum Sealer System with Sealable Bags
"This appliance preserves all types of food by pulling a commercial quality vacuum seal.  Go ahead and buy that family pack of meat and save the leftovers for another day.  This can keep many foods fresh for up to two years!"
Keurig K-Supreme Plus Coffee Maker w/ 60 K-Cups and My K-Cup
"Morning, noon and night…this machine gets a workout in my kitchen. It's always a perfect single cup of whatever you love. I don't like to call this a Coffee Maker—I call it a Beverage Center!"
Mad Hungry 6-Piece Silicone Skinny Spurtle Set
"I use these handy utensils each time I cook. They are uniquely shaped to handle every job and the silicone is great for scraping into the corners of every pan or dish. I also love that they go into the dishwasher."