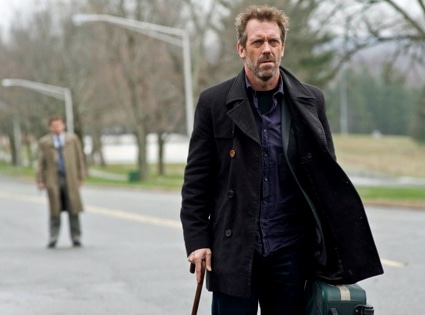 Larry Watson/FOX
When we last saw Dr. Gregory House (Hugh Laurie), he was walking into a mental institution and wrapping his head around his hallucination of having sex with Dr. Lisa Cuddy (Lisa Edelstein).
Sure, we were mad at first for the big sex scene fake-out, but we were happy to learn at last night's House event at the Paley Center for Media in Beverly Hills that a true Huddy hookup might just be in store for season six, which starts shooting very soon and hits Fox on Sept. 21.
House executive producers Katie Jacobs and David Shore, along with Hugh, Lisa and Omar Epps filled us in on House's mental state, Huddy's romantic state and the state of things at Princeton-Plainsboro...
Once He's Healed: Fans are still reeling over the imagined coupling of House and Cuddy, but Lisa tells us, "I loved the way they handled it because for one thing, it means they can still have sex. Because they haven't done it yet. In another way it shows what he wishes he had, which includes an intimate relationship with her, wanting to live with her and wanting to be off drugs. I think we learn a lot about him and we still have the opportunity of exploring it, because it hasn't been explored even though we got to shoot that sexy scene." Katie seconds that notion, "I think all those emotions, sparks, difficulties and the push and pull is still there. I think the only reason why he hallucinated that hallucination with someone he works with is because somewhere that's in his mind."
What say you, Huddy fans? With House getting clean and sane, is he ready for a real relationship? Sound off in the comments!