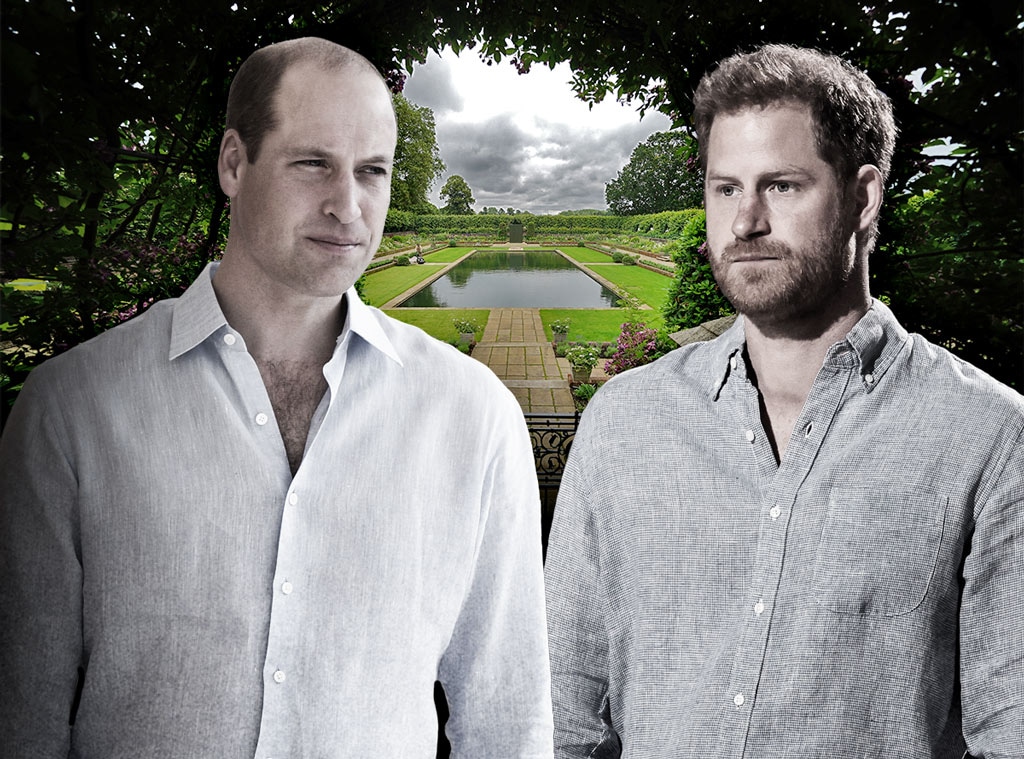 Getty Images; Melissa Herwitt/E! Illustration
Spare heir status aside, Prince Harry seems to feel that it was Prince William who got the short end of the birth-order stick.
Whether it was being allowed to go off to pilot helicopters in a war zone ("There is a bit of jealousy," he said in 2013) or last year's "step back" from the family fold's tight clutches while his older brother remained "trapped," as he put it, over the years Harry has let it be known that he's perfectly content to not have the future of the British monarchy resting on his shoulders.
"I don't want to sit around in Windsor," he told a girlfriend more than a decade ago. "I generally don't like England that much, and you know it's nice to be away from the papers and all the general s--t they write."
But while William, on the flip side, is all about duty to the crown, born and raised to be king one day and living his life accordingly, he can only root for Harry's unfettered happiness so much once it starts to mess with the perception of the royal family at home and around the world.
"Harry, ultimately, made the decision to put his family and their health above everything else," ABC News royal correspondent and Finding Freedom co-author Omid Scobie told E! News after Harry and Meghan Markle's eye-opening interview with Oprah Winfrey aired in March. "Whereas William, who will one day ascend the throne, has to live a life of duty first, followed by family. So for that reason, they'll never be able to see eye-to-eye on the things that are important to them. William has been groomed for that role since birth. Harry was allowed to go actually out and find his own take on things."
Which, since he and Meghan announced in January 2020 that they were planning to pursue financial independence and assume a lesser role at the Firm—or "the Institution," as Meghan dubbed the royal machine—has involved denouncing a lot of what he experienced.
"A mix between The Truman Show and living in a zoo," Harry described his old life on the May 13 episode of Dax Shepard's Armchair Expert podcast.
For instance, when Harry was in Afghanistan in 2013, he told reporters who were allowed some face time with the young soldier, "I'm out here doing a job and I really enjoy it. I never wanted you guys to be out here, but there was an agreement made."
And on a personal note, as a source is quoted in Finding Freedom, "Every conversation, every issue, every personal disagreement, whatever it may be, involves staff. It creates a really weird environment that doesn't allow people to sort things out themselves."
Cue the sun!
Yet while Harry described royal duty as his "other job to fall back on" once his time in the military was over, he and William never seemed at odds over each other's life choices (or lack of choices), per se. Rather, bonded as they were by fraternal feeling, as well as by the interminable grief brought on by the shocking death of their mother, Princess Diana, in 1997, they always seemed to get along like a couple of... regular brothers.
You know, joining forces on their royal foundation, merciless teasing, raising hell with the best man speeches, Harry raiding William's fridge once William had a wife to stock it—normal stuff! Moving apart ("We never really spend any time together," Harry noted in 2008) and then becoming roommates, forming a jaunty trio with Kate Middleton and then putting some space in between when William started having kids and Harry married Meghan, then re-bonding (the relationship is "closer than it's been because of the situations we've been through," William said in 2018) and back again.
"We are certainly on different paths at the moment," Harry memorably told Tom Bradby for ITV in September 2019 when he was on a tour of Africa with Meghan and 5-month-old son Archie and the couple were just getting started with the airing of the grievances. "We don't see each other as much as we used to because we are so busy, but I love him dearly."
And in January 2020, after Harry and Meghan jolted Buckingham Palace by announcing their intent to start splitting their time between the U.K. and North America, William—knowing his brother was increasingly unhappy but apparently unaware of the extent—reportedly said, per London's Sunday Times, "I've put my arm around my brother all our lives and I can't do that any more; we're separate entities. I'm sad about that. All we can do, and all I can do, is try and support them and hope that the time comes when we're all singing from the same page. I want everyone to play on the team."
Barely two months later, the COVID-19 pandemic took hold, lockdowns ensued and Harry and Meghan weren't splitting time between any two places—they were firmly entrenched in California, choosing Montecito as the spot to buy a home and settle down in last summer. In fact, Harry didn't return to the U.K. until the middle of April, about six weeks after the Oprah interview aired, for his grandfather Prince Philip's funeral, Queen Elizabeth II's husband of 73 years having died at the age of 99 on April 9.
Cousin Peter Phillips walked between William and Harry in the procession, but after the socially distanced service at St. George's Chapel on the grounds of Windsor Castle, the brothers and Kate naturally gravitated toward each other and walked off chatting away, like old times.
Alastair Grant/AP/Shutterstock
Not that the familiar-looking scene meant that all of the mutually inflicted wounds had healed. "It broke the ice for future conversations," a source close to Harry explained to Scobie for HarpersBazaar.com after the funeral, "but outstanding issues have not been addressed at any great length. The family simply put their issues to one side to focus on what mattered."
A family friend similarly told People, "I think it's a good start and it was lovely to see but this whole argument runs so deep, I don't think there is any quick fix," while a royal insider noted, "Knowing family, it can mend a bit and then can slip back a bit."
Harry and William have since been united in purpose, both brothers having words for the BBC after an investigation into the circumstances of Diana's infamous 1995 Panorama interview turned up evidence that she'd been coerced into the sit-down by fraudulent means. And they've also been in their respective corners, royal expert Nick Bullen telling Us Weekly in May that William was "very shocked" by just how much personal stuff Harry had been sharing publicly, both on Armchair Expert and on his Apple TV+ show The Me You Can't See.
"I'm sure the royal family and the various royal households just want a moment of calm and [are saying], 'Let's not have any more headlines,'" Bullen quipped. "'Let's just have a period when no one's speaking.'"
Fast-forward to July 1, and William and Harry are reuniting again for their most deeply held common cause—honoring their mother. The brothers are both expected to speak, albeit in separate remarks, as they dedicate the long-awaited statue they commissioned of Princess Diana that will hold court in the Sunken Garden at Kensington Palace, her former home and where William and Kate are now raising their three children.
What might have been a larger affair in normal times—held on what would have been the Princess of Wales' 60th birthday—will be much more intimate due to ongoing pandemic restrictions, attended only by Diana's immediate family and guests including members of the statue committee, sculptor Ian Rank-Broadley and garden designer Pip Morrison.
Meghan, who gave birth to daughter Lili Diana on June 4, did not make the trip across the Atlantic, and Harry spent five days quarantining at Frogmore Cottage before emerging on Wednesday, June 30, for a surprise appearance at a garden party hosted by the U.K. charity WellChild.
But though the weather Thursday is expected to be a lovely 22 degrees (Celsius, that is), might there still be a chill in the air?
While William and Harry have been in touch over the past couple months, "things are still very strained," a mutual friend of the brothers told Vanity Fair royal editor Katie Nicholl ahead of Harry's return to England. That being said, don't expect to see any evidence of their issues on what they intend to be a day fully focused on their mum's memory.  
Added another source, "They know the eyes of the world will be on them—watching their every move—so what you will see is a carefully choreographed show of unity for that day, at least." While Harry, again, won't stick around too long, eager to get back to his wife, 2-year-old son and infant daughter, he reportedly was invited to lunch with the queen. Which means, he's having lunch with the queen. 
And though it may seem in this climate like a glaring "mmhmm" moment that Meghan didn't make the trip with Harry for the statute unveiling, Kate won't be there, either, as the occasion was always supposed to be about William, Harry and Diana. 
Phil Harris - WPA Pool/Getty Images
Speaking of which, when asked what Diana might have thought about Harry revealing so much these days, knowing perfectly well that such candor tends to ruffle the royal feathers, Scobie recalled how the princess herself is said to have regretted that fateful Panorama interview.
"But," he told E! News, "if there's one thing Diana stood for, it was telling your truth and having a voice and making sure others have a voice. So I think to see her son find his voice and be unafraid to use it when really everything is at stake, I imagine she would be incredibly proud."
She'd also prefer to see her boys wholeheartedly supporting each other through thick and thin, but if there was ever anything else that Diana knew firsthand, it was that royal life is just that complicated.