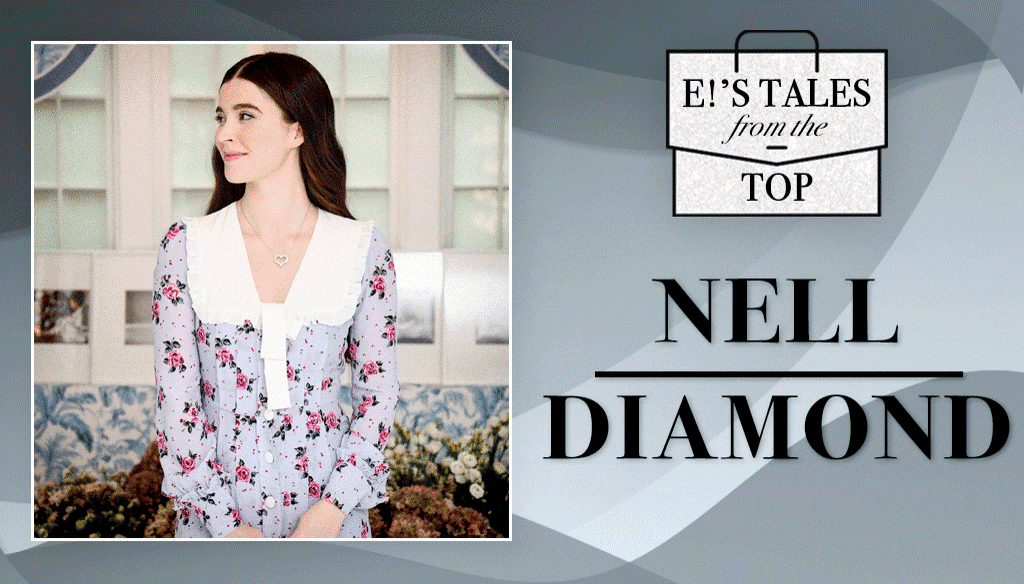 Courtesy of Hill House Home, Instagram; E! Illustration
Welcome to E!'s Tales From the Top, our series on women who are leaders in their fields and masters of their craft. Spanning industries and experiences, these powerhouse women answer all the questions you've ever had about how they got to where they are today—and what they overcame to get there. Read along as they bring their resumés to life.
Never saw yourself as the type to build your own brand? Yeah, neither did Nell Diamond. 
"I'm definitely not your typical entrepreneur," the 32-year-old Hill House Home CEO candidly said during an exclusive interview with E! News. "I really don't like uncertainty and I'm very risk-averse. Roller coasters are not for me. I'm like, 'I don't need to risk anything here,' and entrepreneurship is all about risk-taking and all about uncertainty."
And yet, despite all that, she's been on one hell of a ride thanks to three simple words: The Nap Dress. But before we get into that smocked sensation, we should tell you this was not Nell's first foray into fashion. 
"My first-ever job in life," she told E! News, "was at the Abercrombie & Fitch store in my hometown." Nell was raised in London, where being an American teen turned out to be a commodity. "It was the first Abercrombie that ever opened in the U.K.," she explained, sharing that the brand "basically put up ads" in the halls of her high school, the American School of London, "because they wanted to have the store launch with people with American accents. I was overjoyed. I was such a big Abercrombie fan."
Nell's self-proclaimed love of retail continued to take shape as she became an avid observer at another well-known London store: Topshop. "They had this huge store in Oxford Circus and I used to literally go every Saturday to this huge Topshop and it was like church," she described. "It was the most incredible thing for me to go and see all the new products they had, but more importantly, to see the shoppers there. This is before real social media."
Instead, customers were her pre-Instagram inspo. "I used to go there and watch how people style things, see how people dress," she recalled. "It was just so electric and exciting."
But there would still be some time before Nell realized her passion had tangible career potential. "I was definitely a very kind of structured student. I thought that there were clear paths that I had to take," she explained. "I didn't really realize that I could bottle that feeling and do it for work." So, following her 2011 graduation from Princeton, she took the path into finance. Though it'd prove to be a short-lived stop. 
"Even though I loved my team, I loved who I worked for," prefaced Nell, "just nothing made me feel as excited as the world of retail did."
Astrid Stawiarz/Getty Images for POPSUGAR and Reed Exhibitions
Plus, she had the makings of her big idea. Though the plans for Hill House Home—the brand she launched in 2016—were already percolating in her mind, she decided to make one detour on her route to boss status. She's risk-averse, remember?
"I think there was half of my brain that applied to business school to start the business," she explained, "and half of my brain that applied to business school to convince myself not to start the business—that was the reluctant entrepreneur side."
She found her fit in the Yale School of Management, which offered a focus in entrepreneurship that would provide Nell both fundamental business skills and, as she put it, the "space to toy around with this idea." 
Exploring all her options, "I also took advantage of the career office," she noted, and interned for another company as a student. "I almost did it as a little bit of what we call AB testing, right?" she said. "I just gave myself the opportunity to do both paths and I wasn't sure what I was going to come out of business school seeing."
Fortunately for fans of her line today, Nell eventually sided with the brand blossoming in her head. "After my MBA internship between years one and two, my passion for this idea was just too big to ignore," she remembered. "I had also gotten rid of some of, I think, the early, very big fears that I had about the business, and I felt secure in my ability to at least give it a chance, so I would say business school ended up really convincing me that this would be a feasible idea."
That idea was a line that could inject her fashion sense into the home. "I was sitting in finance, working these crazy days and watching the emergence of all of these new brands who were really focused on their direction, also focused on their kind of e-commerce business," she recalled. "I think what was so important to me about all of those brands that I loved when I was younger was that they told these stories, and they made you want to be a part of their world and I saw a real kind of hole in the market for a brand that was really focused on the spaces that we live in and making those spaces feel personal."
After all, she understood all too well the impact personal space can have. "At that time, I was living with three roommates from college, and I'd gone from four years of living in a tiny, 200 square-foot dorm room, and yet my space that I woke up in and went to sleep in every night was always crucial to my mental health and my well-being," she explained. "I wanted to create a brand that kind of allowed people to create that space in their own home."
They began with bedding, now one of the many items Hill House Home offers within its idyllic home category—we're talking striped and customizable towels, rainbow-trim robes, napkin rings adorned with bows and botanical print tablecloths in hues of baby pink and blue—all reminiscent of the "cottagecore" aesthetic popularized during the coronavirus pandemic. If you ever wanted to feel like you're living in a 2021 version of The Secret Garden with a splash of Sofia Coppola's Marie Antoinette, this is your place.  
Then came the Nap Dress, the style that has become such a cult hit, the company has since copyrighted the name. It's such a favorite, in fact, that the average customer owns three or more. And, while it seems like the garment—with its mobility, figure-friendly smocking and overall comfort and ease—was dreamed up exactly for the unique wardrobe needs of a pandemic that forced everyone to become homebodies for more than a year, it was more the case of impeccable timing...because it came out in 2019, months before COVID and Zoom and virtual whatever became part of our daily vernacular. It was simply another extension of Nell's personal style, taste and needs. 
"I've always been a dress girl. I find pants incredibly uncomfortable," she shared. "Honestly, the Nap Dress came about because I was desperate for something to wear around my house that I felt presentable and great in, that made me feel like myself. I went through so many phases. I tried my college sorority T-shirts. I tried my husband's boxers and a big, cable-knit sweater, and I would just not feel great."
She had also become a new mom, having given birth to her son Henry less than a year after she launched Hill House Home. So, she explained, "I was spending a lot of time doing things at home, and I wanted to feel great while I was doing them," whether it was a 3 a.m. feeding or needing to clean the house and do laundry at 10 p.m. "I think that your clothes," Nell continued, "as your home, can have such a powerful impact on your self-esteem and so, I wanted to feel great and be comfortable. We spent quite a long time developing this product that felt like it flattered across a range of body types and made people really feel kind of like they were dressed at the same time." 
While it sounds like a no-brainer now, nearly two years ago, Nell was not so sure. "I remember the night before we launched in 2019," she recalled, "just up all night, just being like, Oh my God, people are going to think I'm crazy. People are going to be like, 'Okay, I'm sure Nell would like to wear a dress around her house. I have no interest.'"
She also considered that maybe a house dress already had its time. "Obviously we're not the first people to come up with a concept of a house dress," she acknowledged. "It felt very, very kind of different than all the sweatpants that everyone was wearing at that time, so I thought that people would think, 'Oh, it's so old-fashioned. It's so weird.' But that first day, things sold out, and ever since then in 2019, it's just been crazy. We really have been so blown away by the reaction to this product."
As crazy as the whirlwind has been, some moments are etched in her mind. "In January 2020, we were moving stores," she said. "We never go on sale and we had a sample sale because we were moving out of that store." That morning, she overslept her alarm, she shared. "I was like, 'Oh my God, I'm late. I'm late to the store.' And then I was like, 'Oh, we'll be fine. It'll be nothing.'" Then she opened up the store's Nest camera on her phone and saw some 100 people packed into the 500-square-foot shop. "There was a line down Bleecker Street to get into the store and it was all people who wanted the Nap Dress," she said. "By the time I got there, all of our Nap Dress samples were gone. There was not a single Nap Dress left in the store."
Not long after, the country sought refuge at home as the world grappled with the many devastating effects of the virus. As she worked from her bedroom, Nell, who gave birth to twins in October 2020, looked out on the New York City street below her one day and saw her creation. "I had always had this vision of, what's it going to be like when I see a Nap Dress in person for the first time? Am I going to go hug the person? What's going to happen?," she shared. "I was sitting on a Zoom call and I saw somebody walk by on the street underneath my window in a Nap Dress and I screamed. I turned off the Zoom call. I threw my computer. I couldn't believe it."
As Nell touched on, another appeal of the Nap Dress, which is available in a variety of styles and sizes ranging from XXS to 2XL, is that there's an option for many shapes and occasions. One search of #napdress on Instagram yields photos of women from all over donning their Nap Dress, whether on a walk or at a wedding. 
"I think it was always important to us that our products fit across and flattered—not just fit, flattered," she emphasized, "across a range of body types. And I think, for me, that felt really personal because I have been pregnant twice in the last few years, and my body changes between 9 a.m. and 9 p.m. I just go through all of these versions of myself and I think most women do, too, and we deserve to be comfortable at every version of ourselves."
There's also the simple fact that extended sizing is good business. "I think the thing that kind of always reverberates in my mind and advice to literally anyone doing business right now," she said, "if you're not making your products in extended sizes, you are losing money because there are so many people who want your product and want to look cute, and they also should get your product, so I just think it's crazy that anyone would not. You're literally leaving money on the table."
Having sold $1 million worth of inventory in just 12 minutes this past February, what Nell is doing is clearly working, a situation that feels especially sweet considering how her love of fashion was dismissed as a frivolous pursuit.
"When I was younger, it was telegraphed to me that things like shopping were not serious, right? And those weren't things that should be interesting to a serious or intelligent person," she noted. "And now, I understand as the CEO of a consumer business, shopping and retail are massive industries that fuel the economy of every single country, so you can be intelligent and really interested in retail and shopping. You can be serious and be all those things, and you can also be a little not serious, and that's okay, too."
She's had her share of doubters. "Like every woman," Nell said, "I've experienced times where it's been like, 'Oh, cute little business,' or, 'Nice little side project.'" But, she also has the advice of her dad Bob Diamond, former Barclays CEO, and mom Jennifer Diamond. "One of the things my parents always told me was really to keep my blinders on and just focus on the job in front of me," she continued, "and not pay attention to all that talk on either end."
What she has paid attention to is the "incredible gift of perspective" she's received from motherhood. "I'm somebody who takes things very seriously. I was that nerdy student in class who really freaked out if I didn't get the right grade on a test, and it was a ton of pressure that I put on myself kind of my whole academic and early career to be performing at my best and really to be searching for perfection in many ways," she described. "I didn't ever want to make a mistake. Everything felt like it was the most important thing ever."
But as an entrepreneur, error is par for the course. "Things go wrong all the time, and it's not a reflection on our intelligence as business people. It's not a reflection on anything other than humanity," she said. "Having children has really reminded me of that."
So, yes, she has those days where "everything seems to go wrong," she elaborated, "but at the end of the day, it's 6 o'clock, I have to put three humans...I have to make sure they're clean and they've had food and that they go to sleep. And that perspective has really saved me, I think, from a lot of stress and a lot of heartache around career, around all sorts of things. I think that I definitely feel like the generation that I'm a part of was taught that our careers define us in every way and I think that having kids has reminded me that we are so much more than our output."
Hill House Home's Mermaid Collection drops June 16 at 12 p.m. ET.