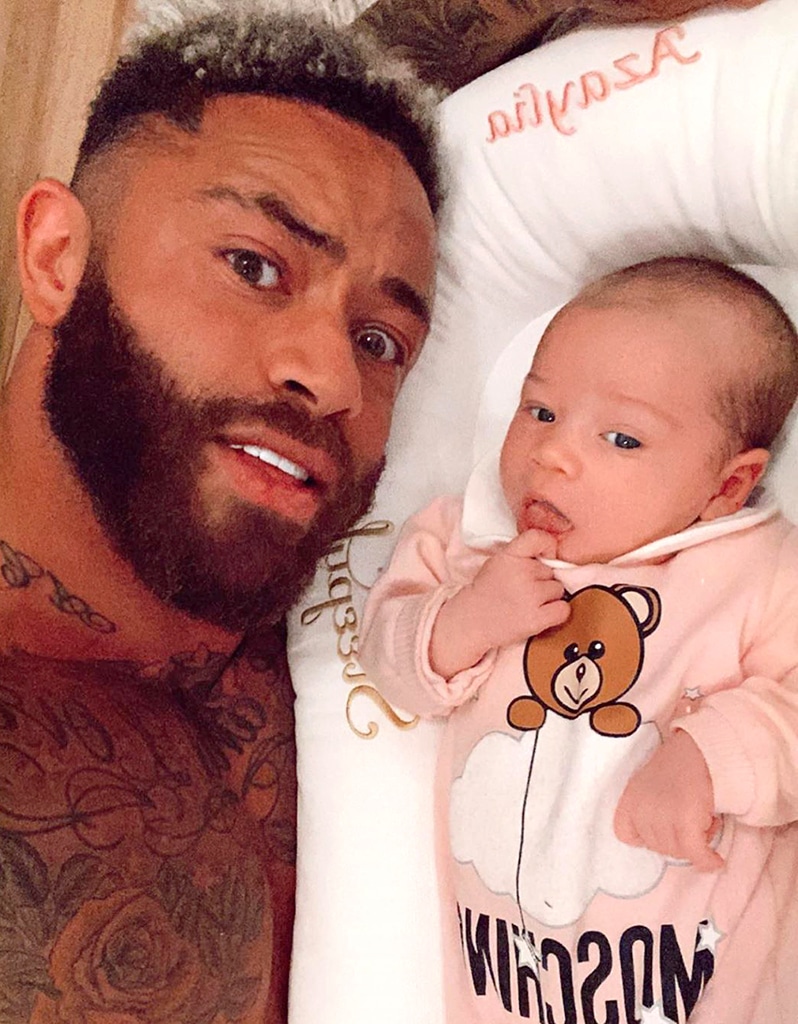 Instagram
Ashley Cain is honoring his late daughter, Azaylia Diamond, on a very meaningful day.
The Challenge star took to Instagram to share that his baby girl would've turned 9 months old today, May 10.
To mark the special occasion, the reality TV personality posted a heartwarming video of himself with his little one, which captured the two sharing a sweet moment together.
In the short clip, the proud dad cheered, "Let's get 'em, champ!" while Azaylia smiled and mimicked Ashely's hand movements. Throughout the video, the MTV star also gave his baby girl big bear hugs.
"Today Azaylia turned 9 months old in heaven," the 30-year-old soccer player began his caption. "I'm finding it hard to look through photos and videos at the moment. So I blindly scrolled through and posted the first video my finger landed on. & what an beautiful video it was!"
He added, "What a strong, clever, brave and beautiful little girl you were. My champion, my hero... MY INSPIRATION!"
Ashley's girlfriend, Safiyya Vorajee, replied to his post about their daughter, "I love you soooo much baby, 9months today and your in heaven my guardian Angel mummys hero."
Last month, the couple shared the heartbreaking news that Azaylia passed away after battling cancer. She was only 8 months old. 
In October 2020, the couple announced that their daughter, who was only 2 months old at the time, was diagnosed with an aggressive and rare form of leukemia.
The newborn went through several rounds of hospital treatments, however, in April 2021, the pair received the devastating news that her cancer had spread. She was given a few days to live, and returned home with her family.
Watch:
2021 Oscars "In Memoriam" Omissions Cause Outrage
"Rest In Paradise Princess," the athlete shared on Sunday, April 25. "I will always hold you in my heart until I can hold you again in heaven."
"You are my Angel my heartbeat my soul," Safiyya wrote at the time, alongside an image of herself with her little one. "RIP my precious baby, you will always be with me like a handprint on my heart."
A day after Azaylia's passing, Ashley penned an emotional tribute that he shared on Instagram.
"My heart is shattered," he began his message. "You gave my life purpose, my face a smile, filled my heart with love and my soul with pride. I can't put into words my sadness and pain, there aren't words to describe it. I love you with every ounce of my body and I miss you so much already."
"You made me a better man," he continued. "You made me the person I've always wanted to be. You've taught me more in your 8 months than I've learned my whole life. I don't know why you've been taken away from me and my heart aches in your absence. But I promise you that your name with [sic] live on."
The British star promised, "Your name will live, your legacy will be remembered and I will seek peace in living as your vessel to continue inspiring, giving strength, spreading joy and saving lives in your name, with your spirit, as your father until we meet again."
"You saved my life, you really did," he expressed, before closing, "With my second chance, I make a promise to you that I will make yours live on in our hearts, our thoughts and our prayers. I am blessed, I am honoured and I am privileged to be your father. I would go through all of the pain again and again. Because what you gave me in those 8 months will live with me for eternity."