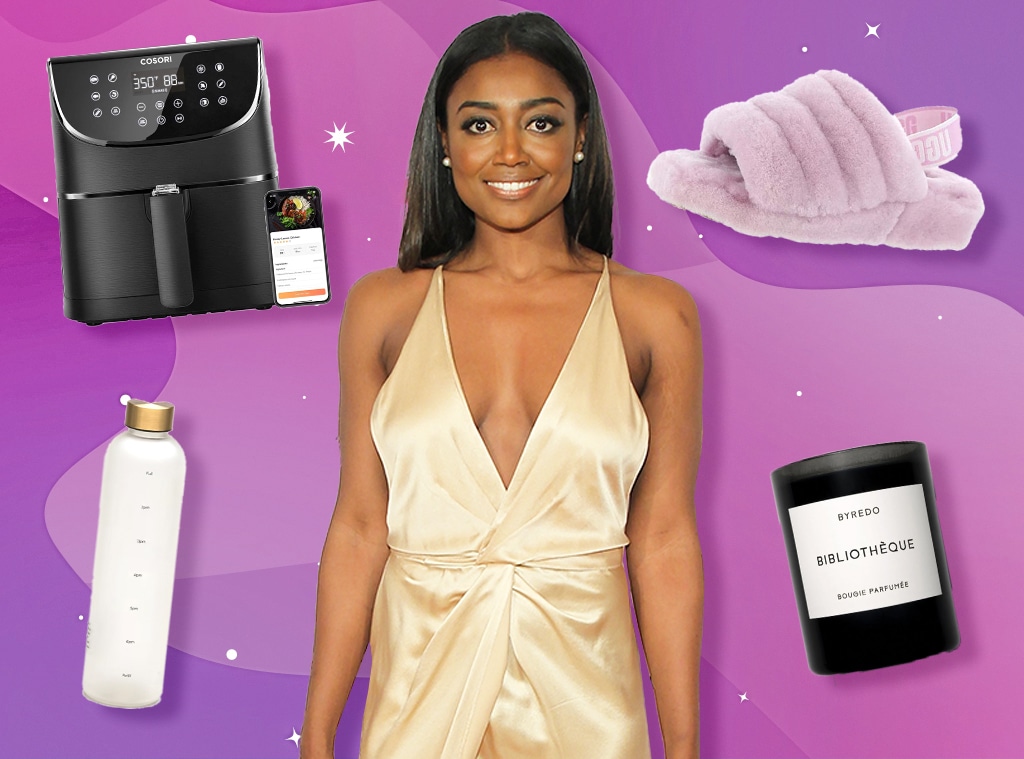 Bennett Raglin/WireImage
We interviewed this celebrity because we think you'll like their picks. Some of the products shown are from the celebrity's own product line or a brand they are paid to endorse. E! has affiliate relationships, so we may get a commission if you purchase something through our links. Items are sold by the retailer, not E!.
Could your mom use a self-care night? The answer is yes, always yes.
If you're unsure what could possibly help your mom find her zen and stop worrying about you, Patina Miller has you covered. From dreamy candles and fluffy slippers to chic water bottles, the Power Book III: Raising Kanan actress truly knows how to make mom feel pampered, especially on Mother's Day!
"I have always loved Mother's Day, as I have the fortune of having a pretty amazing mom, and a community of Mommies – all that I love so much," Patina revealed to E!. "Being able to put a smile on her face and show how much I appreciate her is fun for me.. Now that I am a mom myself, it's nice to now participate and let my husband and young daughter spoil me rotten as they always do! The best title I will ever have is mom."
And her advice for finding the ultimate Mother's Day gift?
"Anything you do for your Mom she will love. The mere fact that you even acknowledge what she means to you will be enough for her," The Hunger Games actress explained. "Words go a long way, something as simple as a letter or telling her you love her and are thankful to her, will make her day!!!"
For Patina's Mother's Day gift guide, scroll below. And don't forget to catch her in Power Book III: Raising Kanan premiering on July 18th on Starz!
UGG Women's Fluff Yeah Slide Slipper
"Cozy are the only vibes I'm here for these days. During the pandemic, I lived in these! Mom'ing is hard y'all.. like super rewarding, but hard at times. Treat your mom to these babies and give her the gift of ease.. she will never want to take them off. It's like walking on pillows, that's how soft and amazing they are!"
Healthish Water Bottle
"I love these glass water bottles so much! Not to mention, female-owned! The fact that you never need to set another timer to remind yourself once again to drink that damn wate is pretty awesome! It helps me stay on top of my hydration and also makes me feel like I'm doing something for the Earth by not using yucky plastic! Super cute gift for the mama who likes her wellness! Bonus if you get her the Beauty drops from Sakara Life to supercharge her hydration to the max!"
Byredo Bibliotheque Candle
"Candles are my jam! I'm obsessed with Byredo and all of their products! I especially love their candles as they just have a way of relaxing me and helping me to either wind down or just zen out after a long day of work and being a parent. Mom will love lighting this baby up as she's preparing to practice some self-care before bed or if she's trying to set the mood for whatever it is she's planning to get into.. because ya know.. she's GROWN and living her life!!"
Lunya Washable Silk Tee Set
"After a long day of taking care of others, she deserves to slink into this and sleep like queen! This silk set is my favorite as we transition into warmer weather. It helps maintain body temp (Yaaaaas), hassle-free, super chic to sleep in or lounge, so soft, and most important, it's comfy!! She deserves this, really, she just does."
Cosori Smart WiFi Air Fryer
"This air-fryer has changed my life! I wouldn't call myself a chef by any means, but she makes me feel like I can do anything.. like cook my husband and child a bomb ass meal in record time! Or ya know, reheat those frozen chicken fingers and fries because you didn't have your plan together. Your mom will love this...trust."