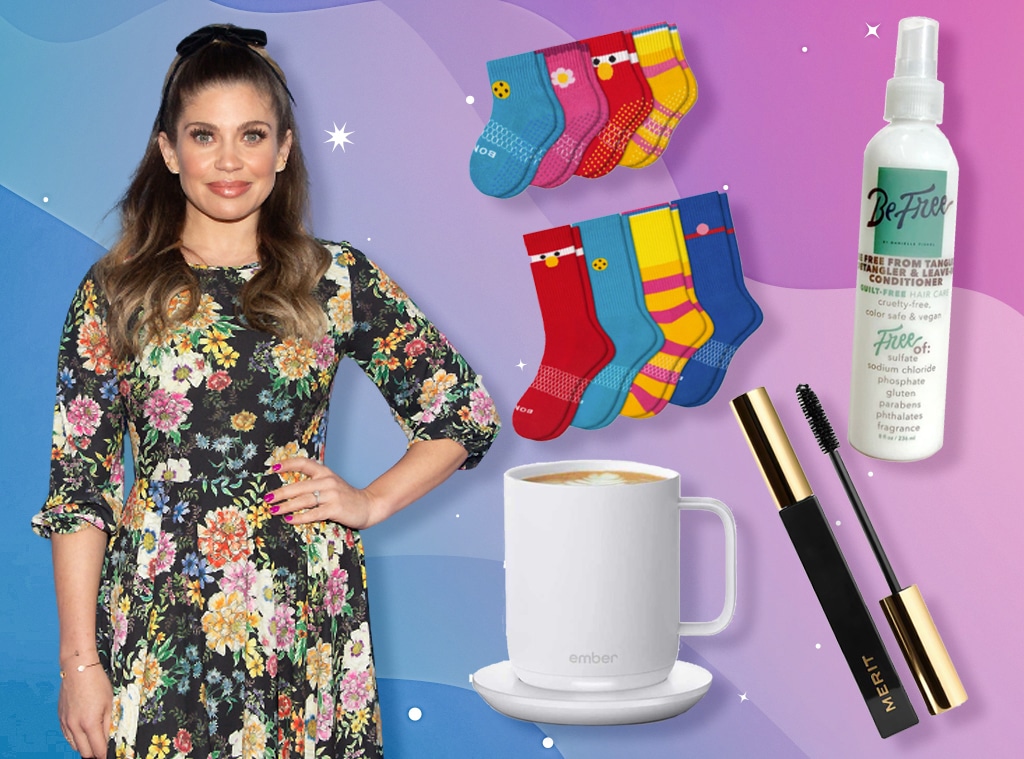 E! Illustration
We interviewed this celebrity because we think you'll like their picks. Some of the products shown are from the celebrity's own product line or a brand they are paid to endorse. E! has affiliate relationships, so we may get a commission if you purchase something through our links. Items are sold by the retailer, not E!.
In honor of Mother's Day coming up in a few days, we're catching up with our favorite TV moms in hopes they can lend their motherly expertise when it comes to finding the perfect gift for mom. And who better to start our Mother's Day series than Danielle Fishel, aka Topanga Matthews from Girl Meets World. In addition to playing mom to Auggie and Riley on the Disney Channel show, Danielle also has a 1-year-old son named Adler in real life, and she just announced she's expecting Baby No. 2!
"My favorite part of celebrating Mother's Day is sleeping in and then having a big breakfast at home," Danielle revealed exclusively to E!. "I also love spending one day with my mom and my mother in law and another day alone with my own little family."
In addition to her relatable Mother's Day plans, Danielle has some pretty great and affordable gift ideas like a nourishing hair detangler and leave-in conditioner from her hair care line Be Free and temperature-controlled mug.
"You don't need to spend a lot of money on a gift," the actress explained. "Think of the woman you're buying for and what some of her simple pleasures are and then find cute gifts to help make those simple pleasures a little more personal or easy to enjoy on a regular basis."
For Danielle's thoughtful Mother's Day gift picks, scroll below! 
Nikki Gold Face Mask Chain Strap
"For at least the foreseeable future, masks aren't going anywhere, and I don't like it when I have to take my mask off to eat and then find a clean place to put it. Say hello to a fashionable solution to that problem with a mask chain from Pretty Connected. Designer and influencer Lara Eurdolian originally wanted to create a camera chain but quickly realized they were perfect for masks, too. The best part is they have multiple uses, so even when we (eventually) say goodbye to masks, your favorite women can find another use for the chain!"
The Giving Keys "Warrior" Cuff Bracelet
"I love all things The Giving Keys, but I picked this gift specifically because this "warrior" cuff bracelet is perfect for the strong mom who also loves beautiful and delicate jewelry. Also, I love that they employ people who are transitioning out of homelessness and that they encourage you to wear your Giving Key jewelry until you feel the urge to pass it on to someone who needs the message inscribed on your piece."
Insomnia Zapper by Sumbody
"Show me a mother and I'll show you someone who wishes she got more sleep. This Insomnia Zapper is the perfect natural solution for those of us who have trouble falling or staying asleep. At less than $15, it's also a the perfect gift for all your mom friends and relatives!"
Bombas Parent-Toddler Socks
"If you're like me, you're a giant fan of Sesame Street and if your child is like my child, so are they! I love finding ways for Adler and I to wear matching items and these socks make both of us happy. Also, Bombas is a one for one company so for every pair of socks you buy, they donate a pair to someone in need."
Merit Clean Lash Lengthening Mascara
"I love clean beauty products and this is hands down the best mascara I've ever used. It doesn't smudge or clump and it washes off easily. It also looks very natural but it makes my lashes look long and thick."
Custom Insulated Water Bottle by Snapfish
"I can't get enough pictures of my family, and having a picture of Jensen and Adler on my water bottle means I'm much less likely to leave it behind (even with my mom brain). You can help save the planet and stay hydrated."
Ember Temperature Control Smart Mug 2
"How many times do you have to reheat your coffee every day? My best friend Jamie sometimes forgets where she put her coffee only to find it in the microwave the next morning. Not anymore! I have the Ember at-home mug and it keeps my coffee the perfect temperature for as long as it takes me to drink it. This Mother's Day I'm hoping to get the travel mug as well!"
Be Free from Tangles Detangler and Leave-In Conditioner
"Okay, this might seem like a shameless plug (and it is!) but it's also the absolute BEST detangler and leave-in conditioner I've ever used - and I've used a lot. It smells delicious and won't weigh your hair down. It'll make brushing a breeze and is incredible on even the most unruly hair."
Revlon One-Step Hair Dryer And Volumizer Hot Air Brush