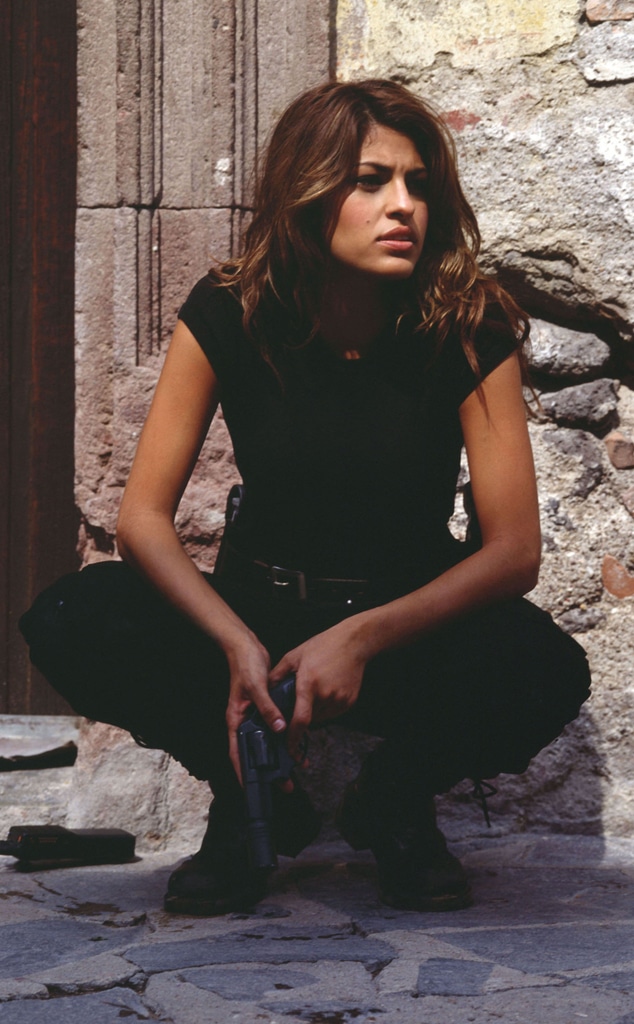 © Columbia/Entertainment Pictures via ZUMA Press
Eva Mendes is opening up about insecurities.
In a post shared to Instagram on May 6, the 47-year-old actress revisited a photo of herself from almost two decades ago. The picture of Mendes appeared to be a shot from the movie Once Upon a Time in Mexico, which was released in 2003.
"I remember seeing this photo back then and thinking my face looked 'weird' and that my bone structure was odd ...yadda yadda...you know all those insecurities that a 26-year-old can have," the star wrote. "Meanwhile 20 years later and now I wish I still had that 'weird' face and odd 'bone structure.'"
So, what can her 2.4 million followers learn from her Throwback Thursday post? "I'm not sure," Mendes admitted. "Maybe it's if you hate a photo of yourself wait 20 years then you'll love it."
Concluding with a quote she attributed to Oscar Wilde, Mendes then wrote, "Youth is wasted on the young."
Several fans could relate to the Hitch alum's message. "I love this post!!" one follower wrote in the comments section. "I often see pics like that of myself and think why the hell was I so insecure then??? 
Added another, "Oh to be in your 20s and have the wisdom of your 40s. If only."
Responding to the latter commenter, Mendes agreed. "That's why I love this quote so much!" she replied in part of her post. "But let's think of it this way..We're in our 40's and it can feel daunting but think when we're 60 and we look back to today we'll think, 'We were babies in our 40's!' OK, maybe not babies but still young is what I mean. It's all relative."
Watch:
Eva Mendes Explains Why She Keeps Ryan Gosling & Kids So Private
Mendes has stressed the importance of appreciating each day before. After a follower wrote "she's getting old" underneath a February 2020 post, the A-lister didn't waste any time clapping back.
"Yes, your right," she wrote at the time. "Thank God I'm getting old. That means I'm still here. I'm gonna be 46 soon and grateful everyday that I'm aging. Was your comment suppose to make me feel bad? It didn't. It makes me feel grateful. So thank you for the reminder that I'm still here."