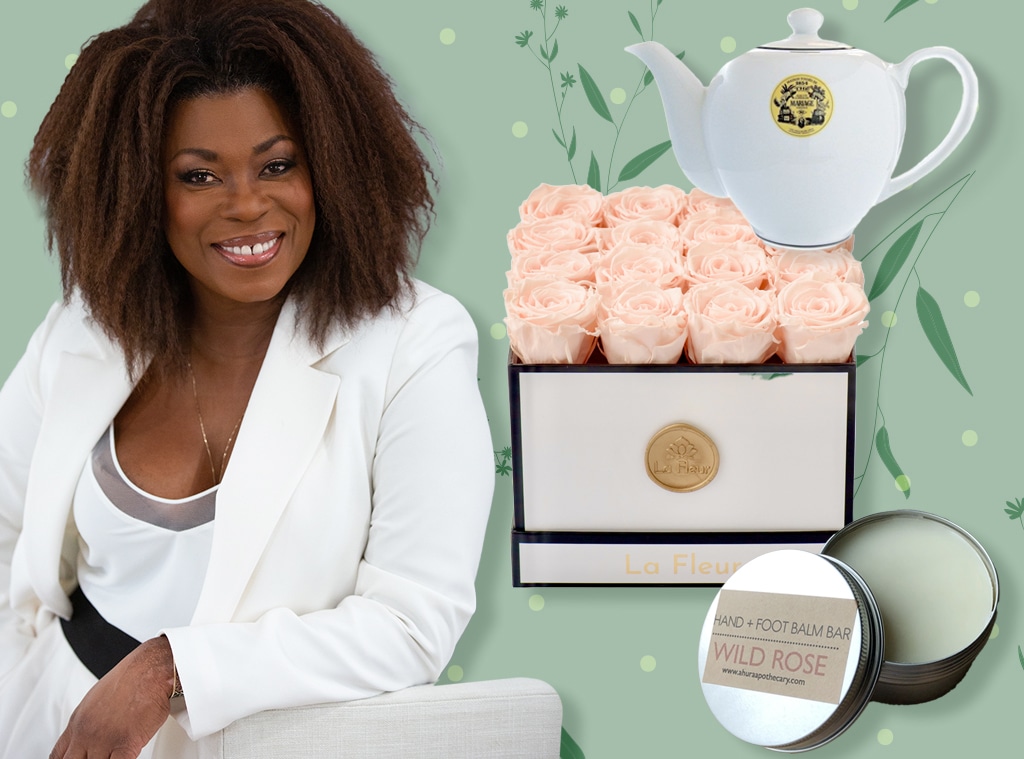 George Bautista; E! Illustration
We interviewed this celebrity because we think you'll like their picks. E! has affiliate relationships, so we may get a commission if you purchase something through our links. Items are sold by the retailer, not E!.
With Mother's Day just a few days away, the clocking is ticking to find a gift that will wow the mother figure in your life. Thankfully, the talented Lorraine Toussaint is here to lend her gifting expertise just in time for the big day!
"Being a mother means I quietly belong to one of the best kept secret societies ever created," the Concrete Cowboy star explained to E!. "The quality and capacity of the love my daughter has unlocked, defies description and explanation. As mothers, we see each other on playgrounds, in supermarkets, at the pediatricians and at the zoo. We represent at PTA meetings, board meetings, game nights, and freedom fights. We reach across the lonely divide, drawing strength from each other in this fierce exclusive love for our children. A mothers love defies reason, bypassing the brain, vibrating your bones, echoing through your cells. It is the aspect of myself I cherish most."
From statement face masks and stunning jewelry to decadent chocolate truffles, Lorraine's gift ideas will be appreciated by any mom.
"This is a total cliché but the best gifts I have ever gotten on Mother's Day are the preverbal 'breakfast in bed' and 'time.' Oh, just the thought of a day, and dare I say an entire night, in my home…alone, makes me weak in the knees," the star revealed to us. "That sounds heavenly. We also always appreciate anything handmade from our children."
For all of Lorraine's gift ideas that will make your mama feel special on Mother's Day, scroll below! And don't forget to catch her as Aunt Vi in The Equalizer on CBS and as Nessie in Concrete Cowboy on Netflix.
Malena Ruth Face Masks
"For the time being, masks have become a permanent part of our lives. These statement masks are not only beautiful but the proceeds help send girls to school."
Ahura Organic Zero Waste Hand + Foot Balm
"The ritual of soothing self-care has become even more important to me since the onset of Covid. I use these balms every night before going to bed. Every mom could use a little more self-care."
Dorene Dangle
"I love how this necklace speaks to the mystery within every woman. You can never go wrong with jewelry."
Diamond Empire Lux Lid Candle
K Truffles
"As a confirmed chocoholic, these are some of the best truffles I've ever had. I often send these to the hard working moms in my life. Starting with myself!"
Mariage Frères Porcelain Teapot
"I recommend setting up this simple yet beautiful tea set every night, so it's ready to greet you in the morning. It's important to give ourselves a little treat before the demands of the day take over. Let your mother start her day the right way."
Fleur Curtain
"Every mom needs a touch of lace in her life. Blowing in the wind, these remind me of being in the Caribbean."
Mariage Frères Wedding Imperial Tea- 30 Bags
La Fleur Bouquets
"I'm addicted to fresh flowers but these beautiful dry roses are an exception and what every mom deserves."