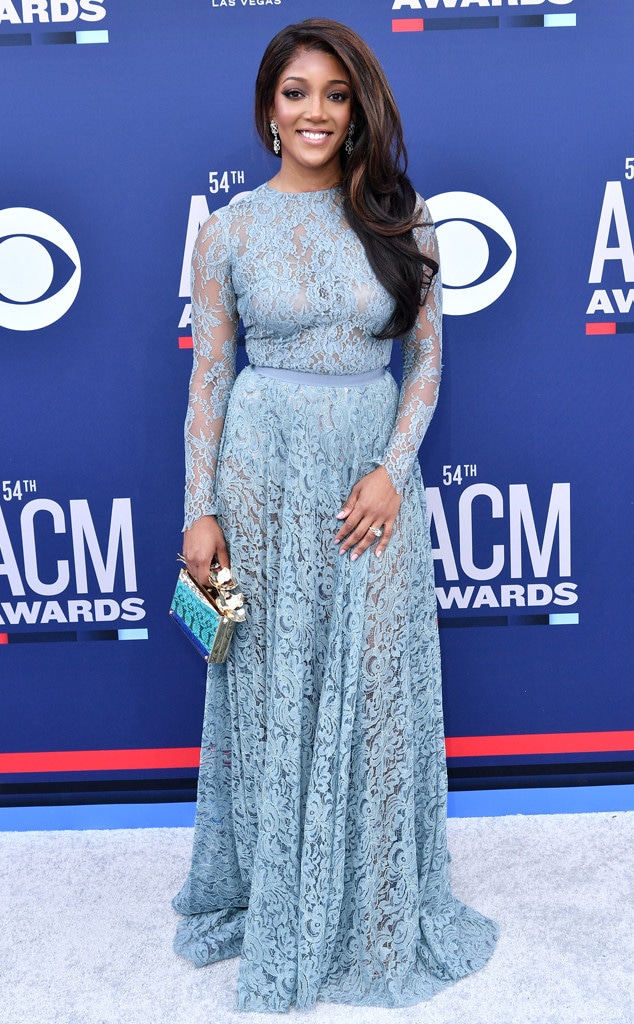 Rob Latour/REX/Shutterstock
Mickey Guyton is sharing the efforts the 2021 Academy of Country Music Awards is making to be more inclusive following the leaked video of Morgan Wallen saying a racial slur.
"I think the topic of inclusivity being addressed is by the award show itself," the 37-year-old artist, who is hosting the April 18 event with Keith Urban, told E! News. "I'm part of the ACM Diversity Task Force….We started this in 2019, and they have been relentlessly working on diversifying the awards in front of the camera and behind the scenes. And that is showing up on the awards. And I'm just so excited to be a part of that change."
According to a video shared by TMZ, Wallen was recorded saying the N-word in February. He issued an apology shortly after the clip surfaced.
"I'm embarrassed and sorry," the 27-year-old singer said in a statement to E! News. "I used an unacceptable and inappropriate racial slur that I wish I could take back. There are no excuses to use this type of language, ever. I want to sincerely apologize for using the word. I promise to do better."
One day later, the Academy of Country Music announced Wallen would not be allowed to take part in this year's award show.
"The Academy of Country Music will halt Morgan Wallen's potential involvement and eligibility for this year's 56th Academy of Country Music Awards cycle," the organization said in a tweeted statement. "We have made his management team aware of this decision. The Academy does not condone or support intolerance or behavior that doesn't align with our commitment and dedication to diversity and inclusion."
The Academy also noted it would "expedite the offering of long-planned diversity training resources" for its ACM community, board members and country music artists, as well as review its awards eligibility and submission process to ensure its "nominees consistently reflect the Academy's integrity."
Watch:
Mickey Guyton & Keith Urban Excited to Host 2021 ACM Awards
This wasn't the first time Wallen faced backlash. Saturday Night Live canceled his October performance after he broke COVID-19 safety protocols by partying in Alabama.  
Wallen reflected on his actions in a note posted to Instagram earlier this week.
"2020…Man, what a trash year for so many," he began. "For me, my tough year carried into 2021. I've made some mistakes, I'm figuring those out, & I apologized because I was truly sorry & have been making my amends."
Jason Kempin/ACMA2020/Getty Images for ACM
He also wrote about how he took a "couple months away" and that he "really worked" on himself. 
"I'm proud of the work I've put in & in many ways thankful to have had the time to do it," Wallen added. "I've needed this time off. I moved to Nashville at 22. I never really gave myself a chance to survey the man I became during that time. I can already see a big difference between 22-year-old me & 27-year-old me. I hope there's a big difference between the 27-year-old me now & the 32-year-old me one day."
In addition, he noted he "will always strive to be better." As he put it, "Not only has this time revealed to me the ways in which I want to improve, but it's reminded me that I am still very proud of who I am and the man I am becoming."
CBS presents the 56th ACM Awards® live Sunday, April 18 (8:00-11:00 PM, live ET/delayed PT) on the CBS Television Network, and available to stream live and on demand on Paramount+.
- Reporting by Spencer Lubitz