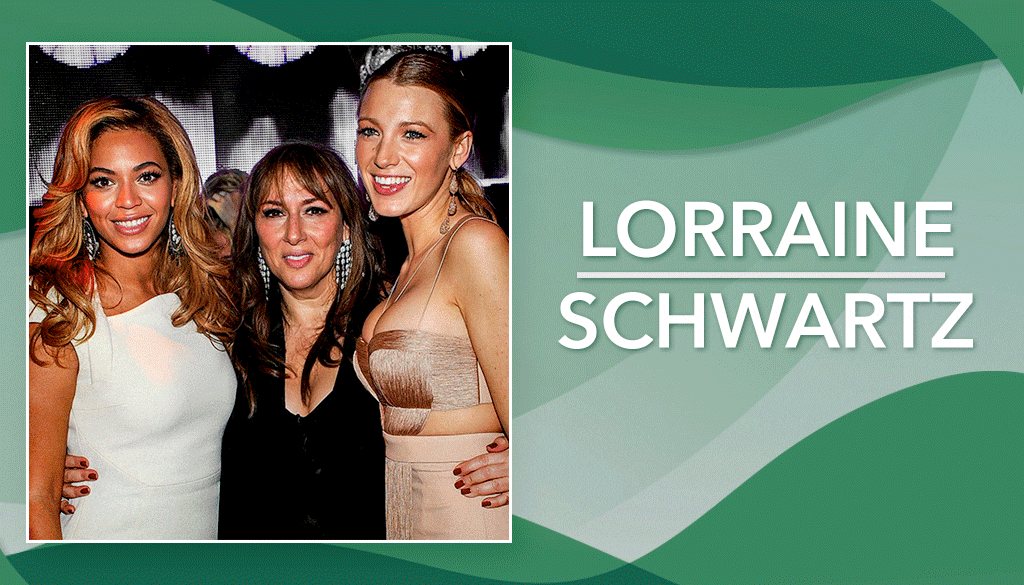 Getty Images/E! Illustration
Welcome to E!'s Tales From the Top, our series on women who are leaders in their fields and masters of their craft. Spanning industries and experiences, these powerhouse women answer all the questions you've ever had about how they got to where they are today—and what they overcame to get there. Read along as they bring their resumés to life. 
Even if you don't see Lorraine Schwartz on a red carpet, you can't miss her work.
That's because, after about two decades helming her namesake brand and even more time in the business of baubles, she's become synonymous with megawatt celebrity jewelry. Just hearing her name, perhaps, conjured up visions of the emerald earrings Beyoncé donned at the 2013 Presidential Inauguration or the 15-carat diamond ring Kanye West got down on one knee to propose with that same year.  
A bonafide trendsetting jeweler to the stars, some of the most recognized names in the world—we're talking Kim Kardashian, Sofia Vergara, Blake Lively, Angelina Jolie,  Chrissy Teigen, Priyanka Chopra and Cardi B—have dazzled in her pieces. But, jewelry was not always the plan for Schwartz. As she revealed in an exclusive interview with E! News, "Not even a little bit."
"I wanted to be Barbara Walters at the time," she confessed. "I wanted to be Oprah." 
Instead, life eventually led her back to her family's diamond roots. After studying fine arts and public relations at New York University and producing fashion shows for clubs on the side, her parents suggested she join them in the office for more steady work. 
"I went in and they thought I would do more, I guess like, administration work," she recalled. "Right away, my first thing was, like, a 10-carat diamond. And that was the beginning. I started to be a diamond dealer."
While she may have been just starting out, one could say Schwartz was always destined to shine bright. "I came from a diamond-dealing family," she said. "My grandfather was a very, very, very big diamond dealer and he started from nothing." 
In time, she carved out a role dealing diamonds on her own when she inadvertently went Hollywood. "David Bowie and Iman, who were my first celebrity clients—I met them before I was designing jewelry," she recalled to E! News. "One of their friends had bought a diamond from me, and she was like, 'Lorraine, I have someone to bring you who wants to meet you,' and it was Iman and she came in to look, and then I went to meet David and they bought a yellow diamond from me for her engagement ring."
Fast forward more than three decades later, she's played a role in some of the biggest and, at times, most personal moments in stars' lives: the glove Beyoncé wore in her now-iconic "Single Ladies" music video, the tassel bracelet on Winfrey's wrist during the final episode of her eponymous talk show—the list goes on and on.
Kevork Djansezian/Getty Images
When celebrities can truly go to anyone for their jewelry, Schwartz has some thoughts on what sets her apart. "It's the relationships. It's the love. I care," she said. "I think what separates me from most jewelers is I'm the name of the brand, I am the brand and it's all about how much I'm willing to put into what I do. And in my world, 'no' is not an option. You do whatever you have to do. If your jeweler has to work all night before an award show to make something perfect, that's why you do it. And I think that's why on the red carpet, when you see people talk about jewelry, when they say our name, there's some kind of a pride, because number one, the relationship. We've done it together."
As she put it, "It's not a piece of jewelry that we paid them to put on that they didn't see 'til the last minute and they don't even remember our name."
There's also, of course, the product itself, a result of Lorraine's unique style and expansive knowledge. "I really know so much about diamonds, but then I started to really learn about all precious stones and really what's unique about them, and also about the stones that are cut unusually," she explained. "I think because I'm a woman and I have a different aesthetic, I really look for the beauty in everything, and the unusual and things I would want to wear." 
As part of her hands-on approach, Schwartz forged friendships with her clients by playing teacher, instructing them on the different ways they could wear their newest purchase and guiding them on how to make the best jewelry investments. "Especially with the hip hop world and people in the entertainment industry, I said to them, 'You have money now, you don't know what's going to happen. God willing, you'll have money forever, but you really want this jewelry to last and be worth it,' so I would educate them about stones," she explained. "That was the best era to me of the 'bling bling.' It was over-the-top, but a lot of people were getting stones that just weren't worth the money and they just didn't know."
Evan Vucci/AP/Shutterstock
Good timing always helps, as was the case with those emerald earrings at President Obama's inauguration. While Schwartz had originally wanted Beyoncé to wear them to the 2013 Super Bowl, they ended up having their shining moment weeks earlier. "The next day, everywhere was like, "Who stole the limelight from the inauguration? Beyoncé's emerald earrings.' So it was like, 'Oh my God, that's crazy.'"
While there are plenty of career highlights she reflects on with pride today, the challenges are equally unforgettable. "It was really hard for me in the beginning. I had to go to Philadelphia and New Jersey and go from store to store and try to sell diamonds. I mean, people don't even know that story," she recalled. "Being the granddaughter of one of the biggest diamond dealers in the world...it wasn't easier for me. If anything, it was harder for me and being a woman was crazy difficult. It's just that you don't let that hold you back. If anything, you make that give you the strength to be better."
She channeled her own strength to stand her ground through tough diamond negotiation and earn respect within her male-dominated industry. "I learned to hold my own because this is my motto: If you want to play with the big boys," she told E! News, "you got to be that way. You can't complain. You got to do whatever it takes."
"And that would be my advice for women," Schwartz noted. "In this world, don't take s--t, but also, understand that if you want to be in that world, you got to be able to carry the responsibility that comes with it. So be strong enough to say no, be strong enough to stick to your guns and work as hard as you can to achieve what you want."
Adding in a smile—say, after a successful diamond deal—can help, according to Schwartz. "I always tell them 'Thank you.' I always say, 'Oh, let's do a little charity,'" she said. "It's very important to make the person you're working with also feel comfortable."
Now, she's aiming to close the divide in the diamond industry, which she called a "generational" industry lacking Black representation in America. "For designers to get into the diamond industry, it's really hard because once you know people and people vouch for you, they'll give you $1 million easily," she said, "but if you don't know people, nobody's giving you any stones. And when you're a starting designer, you can't really go and buy merchandise right away. You want to take it on consignment, you want to see if it works and then when you do want to buy, you want to have terms to pay for it."
As a result, she joined with the Natural Diamond Council to launch the Emerging Designers Diamond Initiative, which dedicates $1 million of diamond credit to emerging BIPOC jewelry designers and will offer a mentorship and $20,000 credit to each selected designer, as well as serve as a guarantor for the designer with diamond suppliers. "I think more than anything, more than talking," she said, "it's more important to give tools so that you can do it."
Jamie McCarthy/WireImage for Gabriell's Angel Foundation for Cancer Research
While the right tools are certainly necessary, they are not everything. In Schwartz's case, she's not a trained jewelry designer—which she now considers her greatest asset. "It really put me ahead of people because I really just went with my instincts more than any kind of schooled design," she said. "I did what I wanted to wear, and I actually feel that when I started, that's what actually got me where I am because it makes people more interested in you. It's more unique."
Still, it took her awhile to give herself some credit. "Now I realize that I actually have a really great eye and I really have a really unique perspective on how jewelry should be made, how it should be worn, how it should look," she explained. "You don't have to go to school. This is something you learn on the job."
"Now I would never want to have that other education because I think that I mix things that you would never mix together. It just gave me that freedom," she told E! News. "It's me that's the designer. It's my feelings, it's my energy that goes into every piece I make."