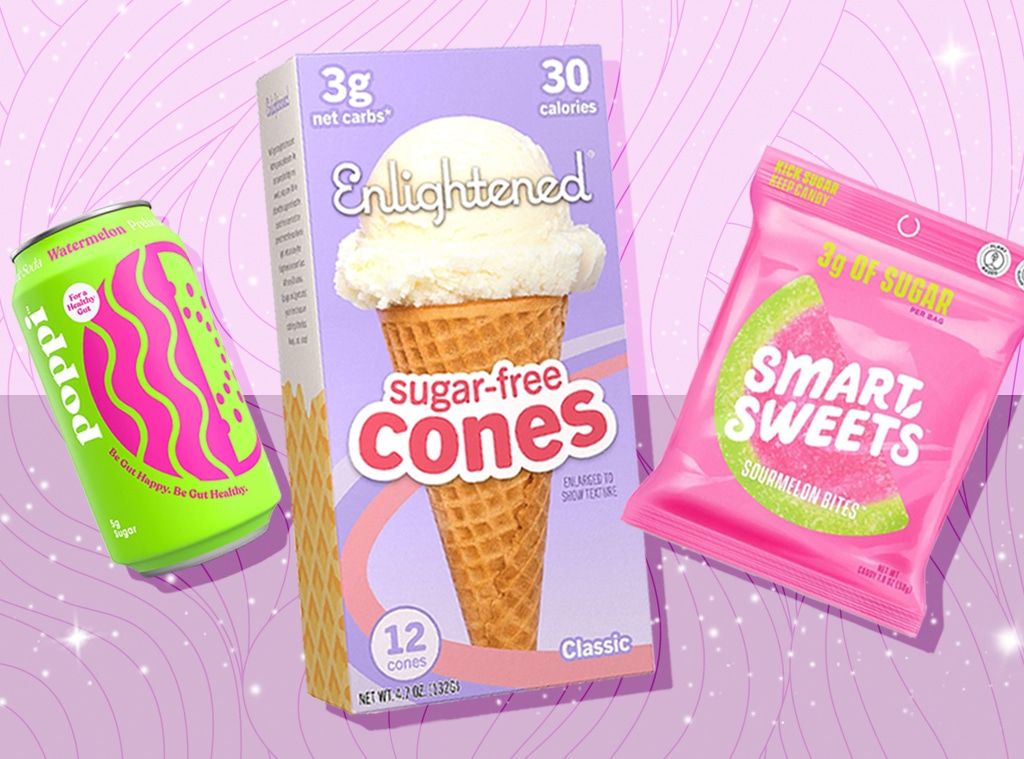 E! Illustration
We independently selected these deals and products because we love them, and we think you might like them at these prices. E! has affiliate relationships, so we may get a commission if you purchase something through our links. Items are sold by the retailer, not E!.
Happy spring, may this season bring you lots of sunshine, quality time with family and friends and a bunch of delicious snacks.
And while we, unfortunately, can't control the weather, we can help you when it comes to stocking your pantry with healthy treats. Whether you're craving something savory—like chips and guac—or need to satisfy your sweet tooth with a serious dose of chocolate, we've got you covered.
Don't worry keto-loving friends, we've also included tasty options for you, as well as picks compatible with every eating lifestyle from brands like Siete, Lesser Evil, Mush and more. 
So the next time you have a snack attack, be prepared with one of our 15 picks...
Hu Kitchen Grain-Free Cookies (4 Bags)
We interrupt your regularly scheduled programming to bring you the news that we literally inhaled all of these cookies from Hu Kitchen, one of our go-to brands for the best chocolate without any sneaky additives or sugars. Crumble them atop your ice cream, dip them in peanut butter or just eat the whole bag in one sitting and look for the crumbs on your shirt after because you won't want to waste one morsel.
Mush Overnight Oats (6-Pack)
We've long gushed about Mush, a Shark Tank-backed company that is a constant in our fridges thanks its BDE: Big Dairy-Free Energy. With minimal ingredients but maximum flavor, Mush is a breakfast and snack game-changer. The dark chocolate option definitely works as a dessert, too, so don't limit yourself.
Siete Grain-Free Kettle-Cooked Chips (Pack of 6)
As if blessing us with the best tortilla chips, taco shells, burrito wraps, hot sauces and other staples for our Mexican-American food cravings wasn't enough, this family-owned Texas company now offers kettle cooked chips in four flavors, including sea salt and vinegar, an underrated gem.
Lily's Baking Chips
And the bakers gonna bake, bake, bake with Lily's chocolate chips, sweetened with Stevia, a must-have in any pantry, especially if you are looking to keep your desserts paleo-friendly. Have we occasionally just poured a handful in a tub of peanut butter and eaten it straight from the jar? We never said we were role models, but if the spoon fits…
Fix & Fogg Everything Butter
Prepare to douse all of your food in this peanut butter, which is packed with every good seed in the game: Chia, hemp, pumpkin, sesame, sunflower and flax. It's over-the-top, it's extra and it's something we now can't live without. Sorry other peanut butters, it's not us, it's you.
Lesser Evil Veggie Sticks (6 Pack)
We dare you not to finish an entire bag of the Himalayan pink sea salt veggie sticks in one sitting. And we double-dog-dare you not to do the same with the ranch variety. OK fine, you can pick truth instead because we also can't resist these perfectly seasoned vegetable-packed crisps. Pro-tip: Dunk 'em in your favorite dip for an unexpected alternative to your usual vessel of choice. Ranch in ranch? Life's too short not to try it.
Primal Kitchen Dressings (3 Pack)
Ranch lovers, prepare to fall in love with Primal Kitchen's take on the classic dressing, which is made with avocado and is Whole 30-approved. We've also been known to get down with their thousand island flavor. But that's just one of the brand's many popular products, which include condiments like ketchup and mustard, sauces and frozen bowls and skillets with no bulls--t ingredients. Consider it the "PK" lifestyle.
Three Wishes Cereal (6 Pack)
Remember when you were little and you would wake up at, like, 11 a.m. every morning during the summer to pour yourself a bowl (or three) of cereal packed with sugar while watching reruns of Dawson's Creek on TBS, spilling leftover milk on your PJs as you drank it from the bowl. Life was good. But it can be even better now as an adult, thanks to Three Wishes, which just launched its new fruity flavor.