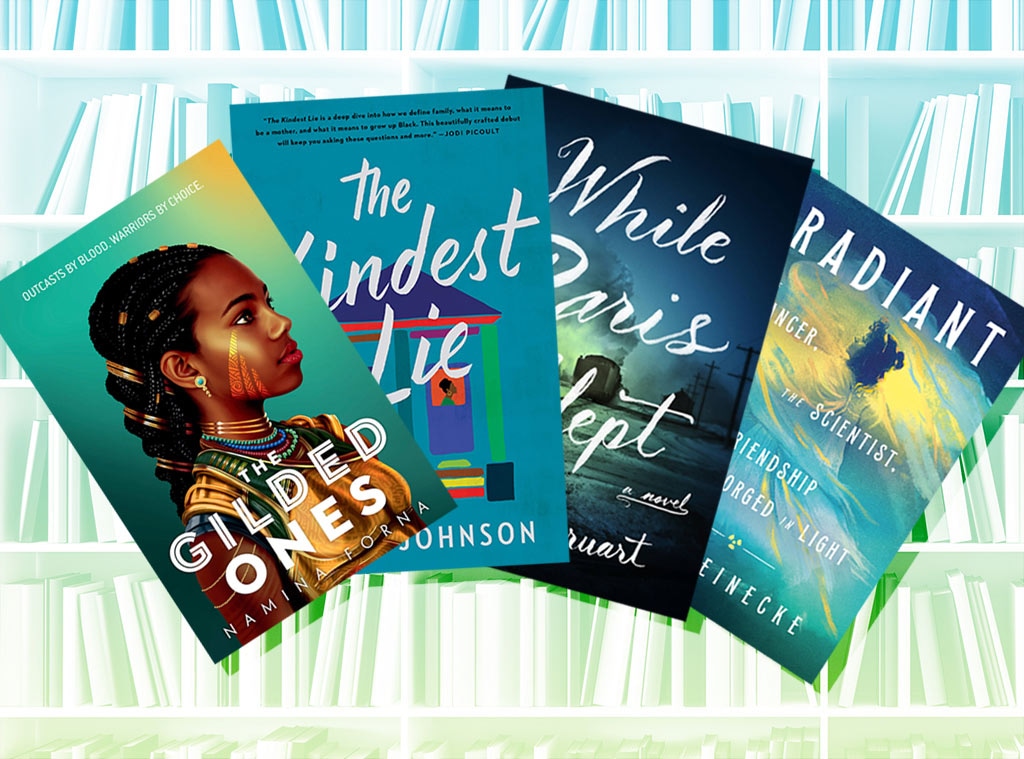 E! Illustration
We love these products, and we hope you do too. E! has affiliate relationships, so we may get a small share of the revenue from your purchases. Items are sold by the retailer, not E!
It's officially the month of love, so why not gift yourself or someone you love with the transportive present that is a book? And with several tell-alls from fan-favorite reality stars, an assortment of irresistible debut novels and one of the most-anticipated releases of 2021, there really is something for everyone among February's book picks. Hey, flowers come and go, but the power of a captivating story is forever.
So go on, grab your coziest blanket and definitely treat yourself to some chocolates 'cause you deserve them while you get lost in the pages of your next read after shopping physical copies of our picks or pulling them up on Kindle Unlimited or through a free trial of Audible, because technology.
Here are 17 books to add to your reading list ASAP this month...
Alone in Plain Sight by Ben Higgins
Think you know this beloved Bachelor? Think again. In his memoir, Higgins gets even more vulnerable than he did onscreen during his season of the ABC reality hit, sharing the heartbreaking details of his split with Lauren Bushnell and revealing his secret battle with addiction. (available now)
How the One-Armed Sister Sweeps Her House by Cherie Jones
In one of the most anticipated releases of the year, Lala learns the story of the one-armed sister from her grandmother, a cautionary tale about what happens to girls who disobey their mothers that sticks with her as she's navigating her own life with her petty criminal husband. Readers will be transported in this Barbados-set devastating debut from Jones that touches on motherhood, class systems and race. (available now)
One Day You'll Thank Me by Cameran Eubanks Wimberly
The former reality star spills all the sweet tea about her time on The Real World as a teenager, her dramatic exit from Southern Charm and her true feelings about motherhood in this refreshingly honest book of essays. 
The Four Winds by Kristin Hannah
The critically acclaimed author of The Nightingale and The Great Alone is back with a a story about love, loss and humanity set in Texas during the Great Depression. Between The Four Winds and the premiere of Firefly Lane, Netflix's adaptation of her 2008 bestselling novel, it seems February belongs to Hannah. (available now)
The Kindest Lie by Nancy Johnson
Set in 2008, Johnson's powerful debut novel examines the racial injustices and class inequalities in our country through the lens of Ruth Tuttle, an Ivy-League educated Black engineer. Forced by her family to leave her daughter behind in her hometown as a teenager, an adult Ruth returns to Indiana to reconcile her past, unexpectedly connecting with Midnight, a young white boy who is also searching for answers of his own. (available now)
The Hatmakers by Tazmin Merchant
The Carnival Row star—who was the original Daenerys Targaryen in the Game of Thrones pilot before being replaced by Emilia Clarke—delivers an enchanting fantasy adventure. In an alternate 18th century, heroine Cordelia, who hails from a family of hatmakers who imbue their products with magical powers, is tasked with stopping a war after their goods are used for evil. Hold onto your hats, this one is a fun ride. (available now)
Unfinished: A Memoir by Priyanka Chopra Jonas
The White Tiger star should prepare to add bestselling author to her resume after the release of her revealing memoir, which details her childhood in India, her transition from beauty pageants to acting, losing her father to cancer, her marriage to Nick Jonas and so much more.
"I call it the in-between-interviews book," she explained to Marie Claire of penning the autobiography. "I've been in so many interviews in my life, but nobody knows what happened in between them. I'm not someone who shares my vulnerabilities, my fears. And somehow in the process of writing this book—because it was so cathartic—I happened to go to those places." (available now)
The Gilded Ones by Namina Forna
In the mood for an epic young adult fantasy series? Forna delivers your next obsession—and likely a future hit TV series—with the journey of 16-year-old Deka. Living in fear and anticipation of the blood ceremony that will determine whether she will become a member of her village, Deka sets off to join the Alaki, an army of near-immortal girls just like her when her blood runs gold, the color of impurity. (available now)
We Run the Tides by Vendela Vida
Prepare to feel that dull ache of yearning for your teenage relationships in this story about female friendship and betrayal centering on BFFs Eulabee and Maria. The pair own the streets of their oceanside San Francisco neighborhood, but their bond is severed when they disagree about what happened after they witness a horrible act on their walk to school one day. And when Maria suddenly disappears, the secrets of their small town slowly begin to surface. (available now)
No One Is Talking About This by Patricia Lockwood
You'll feel no desire to pick up your phone and mindlessly scroll after diving into Lockwood's genre-defying outing about the perils of social media. The existential debut centers on an unnamed narrator who goes viral and quickly spirals as she tries to navigate "the portal," an avalanche of anonymous voices, images and references that have taken over her thoughts as she travels the world to meet her adoring fans. But what happens when her real-life tries to break in? (February 16)
All Girls by Emily Layden
If Gossip Girl meets Curtis Sittenfield sounds like your jam then All Girls is extremely your jam. In Layden's engrossing debut, nine women navigate their ambitions and fears at a prestigious New England prep school after a devastating scandal. When the administration wants to control the crisis by burying it, the students will discover their voices and come into their power. (February 16)
Honey Girl</> by Morgan Rogers
Fans of Jasmine Guillory's rom-coms will love this charming debut about a Type-A recent PhD graduate who drunkenly marries a stranger in Las Vegas...and then flees her home and responsibilities in Portland for a summer in New York with the wife she barely knows. (February 23)
While Paris Slept by Ruth Druart
Set during one of the darkest times in history, the lives of two people intertwine in Druart's novel about resilience and the power of love. Jean-Luc is a man on the run his history after surviving the Nazi's occupation of France and is now living in Santa Cruz in 1953 with his new family when his past knocks on his door. In an alternate perspective, a young Jewish woman in Paris entrusts her most precious possession to a stranger when she is herded on a train bound for Auschwitz in 1944. (February 23)