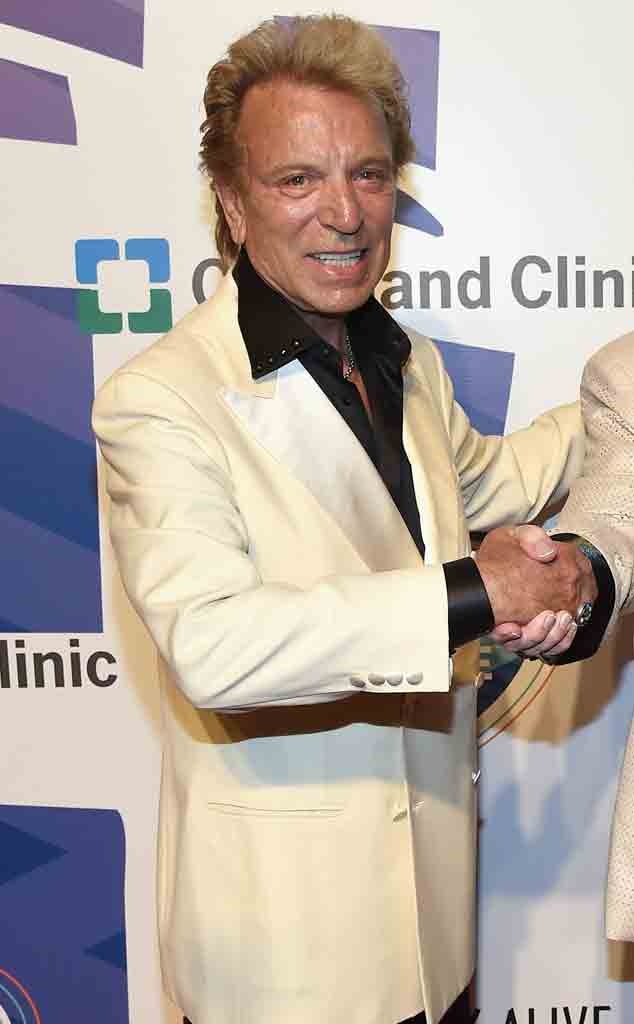 Getty Images
Siegfried Fischbacher of Siegfried & Roy has died at the age of 81.
According to a press release, the magician passed away in his Las Vegas home on Jan. 13 after a battle with pancreatic cancer. While funeral services are expected to be private, the release noted there will be plans for a public memorial at a later date.
The news comes eight months after Roy Horn, who made up half of their famous act, died from complications caused by COVID-19.
For years, Fischbacher and Horn entertained crowds in Las Vegas, performing with their big cats. But in 2003, a tiger named Mantecore bit Horn and dragged him off the stage in front of a live audience. While Horn survived the incident, their magic show at The Mirage was canceled. In 2009, the duo performed with Mantecore again in a show to benefit the Cleveland Clinic Lou Ruvo Center for Brain Health. In fact, the press release asked fans mourning the death of Fischbacher to donate to the clinic in lieu of flowers. 
Fischbacher and Horn officially retired in 2010, and Mantecore died in 2014. However, the illusionists' legacy continued at The Secret Garden of Siegfried & Roy at The Mirage.
Born in Rosenheim, Germany on June 13, 1939, Fischbacher was introduced to magic at a very young age. According to the Siegfried & Roy website, it all started after he purchased a magic book at a shop when he was 8 years old.
"My eye caught something in the window; it was a book on magic," Fischbacher once said, per the website. "I knew I had to have it. I can't explain, even now, why that was. All that stood in the way was five marks—for me a fortune, a fortune for any little boy in Germany in 1947."
Watch:
In Memoriam: Fallen Stars of 2020
However, he wouldn't meet Horn until 1957, when they were both working on the TS Bremen cruise ship. As noted in the press release, Fischbacher was working as a steward and an entertainer at the time and recruited Horn, who had been serving as the captain's bellboy, to help out with his popular magic show. At one point, Horn asked Fischbacher if he could make a cheetah disappear, just like he could make doves and rabbits vanish. Fischbacher replied, "In magic, anything is possible."
Needless to say, Fischbacher was surprised when he found out Horn had smuggled his pet cheetah onto the ship. Over the next few decades, they would travel the world and perform their acts. Fischbacher and Horn started in 1967 as a featured act in Las Vegas' "Follies Bergère," "Hallelujah Hollywood" and "Lido de Paris." They then progressed to headliners in "Beyond Belief" at the New Frontier in 1981 and then finally landed their main show at The Mirage in 1990, which ran for about 14 years.
Alain BENAINOUS/Gamma-Rapho via Getty Images
"We did what we did out of love, not for success or money," Siegfried once said, per the release. "We had a deep respect for each other. We literally raised each other: I created Roy and Roy created Siegfried."